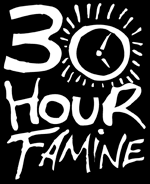 The KSA's Richmond campus council will host the World Vision 30-Hour Famine on April 3-4.
Participants will go without food for 30 hours, although they will be allowed to drink water and fruit juice, while raising money and awareness of world hunger by collecting donations from friends and family. Participants across the globe will gain a first-hand understanding of how it feels to go without food for long periods of time.
During the evening, after the day of fasting, a number of games, activities and movies are planned to keep the participant's mind off their hunger. The sleepover location is to be announced, but will likely be at the Richmond campus or a local recreation center.
The event, which started in 1971 when 14 teenagers in Calgary, Alberta, held an event in a church basement to raise money for World Vision. It is meant to bring students together at the same time as feeding hungry children around the world by donating all the money raised by each individual participant.
The international event to fight hunger will be sponsored by Much Music, World Vision and the KSA. The top five groups who raise the most funds in Canada will be profiled on Much Music. 
Anyone who wants to take part in the fast must register by March 12 to receive donation forms and an information package. Contact Reena, the Richmond campus director, at rcc@kusa.ca for more details and to register.
The number or students who voted in the Kwantlen Student Assocation general election last week nearly doubled from last year. Despite those figures, the 555 students who did vote only make up about three per cent of the student population.
Chief Returning Officer Fred Schiffner has an idea why. "Quite frankly, I think it's because there's no longer any campaigning during the opening of the polls."
Last year was the first time that campaigning was not allowed while people were voting. Prior to the rule being implemented, there was inappropriate campaigning going on "to the point of harassment" said Schiffner.
"Although I agreed with it at the time, because of the enormous difficulties we were having with controlling the campaign, I think that's something that the board is going to have to look at — at bringing it back. When you get people out there campaigning while the polls are open, it encourages people to vote."
He is confident that the directors will look at revoking that decision before the next election.
Nathan Griffiths, director of operations, agreed that the rule may be changed. "In formal conversations with other people on campus and executives, there's just a general feeling that it will change." 
Griffiths also agreed that this rule affects voter turnout, but added that there are other factors at play. He pointed out that student unions in general have low voter turnout. UBC, for example, has an average of eight-10 per cent of their students vote, said Griffiths.
Another factor is that Kwantlen doesn't hold debates during the campaign. "It's tough to communicate all the various different issues to students, especially on a multi-campus institution like ourselves. You can't really do debates," Griffiths said. 
"Schools like UBC often will have at least one, sometimes two debates for every executive position." Without having them, it makes it difficult to reach students, he said. "There's only one of me."
But he is glad to see that student turnout is better than last year. "The fact that it's gone up is positive, especially in Richmond. They rocked it." Richmond accounted for nearly 75 per cent of all the votes.
"I think everybody out there, the people who were doing the campaigning did a great job and I think the students themselves did a great job voting and getting involved."
Student turn out isn't the only thing worth mentioning regarding the election results.
Last year, the majority of the multi-campus positions were won by acclamation, meaning students ran uncontested, and won by receiving more "yes" votes than "no" votes. This year, a few major positions had two candidates running against each other. Yet, all the incumbents kept their positions, even with the competition. 
Griffiths is glad to see more people running for positions within the KSA. "It means people are exited about the society and look to change stuff, too. I'm glad that people are getting involved." 
Results highlights:
Nathan Griffiths kept his previous title of director of operations again, but won by only 32 votes.
Steve Lee, director of finance, was only 55 votes away from the candidate running against him.
Vanessa Knight also kept her title as director of events winning 290-173.
Derek Robertson, Director of External Affairs, along with Ashley Fehr, Director of Academic ran uncontested.
A notable win for Jennifer Campbell. Previously a Langley campus representative, she beat out incumbent Jennifer Mamchur in the Langley campus director position, receiving 19 out of 26 votes.
RELATED: Students speak: Did you vote?
Reporters Rachelle Ashe and Alexander Nkrumah hit the streets of Vancouver for a look at the monthly event that pushes for better bike access to city streets.
The Langley speed dating event has been cancelled, due to lack of female interest. 
You may have noticed the subtle change to the sign of Kwantlen's library, which now reads "Coast Capital Savings Library."
The name is meant to honour Coast Capital Savings for its recent donation of $1 million to Kwantlen, according to Jeff Norris, Kwantlen Foundation executive director.
Norris said the donation, generated from company profits, is the most significant gift Coast Capital Savings has ever given.
He also said the donation is about more than just the money.
"Bringing a gift of this size, a significant gift, really puts us on a higher stage when it comes to philanthropy in general, and I think we'll start to see others choose Kwantlen as a place to make a donation."
Norris said the relationship between Kwantlen and Coast Capital Savings began a few years back.
"A lot of the things Kwantlen held as value aligns nicely with Coast Capital and we realized that we could do something quite significant between the two organizations."
The bank has supported student orientations and alumni, as well as given away free book scholarships, according to Norris.
"Coast Capital has showed an appetite to find other ways to engage in the institution above and beyond this particular gift," he said.
Coast Capital will also benefit from the relationship.
"Most of our graduates tend to stay in this region. They thought it would be a great idea to be making investments in graduates that could be potentially their workers," said Norris.
Gen Porcina, 21, who works at Coast Capital as a financial service representative and is also in the Kwantlen Human Resource program, said the biggest significance of the partnership is that both institutions are community driven and have similar goals.
Kwantlen Students could likely get some work experience at Coast Capital, if not an actual position, said Porcina.
"I see them working together and kind of sharing the students and the work force."
As for the new name of the library?  Porcina, said she doesn't mind it, but it is "a little bit much."
"I'm used to seeing Coast Capital branded on a lot of things and when I'm at school I kind of like to see the difference."
Coast Capital is a part of Imagine Canada, a national registered charity whose mission, according to its website, is "advancing knowledge and relationships to foster effective and sustainable charitable and nonprofit organizations."
In 2007, Navi Dhillon was bogged down with school work and feeling the need "to have fun and do something good at the same time." So, Dhillon and her friend, Palwinder Gill, began LIFE.
Once a year, Dhillon, has been president for two years, Gill, and four board members, spend six months coordinating the annual event that includes music, dance, food and awards.
This year's event, Dessi Fusion, takes place on Feb. 27.
Dessi Fusion, sponsored by the KSA, will take place at the Dhaliwal Banquet hall. The show begins at 7:30 p.m. and will feature an hour of performances from various dance groups.
Sukh Dhaliwal, Newton-North Delta MP, will give a speech and hand out awards to the KSA, volunteers of LIFE and the groups who will perform for free.
All the proceeds made from ticket sales will go to the B.C Children's Hospital. Tickets are $15 in advance and $25 at the door.
Dhillon is studying for a degree in biology at Simon Fraser University and working on a minor in psychology at Kwantlen.
She said "it's really difficult" finding the time to coordinate such an event. Dhillon said she and some other board members are taking three classes this semester, instead of the usual five, to make sure the annual event is a success.
Last year, LIFE raised $3,500 for UNICEF through its annual party.
In a quiet room at Kwantlen's Langley campus, on the fourth Thursday of January, a group off Rotaractors meet to brainstorm ways to help people less fortunate then themselves.
Rotaract Club, a youngsters version of the Rotary Club, meets twice a month to mimic their older, more experienced mentors.
Dave Zenko is the president of Langley's Rotaract Club, as well as a graduate from Kwantlen's business program.
He has a full-time job and a passion for Rotary. But to qualify to be part of the tight-knit Rotary family, you must be a prominent business person in the community, so Zenko started Langley's Rotaract club for anyone between the ages of 18 and 30.
There are two types of Rotaract Clubs. One is a community-based club, which is what Zenko is in. The other is a college-based club. Zenko says the Langley Rotaract Club elected to be a community-based club because it has the capacity to run all year and has fewer restrictions on membership than the college-based club has.
Similar to the Rotary Club, the Rotaract Club isn't all business and good deeds. Its members like to have some fun, too.
One of the two meetings each month is devoted to a social event, where members get together for theme nights, potlucks and parties.
Zenko says that each year the Rotaract Club, which has branches in most communities, has one international project and one community project that they work on throughout the year.
This year, the Langley Rotaract Club's international project is to raise money to send 110 wheelchairs – a shipping container full – to developing countries. The club need to raise $116,500 for the project.
Zenko said that this project is especially close to him, "because it gives so much joy to the people in need."
It is hoped fundraiser for this event will be held at the Fox and the Fiddle in Langley in the near future.