An opportunity for students to present their research at an official conference is now on the table at Kwantlen.
The first Sociology Undergraduate Student Conference will be held Friday, May 6, at Kwantlen's Surrey campus.
Students who have done research on any subject that relates to local or global issues at a societal level are encouraged to step up and submit to share it at the conference.
Dr. Amir Mirfakhraie, coordinator of the conference and co-chair of the Center for Global and Multicentric Education, said the conference gives students a real chance to teach what they have learned.
"One of our main goals is to not only create, but also promote a culture of scholarship and research at Kwantlen. The focus of creating this culture is to make sure that it's student centered…to reflect the multicentric interests of our students," said Mirfakhraie.
Mirfakhraie said that one of the presentations this year is going to look at a game produced by Sony Playstation 3, Laura Croft, and the sexual exploitation of women.
Mirfakhraie said that one of the challenges has been getting students to believe in themselves. "Their research is important and they are producing knowledge."
Mirfakhraie noticed that students tend to think it's only instructors who teach. "But students also learn when other students present research. And so the student becomes a teacher. Hopefully, this conference will highlight that aspect…not students just as learners, but as producers of knowledge."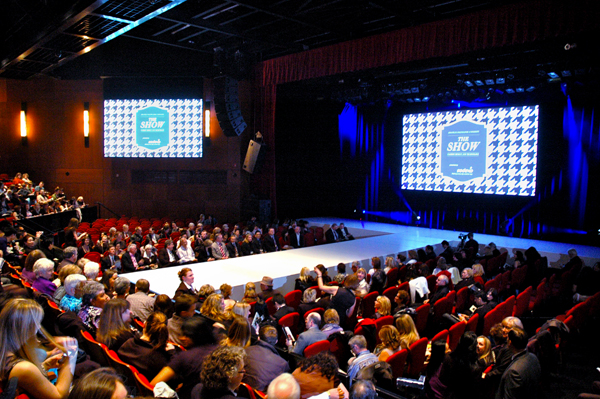 Anticipation and sense of excitement were palpable before the Design, Fashion and Technology program had its end of the year show on Tuesday, April 5, at the River Rock Casino in Richmond.
Months of hard work led up to the 45-minute fashion show, said Joanna Delaney, creator of the Vapor line.
"We came up with a concept in the first semester of fourth year, and then the second semester is dedicated to producing the line and making our portfolios," said Delaney.
"My line is fashion for rainwear…I decided to create a line of raincoats suited to women who are looking for a little something extra, a little bit more than just your average raincoat."
Delaney said that finding the right niche in such a competitive market takes time, patience and a lot of research. On the business side of things, "You have to prove that your market exists, because you can't create something for no one," Delaney said.
Delaney added that her next career step would be to promote herself as an independent designer in the Vancouver.
Justine Edralin, creator of the Menagerie line, said that she started sewing in Grade 8 and her interest in fashion and design grew from there.
"My market is crazy old ladies. I'm really into the avante garde artsy clothing, and also to empathize with a market that's not myself," said Edralin.
Edralin says a lot of the thrill of preparing for a show comes from the pressure to get it all done on time.
Alexandria Culver, creator of the Bese Saka line, said that the biggest inspiration for her design was a trip she took to Ghana and West Africa to teach math.
Culver said she was inspired by the prints and that her collection focuses on socially conscious manufacturing. She's been sewing her collection for the last four months, but they spent fall designing a collection and also creating a company.
Culver said that everyone in the class is supportive, because everyone knows how much work goes into the design process.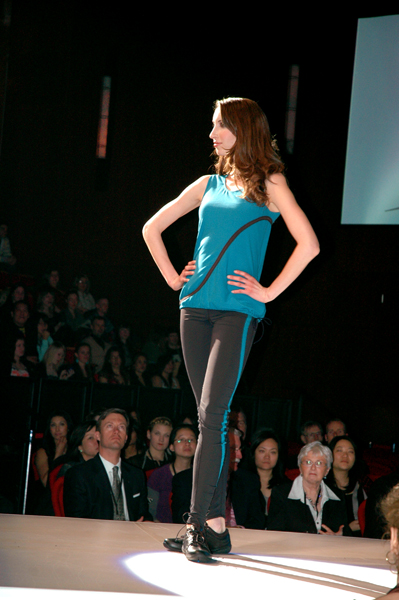 "The show is beneficial for all the students…The program has such a high profile in Vancouver and the industry is aware," said Culver.
Evelynn May, on of the design coordinators, said there's so much more to what the audience sees than what meets the eye.
"They've done a thesis. They've had to argue and validate all their piece collections, because they are niche market collections," said May.
"It's been stressful, and it's all absolutely beautiful," said May.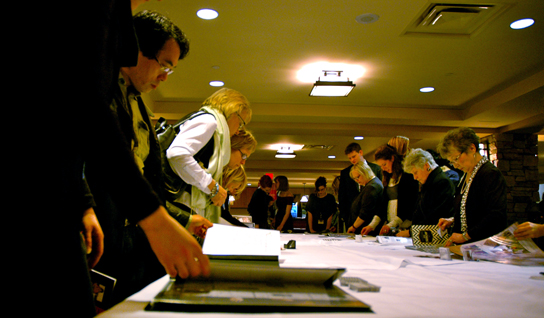 RELATED: Peering behind The Show
It's that time of the semester when papers and mid terms start to pile up — and there's no shortage of grievances to go along with them.
The academic system isn't perfect and venting is a good way to release stress. Kwantlen students were asked what they find most frustrating about school.
Just Tillyer, 21, who studies psychology, said that he'd like to see more short- and long-answer tests, instead of multiple choice quizzes.
"It would be nice if there was more opportunity in terms of testing where students were expected to explain things," said Tillyer.
Tillyer said he prefers written exams, so he can demonstrate in depth his grasp of the material.
Kim Blik, 22, who is in general studies, said mid-terms are her biggest stress. "Having [several] mid-terms on the same day is really stressful…and balancing work with school to pay the bills," said Blik.
Students have different ways of coping with the stresses of school, finding some things more frustrating than others.
"Some profs hand out work that's irrelevant to the classes. Some of the workload is just too much. Other than that, there's nothing about school I really find bothersome. It's just time consuming," said Amar Badh, 19, who's in general sciences.
Shane Kubeska, 21, who studies criminology, said he gets frustrated when teachers put emphasis on parts of the course that don't appear on the exam. "Whatever is emphasized most on the exam should be emphasized in the lectures, so we know what to study."
Kubeska said that he studies all the notes from class, but when there's so much to cover, teachers should point out what the most important material is.
Voting in the MultiPass referendum ends Sunday, Feb. 6, with students taking a long-awaited vote on cheaper transit.
Essentially, the Multipass combines the U-Pass, which provides unlimited access to public transit, with a few extra selling points. The U-Pass costs $30 per month, whereas the MultiPass costs $40 per month. The kicker: if the referendum passes, it will be mandatory for all students.
The break-down
With the MultiPass, students will be eligible to receive a membership to Gold's Gym for $5 per month.
According the KUSA website, "The KSA is working to set up an exclusive express coach service that will rush you between Kwantlen campuses." It says that this will be free for use with a MultiPass.
The KUSA website says, "Cars will be available on each Kwantlen campus for students to borrow…Your MultiPass gets you a more affordable membership into a car share program."
Q & A with Matt Todd, KSA Director of External Affairs
Q: When can students expect to have a fully operational express coach service between Kwantlen campuses?
M.T: "The intention is to have it operating for May. The idea is that we want to have it started in the summer time so that we can test the service, try it out, and see how it goes."
Q: When can students expect to have access to a car share service?
M.T: "We're trying to put everything in place for May, but September for sure…the reality is that all of these services require really complicated contracts that require complicated negotiations."
Q: Why Gold's Gym?
M.T: "We tried three different groups for the gym pass, [but] in the end only one of them really fit our needs and gave us a great offer."
Q: If the referendum ends in a no, when might Kwantlen get the U-Pass?
M.T: "It depends. There would have to be a conversation with the province and with Translink."
Q: How soon or late could it be?
M.T: "That's a good question…there's a real possibility that if this fails, we would have to wait two years."
Kwantlen Polytechnic University is raising the bar by providing more student success programs, such as the relatively new Early Alert program.
The first step in Early Alert is for an instructor to recognize that a student is having difficulty, which can range from poor attendance, to signs of distress and disruptive behaviour in class, underdeveloped study skills, or failing grades.
"It's what we call an interventionist program, so we don't leave it to chance for a student to get connected with services that can help them," says Lyn Benn, Director for Student Development. "We're one of the earlier institutions in Canada to put this program in."
Early Alert began at Kwantlen in the fall 2009 semester, with roughly 60 student referrals. The program saw an increase in referrals, to over 250 in fall 2010.
There are two categories for students who are referred to Early Alert: successful contacts and unsuccessful contacts. A successful contact is a student who is contacted by the Early Alert Team. Not surprisingly, an unsuccessful contact is a student who can't be reached.
Statistics for the fall 2010 semester show 47 per cent of successful student contacts resulted in passing grades, while 21 per cent withdrew from the course and 31 per cent failed the course. In comparison, the unsuccessful student contacts resulted in 53 per cent of those students failing the course, 24 per cent withdrawing, and only 22 per cent passing the course.
"The sooner students know how to get access to resources and the help they need, the better off they are," says Benn.
Benn points out that there are cases where students don't withdraw from a course, because they're simply unaware of procedures.
"Sometimes [a student] hasn't attended a course, because they've decided to drop it, but they didn't know the rules and regulations for dropping. So instead of getting a W for withdrawal, they get an F."
Benn also says that a lot of students don't know the deal with the GPA (Grade Point Average), but they need a GPA over 2.0 to graduate.
"When you get an F, it really pulls your GPA down."
Benn says that the main purpose of Early Alert is to maintain student retention and student persistence.
"We don't want to lose students, because it's an investment for everybody. We want students to be successful."
Kwantlen's environmental protection technology students have drafted recommendations for how Kwantlen could better handle garbage, based on results of their 2010 waste audit.
On Oct. 19, a two-day garbage audit was conducted at the Richmond campus to gather information that would later determine whether a composting program would be beneficial.
According to Kelsey Hynes, a second-year EPT student, implementing a fully structured composting program is a lengthy process.
That's why Hynes has recommended a three-year pilot project, which would start within the EPT program, to see how manageable composting is for a smaller group.
According to the draft, "Faculty should be trained to properly dispose compostable organic waste. Students should be aware of the composting disposal system. Education of the public is necessary for this to work, since there are so many items that can be composted."
The report states that 73 per cent of material disposed in the cafeteria alone is compostable. It further proposes that the cafeteria use biodegradable cutlery, along with biodegradable plates and napkins.
The report suggests that Sodexo should contribute to a composting program by providing containers for food scraps, as that would help reduce the percentage of compostable waste found in the garbage.
A successful composting program would mean a reduction in the amount of waste entering the garbage stream. As well, "Compost can produce fertile soil which can be sold to those who need it," according to the report.
The draft indicates that the cost to begin composting operations will be recovered, since the garbage company that currently picks up Kwantlen's trash charges by mass and almost 40% of the overall garbage produced is compostable waste.
The task of implementing a fully functioning compost program isn't going to happen over night.
Paul Richard, chair of the program, says that more research ought to be done.
"There's always more research that could be done."
New drinking and driving laws in B.C. have received a lot of media attention. Some say that random roadblocks are an infringement of our civil rights; others report that bars and restaurants have suffered a sharp decline in sales.
To find out what younger people are saying of the recent crackdown, Kwantlen students were asked what they think of the new drinking-driving laws and how their social drinking habits have changed because of them.
Anna Peregoudova, anthropology
"It's obviously safer, but I work in the restaurant industry and I've noticed a lack of business. I haven't been drinking much since school started, so I don't think it's affected me too badly."
Nate Ferguson, psychology
"The new laws are good, because they're trying to stop people from drinking and driving. I'm still tempted to go to the bar, have a couple of drinks and drive home. But ultimately, I'm not going to. It's not worth it."
Ashley Seller, general studies
"I think the punishments are too harsh. I don't drink and drive, but I depend on friends for rides and I know they're going out less. When we do go out, we get a cab home. It can be hard from down town though."
Thomas Harskamp, sciences
"I don't think they have particularly affected my social drinking habits. The lower limits have affected a lot of friends though. They're not even willing to come out, have a couple drinks and drive home a few hours later, even after giving the alcohol a chance to metabolize."
Brittney Taylor, psychology
"I think they're ridiculous. For example, last weekend I had to wait an hour for a cab…transit is the biggest problem. I think they need to keep the trains running later." Harskamp says the city needs to improve the transit system, from buses, to trains and taxis. "It also compounds a lot of the issues in the city with public transit. It's not manageable to get home after a really late night."
Environmental students have been sifting through piles of garbage from the Richmond campus to gather vital information about the school's disposal system.
On Oct. 19, environmental protection technology students began conducting aa two-day garbage audit in order to determine whether it would be beneficial to start a composting program.
"We're trying to get an idea of how much garbage Kwantlen is producing and where it's coming from. Once we can quantify all of it, we'll try to make some suggestions of what to do with it: whether it would be worth it to have our own composting facility or just participate in Richmond's composting program," says Mike Ferko, who's in charge of the audit.
"We collected garbage from various sites, such as the hallways, the washrooms, the cafeteria and outside. We weighed it, compared it and we're analyzing the results so we can write a report about it," says Neil Brooks, a second-year student and first-time participant of the audit.
"UBC has a huge composting facility, and we're trying to draw some comparisons between us and them to see if it's feasible. They have a huge horticulture program, so they produce a lot more waste than we do," says Ferko.
"In the cafeteria and kitchens, there were a lot of things that we found that could be composted or recycled," says Brooks.
Ferko agrees that most of the garbage is cafeteria waste and is able to be composted. "There's just too much recycling thrown in the garbage."
Ferko says that saving money on garbage removal would be a major benefit of a successful composting program.
"It cost money to send waste to the landfill. Composting is basically taking nutrients from your food, your banana peels and such, and breaking them down into soil so plants can use them again. But you're not supposed to compost meat because you'll attract pests and rats and raccoons," says Ferko.
"The experience itself was pretty gross. I was digging through trash from the cafeteria that must have been three days old, just sitting in a room in garbage bags. So the actual experience, I'm not going to rush back to do it again," says John Currie, a second-year student also participating for the first time in the audit.
Currie says that it's important for industries to make and use products that can be recycled, instead of wrapping everything in a bunch of non-recyclable plastic. "We want the producers to think about how they can help…to help change the system from the ground up."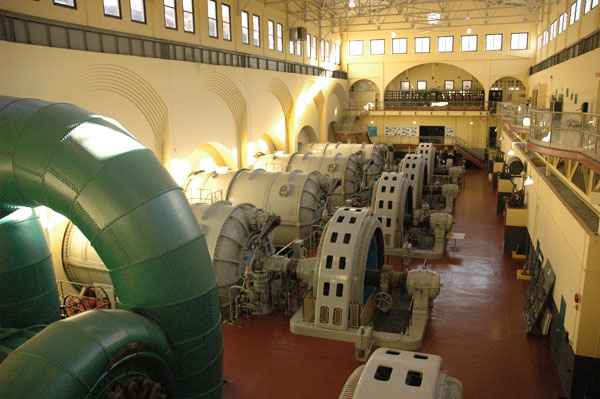 Physics students from the environmental protection technology program at Kwantlen woke up at the crack of dawn on Thursday for a field trip to the hydroelectric dam at Stave Falls.
Eight second-year students and one professor arrived in the Richmond campus parking lot to board school bus for a 7:30 a.m. departure to Mission where the dam is located.
The original Stave Falls dam has been out of commission since 2000, but remains open to the public as a museum, which provides educational and entertaining tours.
"I enjoyed the tour and the dam was interesting, but it was an early time for a field trip," says Neil Brooks, who is a second-year student.
"It's all about learning application and seeing real life examples of what we study in class," says John Currie who is also a second-year student.
The EPT students have been studying an array of alternative energy sources, conducting in-field research and collecting data for analysis, including their most recent garbage audit of the Richmond campus.
"We're learning about various sources of energy that are economical for B.C. We can't do nuclear power because we're too close to a fault line," Currie said.
"You have to assume that an earthquake will happen, and with a power plant a serious blast could occur," Brooks added.
Currie points out that aside from fossil fuel, wind, solar and hydro are the most feasible and environmentally friendly sources of alternative energy. However, solar has its setbacks, "It's not the way to go," said Currie.
"Solar energy isn't an efficient source because of our weather and latitude. The sun's rays hit us at a low angle and it's not always sunny. It's different if you're in Arizona or the desert," said Brooks.
Currie and Brooks agree that for B.C., dams are the most effective and sustainable way to produce electricity. "When you consider the density of water, you realize how much power it can generate when it falls. One cubic meter of water weighs ton," Currie said.
"They're planning to build another dam in Peace River. All that energy contributes to the grid across North America," Brooks said. "Energy that we buy."
Students who think they can dance can put their skills to the test at classes of Group Groove in Kwantlen's Blossoming Lotus Studio.
Group Groove is an upbeat, one-hour session that gets your body movin' and booty shakin'. In 60 minutes, you practice disco, salsa, hip-hop, cha cha and a unique variety of interpretive movements.
"They're all merged together. I've learned a few moves from the disco era and Latin era. It's cool because I never thought I'd learn those things," said Leandro Sublay, 18, who studies foundations in design.
"It's kind of like jazzersize. It's a cardio workout. You do the steps to do the cardio, not to do it perfect," said Kaila Butler, 20, who also studies foundations in design.
Dancing can be great for letting loose, or a whole lot of fun if you just want to shake a leg. There's a vital source of energy to be tapped in the motion of dance, and Group Groove shows you don't need to be hammered in a club to get jiggy with it.
"It allows me to release my energy and opens up a totally new style of exercise," said Sublay.
"I always knew dance was very physically enduring, and it really enforces that. You come out and your arms and legs are sore," said Butler.
There's no shortage of enthusiasm either. It's smiles and laughter when you're ridin', slidin', whippin'a and dippin' to high tempo beats in a positive atmosphere.
"It's lots of fun and I laugh pretty much through the whole thing," said Butler.
"I dabble in choreography, so the class gives me inspiration to think of new moves and bring a fresh new flavour to the hip-hop scene," said Sublay.
Classes are held on Monday and Thursday from 5:15 to 6:15 p.m. They cost $25 to $35 depending on your medical coverage. For more information, contact the KSA.