The Kwantlen Eagles woman's soccer team flooded the Surrey campus with red last Thursday evening, as they celebrated their record-breaking bronze win at the National Soccer Championships in Ontario.
Students and staff gathered in the main entrance of C building to welcome the team with a roaring round of applause, as they addressed the crowd, flouting their provincial and national medals with pride.
The balloon-filled room was full of emotion as the team laughed through a slideshow of their journey to Toronto, and cried through the numerous speeches addressed to them.
David Atkinson, President of Kwantlen Polytechnic University, was one of the first speakers to congratulation the team.
"Thank you for what was the wettest weekend of my life," said Atkinson, later joking that he "had to go home immediately and drink half a bottle of scotch."
After extending an offer to take the whole team out for dinner, Atkinson couldn't help but mention the accomplishments the university has made during his first year as president of the university.
"I have become very fond of saying 'this year has been a year of firsts,'" said Atkinson, noting that Kwantlen received university status, established a Senate and now are receiving their first bronze medal for soccer.
Atkinson also surprised the team with a brand new soccer field, which will be built at the Newton Athletic Park by 2010. The field will be owned by Kwantlen, and feature a brand-new Eagles scoreboard.
"See what happens when you win a championship?" said Atkinson. "We spent $2 million. What a great deal!"
After Atkinson's speech, members of the team shared some of their memories of their journey in Ontario for the national championships.
"We took the longest route possible, [with] shootouts," said Kelsey Doherty, during her speech. "The ending? Victorious!"
When the time came to describe the big win, there was only one thing the girls could say:
"Overtime penalty kick it was," said Sarah Davies, "and it landed us third place."
While the ceremony Thursday evening ended with food and beverages, this is not the end of the Kwantlen Eagles celebration. In 2010, Atkinson will be back to congratulate team members ne more time as they celebrate with an official banner-raising ceremony.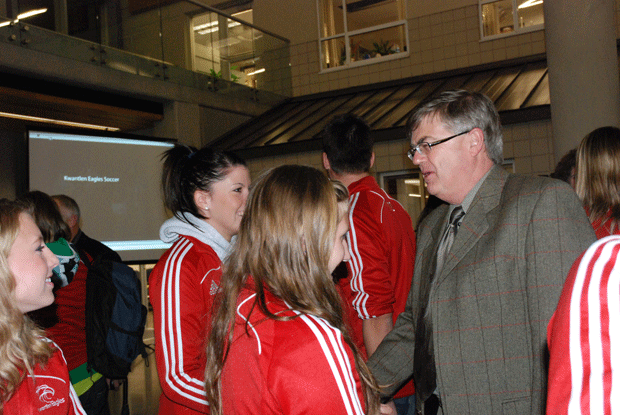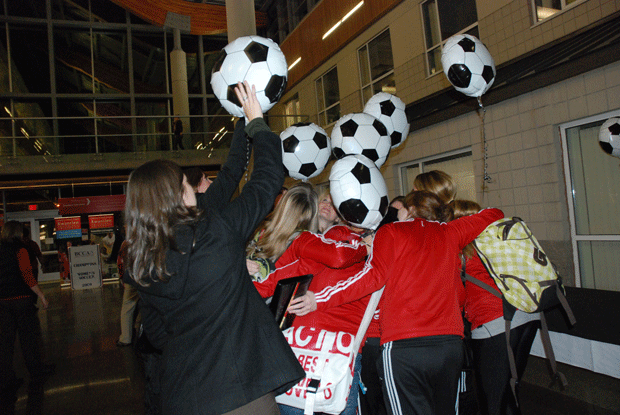 Fourth-year graphic design students have taken their first steps to raise the money they'll need for their graduation show.
"Basically, we have to raise, as a class, between $15,000 and $20,000," said Andrew Passas of the Graphic Design for Marketing (GDMA) program, who estimated that about $2,000 has been raised so far.
Design classmate Alexa Lupul added, "We're collecting bottles and doing all that kind of stuff to help the program, so we're still at the very beginning stages of our money findings."
On Tuesday, students sold Halloween-themed t-shirts at the Richmond Campus for $20 each, though sales were slow.
"Some of us have printed t-shirts," said Passas. "Others have baked cupcakes, and another group has done agendas, calendars and books."
The graphic design program is planning fundraisers throughout the year, including pub nights and bake sales.
Artwork sales will focus on holidays such as Christmas, Valentine's Day and Easter. The money will help meet the expenses of the year-end exhibition of graphic design work, scheduled for May or June.
For more information on the graphic design program's fundraisers, visit the GDMA's blog.
Kwantlen's Surrey campus is getting a little exotic with the addition of a belly dance class.
Starting Oct. 15, the six-week course will teach participants moves such as wrist rolls, snake arms and hip shimmys, as well as the culture of belly dance.
The class is taught by Annyse Rayne, a belly dancer for six-and-a-half years. She got into belly dance when she saw it at a multicultural festival.
"The way they were dancing, the way that they were so confident, they were having so much fun," said Rayne. "It was just so beautiful to watch the dance."
After that first glimpse, she joined a local belly dance class and never stopped dancing. Now she is a performer and teacher in the Lower Mainland.
Kwantlen's Department of Athletics and Recreation approached Rayne with the idea of starting a belly dance class suitable for beginners at the school. Over the next six weeks, she will lead the class to Middle Eastern music and give handouts detailing dance moves and historical information on belly dance.
The class is held every Thursday at 12:30 p.m. in the gymnasium and runs until Nov. 23. The cost to join the course is $63, though drop-ins are welcome for individual classes at $8 per class.
Rayne recommends the course to anyone who wants to try a new form of fitness, explore creative expression or improve their self-confidence.
The Pakistani Students Association of Kwantlen will be screening the Academy Award-winning film "Slumdog Millionaire" for Kwantlen faculty and students only on Friday, March 6, in the Conference Centre  (Building G) at the Surrey Campus. Doors open at 5:30 p.m., with the movie starting at 6:30 p.m.
Kwantlen President David Atkinson presented Parry with the award at the annual convocation ceremony on Feb. 16 for her work in the Bachelor of Applied Psychology Honours program. Three days later, in an almost deserted Richmond campus cafeteria, Parry spoke about what drew her to psychology.
"I was in business for about 20 years, and I was pretty good at it, but one of the things that I found, that I really loved about business, was working with people," she said. Parry was a regional trainer at Jenny Craig, training counsellors and sales staff. She left and started her own training company, but missed the hands-on work.
"As a manager, I found my staff kept coming to me saying things like, 'Can you help me with this', or they would tell me their life's problems, and I would listen and give them advice, and then I sat back and thought, 'Well, you know, if I'm going to give them all this advice, I should probably make sure the advice I'm giving them is good, that I'm not sending them down the wrong path'."
Parry enrolled in Kwantlen and took a few psychology courses out of general interest. After the second course she decided to become a full-time student. She had found her life's passion. "I absolutely loved it."
Richmond was close to home for her, but what really endeared her were the instructors.
"They didn't just read what was in the textbooks and send you away. They inspired," she said.
Parry had studied business at SFU, and while she admits that it has wonderful professors, she felt removed from them, and disliked the large class sizes and lecture hall environment. "I was literally able to just sponge the information out of their brains and put what I wanted into mine & mdash; it was amazing."
In the third year, Parry specialized in child and developmental psychology. Her ultimate goal is a PhD in clinical psychology, then research on foster children for the Ministry of Children and Families.
This is where her family life comes into play. In addition to being a full-time student, President of the Kwantlen Psychological Society and working for the ministry, Parry was also raising eight children at home.
She and her husband have five children together, as well as three full-time foster children and two respite children who live with the family occasionally.
How does she do it?
"I have the most amazing partner in the world, who pitches in and enables me to do what I do." The younger kids have daycare, so she works her schedule around them. "We're partners, so there are days when I cover him and there are days when he covers me. I try and schedule things so that most of my busy-ness is when the kids are in school and daycare."
Parry has advice for student who are parents.
"We're really good at taking care of everybody else, and as parents we're not so good at taking care of ourselves, and I think that in the long run that can end up impacting the care that you're able to give to your kids and your studies as well because you simply burn out."
She said young parents should know their limits, and try to find a balance between their needs and their children's needs.
Parry is modest about her own accomplishments.
"Yes, I know I have decent grades and I work very hard for them, but I don't see what I do as anything special. What I do is just, what I do," she said. "Of course I'm a mom — so? Whether you have one or you have eight really doesn't make that big a difference. It's just a bigger grocery bill."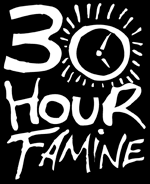 The KSA's Richmond campus council will host the World Vision 30-Hour Famine on April 3-4.
Participants will go without food for 30 hours, although they will be allowed to drink water and fruit juice, while raising money and awareness of world hunger by collecting donations from friends and family. Participants across the globe will gain a first-hand understanding of how it feels to go without food for long periods of time.
During the evening, after the day of fasting, a number of games, activities and movies are planned to keep the participant's mind off their hunger. The sleepover location is to be announced, but will likely be at the Richmond campus or a local recreation center.
The event, which started in 1971 when 14 teenagers in Calgary, Alberta, held an event in a church basement to raise money for World Vision. It is meant to bring students together at the same time as feeding hungry children around the world by donating all the money raised by each individual participant.
The international event to fight hunger will be sponsored by Much Music, World Vision and the KSA. The top five groups who raise the most funds in Canada will be profiled on Much Music. 
Anyone who wants to take part in the fast must register by March 12 to receive donation forms and an information package. Contact Reena, the Richmond campus director, at rcc@kusa.ca for more details and to register.
Room 1820 on the Richmond campus was transformed into a sanctuary Tuesday morning, just as it will be every Tuesday and Thursday for the rest of the semester.
It was the first day of the yoga classes, put on every semester for students and faculty by Kwantlen's fitness program, at the Richmond, Surrey and Langley campuses.
Yoga is said to make one more aware of their body, mind and environment and I was skeptical.
I arrived to see tables and chairs in the small class stacked near the back of the room and about 10 participants beginning to set up mats and stretch.
This was my first yoga class and I felt awkward. It was obvious that those around me were veterans, but as we began, the instructor, Emily, went through all of the moves so even the rookies among of us could understand.
As the music began I became more aware of my breathing, of my body positioning and the sound of the instructor's voice grew soothing. The lights were dimmed, and eventually shut off to create a wholesome ambience. As the instructor spoke of letting our muscles completely relax, and to feel the energy we were bringing into our bodies, I felt myself doing so. The initial nervousness floating away as my focus shifted to my body and my breath.
Emily provided much instruction on breathing. She asked us to breath as if we were filling our entire stomach and mid-structure with air, and to push it outwards. When exhaling, we were to tighten the abdominal muscles and pull our midsection in. This breathing was practiced throughout the session, regardless of the pose.
We went through a variety of different positions, such as downward facing dog, in which one has their hands flat on the mat, and toes curled under, making an arch with the torso and legs. In this position we are instructed to completely relax our shoulders and neck muscles, to let it all go. Regardless of the pose, we were instructed to completely relax certain muscles, breath consciously and deeply, and to focus on energies on our surroundings and ourselves.
I noticed myself more relaxed, more grounded and more alert. My energy level was up, but my anxiety level was down. During the rest of my day, it was almost as if I had re-set. It seems that the class I had been critical of turned out to do what it claimed to.
These classes can offer excellent relaxation sessions that are sure to help release the stresses that school can bring.
For pricing and times on your campus, visit the yoga website.
Students may have been hoping for a free breakfast of sausage, eggs and stacks of pancakes early last Thursday, as members of the KSA set up tables for an early-risers' breakfast in the rotunda of the Richmond campus.
However, it became readily apparent that the KSA intended the breakfast for on-the-go students preparing for final exams. Coffee, quarter-slices of assorted muffins and half granola bars were served on ready-to-snatch napkins as 19-year-old Meirna Said and other KSA members readied petitions that called for more student space on campus. The goal for the breakfast was to get the attention of students and have them sign the petition, explained Said.
"In Richmond, what we're looking at the spaces next to the KSA lounge, specifically the meeting rooms not being used frequently and other rooms in the campus that aren't being used to its full potential," said Reena Bali, Richmond campus representative. "The main goal for the petition is for the Richmond campus to have more social space and lounges for individual faculties and departments, and for more improvements made to existing lounges."
Bali does recognize the limited space in the campus, however she points out that many of the meeting rooms on campus aren't being frequented enough. "We want to sit down with the president and have the chance to talk to him about making those spaces into lounges for students and faculty members as well," said Bali.
Thursday morning's breakfast, though, failed to garner the attention Said had hoped for, with many students overlooking the snack-sized portions of food. However, the KSA did receive 108 signatures on the petition during the breakfast alone.
"We wanteded to see what kind of response the petition would have on students, so we kind of introduced it quietly during the breakfast," said Bali. "Because right now, I don't want to harass students into signing the petition during exam week."
Both Bali and Richmond campus director Kareem Elmassry will be putting out the petition officially during Welcome Week in the beginning of the Spring Semester in the new year.