Standing in front of the Vancouver Art Gallery, Andy Rimer adjusts his tight yellow short-shorts, which he wears atop his custom-made, neon checkered spandex outfit.
"Today, I am wearing a luxurious one-piece," said the 22-year-old, as he modeled his outfit with a laugh, pulling a pair of black goggles over his curly locks and placing his oldschool boom box on the sidewalk. The Andy Samberg look-alike spent a moment skipping through techno songs before bursting out onto the street and gyrating down the road.
He moon-walked, break-danced and freestyled down the pavement, and pedestrians couldn't help but laugh. As Rimer danced circles around an unsuspecting businessman carrying a briefcase and shook his booty at a middle-aged man, an old woman on an electric scooter stopped to watch and smiled.
"I love getting people's reactions and shocking people. I love bringing them out of their regular day," said Rimer. "Whether they smile or they're just stunned, I know they won't forget what they just saw."
His parents know him as Andy, but Rimer is better known as his alter-ego, Spandy Andy: Vancouver's spandex-wearing break-dancer, who has dominated the street-performing scene since his first appearance at English Bay.
His slogan?
"Spandy Andy puts the mint in entertainment," said Rimer, "and that's fresh!"
After his audition on So You Think You Can Dance Canada was aired nation-wide, and he won the title of Colgate's Freshest Dancer and $10,000, "Spandy" has returned to the streets of Vancouver to do what he loves best: make people smile. Even though many choose to shy away from his wild antics, Rimer doesn't mind in the least: this is what he loves to do.
"For sure people ignore me," said Rimer. "They're scared of me, which is kind of funny since I'm a five-foot-nothing guy in spandex."
Although the cold weather didn't stop his performance today, the approaching Vancouver Olympics could. According to the City of Vancouver, buskers are not permitted anywhere near the Olympic venues during the 2010 games. A representative from the city's busking department told the Chronicle that the ban around the Olympics was due to "security concerns," something Rimer has a hard time understanding.
"Look at me," said Rimer, looking down and laughing at his ridiculous outfit. "What is this short, goofy looking man in spandex going to do?"
The city wanted to make it clear that artists have the opportunity to perform in other areas of the city, as long as they have a permit and follow the city's guidelines.
Within the past year, Rimer has fought many battles with city officials, including one over the volume of his boom box and another over where he can park his neon-green electric scooter, but this is by far his biggest battle. With recent changes to the regulations, Rimer could bunable to perform in public.
"We are not allowing any music amplification [including] batteryoperated or electric…no boom boxes," said the city's representative. That's a change to the original "reasonable" volume control allowed last year.
The new restrictions and Olympic ban has forced Rimer to take "Spandy Andy" elsewhere, seeking out local community-building project "I Heart Van Art" to support his act. I Heart Van Art has partnered with the Yaletown Business Improvement association, according to Rimer, who said the association would be filling up the streets of Yaletown for a 17-day street event during the Olympics.
Rimer plans to apply as a performer at the event, but he also has a way of getting around the city's bylaws, allowing "Spandy Andy" a chance at worldwide fame, as tourists from all over the world swarm the Vancouver Games.
"It creates complication when you put your hat out and ask for money, so if I don't have a hat, I'm not technically a busker," said Rimer. "Nobody can get mad at a random guy dancing in spandex. You just can't be angry at that."
As Rimer danced past a row of cars stopped at a traffic light near the Art Gallery and signalled for them to start dancing, a middle-aged man rolled down his window and began dancing behind the wheel. A huge smile came across Rimer's face, as he danced with the man until the light turned green.
"Just wait for the Olympics," said Rimer. "Without the hat, I'm going to be busting out of trees. You never know when Spandy Andy's going to pop out of nowhere and surprise you."
Christopher Tubbs was a first-year university student at Kwantlen Polytechnic University when he discovered a lack of student life.
When he first asked the KSA about student clubs on the Langley campus, he was told there weren't any. The majority of clubs were located on the Surrey and Richmond campuses and the majority of the clubs focus on academic programs and specific interests.
Tubbs was looking for something different: a way to meet new friends in a social environment. So he began the creation of the Sandwich Appreciation Club.
The club, which states in it constitution that it will "unite sandwich lovers beneath a common banner so that they may be provided with peace, order, and good carbs," has over 60 members, and according to Tubbs, is still the only club on the Langley Campus.
According to the Kwantlen website, the Sandwich Appreciation Club was created to "appreciate the sandwich in its many forms with its many ingredients, including wraps, to promote public awareness and understanding of sandwich appreciation and to encourage sandwich-orientated discussion, debate, and activity."
Tubbs said that the club's title is all in good humor, and that the main objection is to get students together for a good time.
"The Sandwich Appreciation Club is a casual thing and we are more than happy to poke fun at ourselves," said Tubbs.
While there are no other funnily-named student groups located at Kwantlen, there appears to be a trend of students wanting to created social clubs.
Simon Fraser University has both the Bubble Blowing club, created to "spread happiness around campus," and the "Beard and M(o)ustache Fellowship," which claims to "promote understanding of hairy people, and to fight discrimination against bearded men and woman".
The University of British Columbia has both the "Radical Beer Faction" and the "Peace and Love Club."
While Tubbs has not yet arranged his club's first meeting of the year, he said the hopes student club would have all kinds of group-hangouts and activities throughout the year.
On Dec. 3, the Kwantlen Polytechnic University Faculty Association planned a moment of silence in recognition of the National Day of Remembrance and Action on Violence against Women.
The day, which was established by Canadian parliament, was created in honour of 14 women who were murdered at École Polytechnique de Montréal in 1989.
Often referred to as the Montreal Massacre, the brutal murders were acts of a single male, entered the school and purposely targeted only the female students.
While this day of remembrance is expressed all across Canada, it appeared many Kwantlen students were more interested in the free breakfast the Kwantlen Student Association was offering that morning.
As nine students circled around a small table, holding roses and bowing their heads in silence, more than 20 students were noisily gathering around the KSA food table, directly across the Richmond rotunda, to receive free cereal and toast.
As the participating students laid the roses to rest on a small round table, and lit candles for each rose, it seemed the rest the student population were oblivious to the seriousness of the occasions.
The roses where left unattended on the table, alongside several pamphlets about the occasion, and then students left for classes, disappointed, as a larger turnout had been expected.
While fall semester classes and exams are quickly coming to an end, there are still many sales, events and activities at Kwantlen campuses for the next couple of weeks.
The Surrey campus will have counsellors on staff Tuesday and Thursdays during the next few weeks to help students with classes and instructor problems. No appointment is needed, and students will be seen on a first-come, first-served basis.
All of the university's bookstores are holding a 20-per-cent-off sale throughout December, offering a discount on all general novels and books. The bookstore is also encouraging students to purchase sale items as Christmas gifts this year.
Student Leadership Conference tickets will also be on sale during the holiday season, for those wishing to attend the event on Jan. 23. The conference will be taking place at the Surrey Conference Centre this year, and ticket are $20. It is recommended that students purchase tickets early, as there will be limited space in the conference centre.
All of Kwantlen campuses will be open during the break, except for Dec. 24, 25, 28 and 31 and Jan. 1. Students are welcome to use school labs and other services during this time to catch up on missed school work or get a headstart at the next semester.
Kwantlen students had another Olympic employment opportunity made available to them as Impark visited the Richmond campus rotunda this week.
Impark will be in charge of all parking locations at and around the 2010 Olympic venues.
Impark is promising future employees guaranteed work during the Games, and will provide competitive wages to students. Employees during the games will be provided with assisted transportation to and from the workplace. They will also be given uniforms, provided meals during working hours and have the potential to earn cash bonuses.
Jobs will include tasks such as checking parking tickets, preparing parking lots, directing traffic and eliminating traffic congestion.
Students who were unable to meet Impark employees this week, can visit other locations where the company will be recruiting. Impark will be at Whistler's Pan Pacific location on Nov. 27-29, from 10 a.m.-10 p.m.. A BCIT booth will be open at the Great Hall on Dec. 2, at the Burnaby Campus South East Building from 10 a.m.-4 p.m. Impark will also be onsite at Simon Fraser University, Dec. 4-5, in the main lobby, from 9 a.m.-5 p.m.
The Kwantlen Eagles woman's soccer team flooded the Surrey campus with red last Thursday evening, as they celebrated their record-breaking bronze win at the National Soccer Championships in Ontario.
Students and staff gathered in the main entrance of C building to welcome the team with a roaring round of applause, as they addressed the crowd, flouting their provincial and national medals with pride.
The balloon-filled room was full of emotion as the team laughed through a slideshow of their journey to Toronto, and cried through the numerous speeches addressed to them.
David Atkinson, President of Kwantlen Polytechnic University, was one of the first speakers to congratulation the team.
"Thank you for what was the wettest weekend of my life," said Atkinson, later joking that he "had to go home immediately and drink half a bottle of scotch."
After extending an offer to take the whole team out for dinner, Atkinson couldn't help but mention the accomplishments the university has made during his first year as president of the university.
"I have become very fond of saying 'this year has been a year of firsts,'" said Atkinson, noting that Kwantlen received university status, established a Senate and now are receiving their first bronze medal for soccer.
Atkinson also surprised the team with a brand new soccer field, which will be built at the Newton Athletic Park by 2010. The field will be owned by Kwantlen, and feature a brand-new Eagles scoreboard.
"See what happens when you win a championship?" said Atkinson. "We spent $2 million. What a great deal!"
After Atkinson's speech, members of the team shared some of their memories of their journey in Ontario for the national championships.
"We took the longest route possible, [with] shootouts," said Kelsey Doherty, during her speech. "The ending? Victorious!"
When the time came to describe the big win, there was only one thing the girls could say:
"Overtime penalty kick it was," said Sarah Davies, "and it landed us third place."
While the ceremony Thursday evening ended with food and beverages, this is not the end of the Kwantlen Eagles celebration. In 2010, Atkinson will be back to congratulate team members ne more time as they celebrate with an official banner-raising ceremony.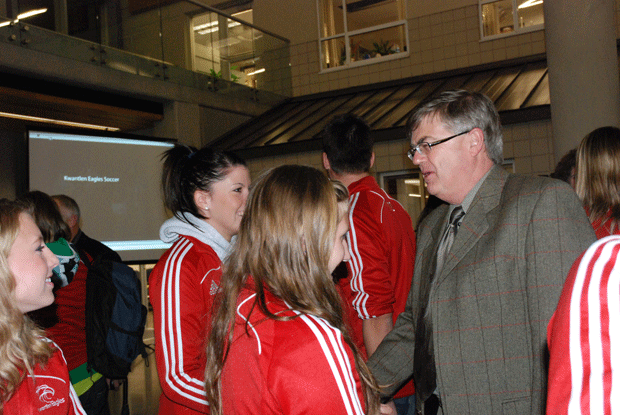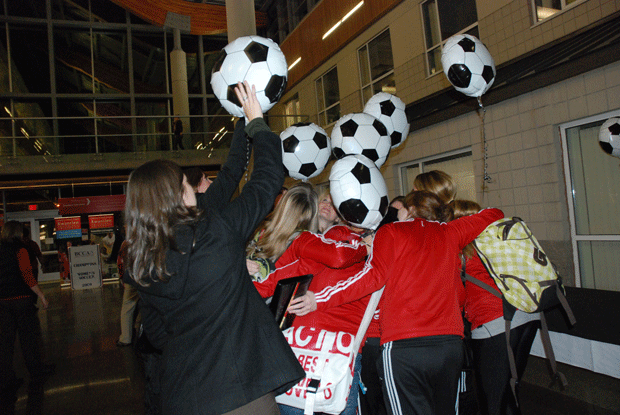 Kwantlen students looking to avoid post-secondary debt may want to check out some of the many scholarships available through the web.
While most Kwantlen-advertised scholarships and bursaries offer students the chance to earn post-secondary cash, web-based scholarships are often less popular, and the chances of receiving the prize may be much higher.
Websites such as B.C. Student Aid offer a large variety of scholarships, including opportunities such as exchange programs and conferences, with application processes as simple as short essays and submission of grades.
For instance, one scholarship, the Chinese Government Scholarship, will give one student the opportunity to study in the People's Republic of China. The scholarship will include tuition, accommodations, living expenses and school materials. The Chinese government will also be handing out a small number of partial scholarships.
While most awards tend to be introduced in early summer, in order to give recently graduated high-school students an equal opportunity, many are available year-long. And, they are not always based on GPA.
Opportunities are available to students from specific cultures, students with medical issues and those with backgrounds in different countries. Some students may even come across awards based on their parent's employment. For example, the All-Nations Trust Company offers 10 awards of $500 each year to aboriginal students, based on community involvement and academic standing. The B.C. Epilepsy Society also awards students, with scholarships of $1,000 available specifically to students with epilepsy.
Using Google to search for "B.C. scholarships" will give you large lists of public and private companies offering scholarships to students.
B.C. Student Aid and other award-posting sites update throughout the year, and most opportunities have cost-free application processes available.
Kwantlen's newest Olympic partnership with the Vancouver Organizing Committee (VANOC) for the 2010 Olympic and Paralympics Winter Games is more than just business.
As the Olympic committee gains extra parking space at all Kwantlen campuses during the Olympics, Kwantlen students will be reaping the benefits as they are exposed to a variety of opportunities.
Mary Jane Stenberg, executive director of external affairs at Kwantlen Polytechnic University, has been working on the project with staff for several years, and is excited to get students involved with the Olympics. Working closely with VANOC, Stenberg has seen her Olympic project grow vastly since sponsorship was first suggested.
Details of how the partnership began remain foggy, as the project passed through the hands of Kwantlen's former vice-president David Ross several years ago.
"The initial [suggestion] was made from VANOC to Kwantlen," said Stenberg.
As part of the Kwantlen-VANOC sponsorship students will gain direct access to the Vancouver Olympic Games through volunteer positions.
"We have already had recruitments for any kind of volunteer opportunity you can imagine," said Stenberg. "These have been available to all students at all campuses".
Volunteer opportunities range from venue-managing to media relations as well as participating in opening and closing ceremonies.
"They are still looking for volunteers," said Stenberg. "What we ask them [students] to do is go through the VANOC website"
Aside from volunteer opportunities, Kwantlen students will also have the possibility to purchase hard-to-find Olympic event tickets.
As a sponsor for the 2010 Games Kwantlen was allowed to purchase a limited amount of Olympic tickets to sell to their students. Within the next month, students will be able to access a website specially designed for the purchase of tickets. Their names will then be entered in a lottery.
"Student will have five days to come in and purchase the tickets," said Stenberg, "or we will go to the next name on the list."
As part of the Olympic Contributor agreement, Kwantlen was also allowed to pick a person to be the torchbearer on the Langley leg of the Olympic torch run.
After students and staff entered an online questionnaire early last year, Kwantlen has announced Suzanne ten Haaf, a business student, will be representing Kwantlen on Feb. 8, on the 102nd day of the Olympic Torch Relay Route.