Students from Grades 7-12 gathered at Kwantlen's Surrey campus to display their science projects on Thursday and Friday.
The school hosted the South Fraser Regional Science Fair, which doubled as a chance for elementary and high school students to tour the campus and learn a little about the post-secondary institution. Over the course of the two-day event, students showcased their projects to judges, fellow students, family, community members and Kwantlen students.
The displays were classified as either an experiment, innovation or study. Projects studied mold growth, the human brain and wind energy, and included projects like one titled "Effects of Okra Mucilage on Non-Pathogenic Escherichia Coli Growth."
Up to eight students from the fair will be awarded the opportunity to fly to Toronto to compete in the Canada-wide science fair, all expenses paid. The national competition runs from May 14-21, and the regional participants will be announced on Tuesday.
The winning students will have scored the highest marks after judges graded them on their oral presentations, the construction of their displays and the logic of their projects, among other things.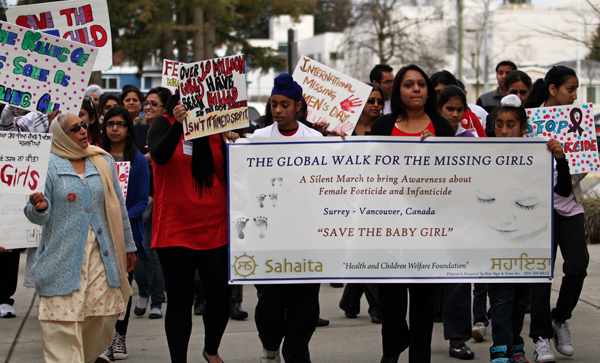 Members of the South Asian community are putting faith in a new generation to change how women are viewed in their culture.
On March 5, over 70 people, many of them youths, gathered at Kwantlen Polytechnic University's Surrey campus to take part in the Global Walk for the Missing Girls and to bring awareness to the problem of female feticide and infanticide.
Prominent members of the South Asian community made passionate speeches about the problem and then led people in a walk around the campus.
The walk took place in five countries and 16 cities around the globe in conjunction with International Women's Day.
In the last century, 50 million girls have been lost from India's population and in the last two decades 10 million have been killed by their parents either before or after birth.
With the introduction of cheap and portable ultrasound equipment the problem has become much worse.
Dr. Pargat Singh Bhurji, a pediatrician in Surrey, said the main reason for feticide and infanticide is dowry, which is a gift of money or estate that the bride brings to her husband when they are married. Other societal issues, like rape, have also contributed to increases in abortions.
"Eventually you need a uterus to be born. You cannot be born in the ground like potatoes or up on the tree like apples," said Bhurji. "We are destroying our own future in a sense."
While there are laws in India prohibiting doctors from identifying the sex of a fetus, no one has ever been charged.
Most people think of selective feticide and infanticide as being a problem in other parts of the world, like India and China, however, it is a much broader issue.
"It's not a regional problem, it's everywhere," said Garima Kaur, the event's organizer and an international student at Kwantlen.
The issue of selective feticide reaches as far as Vancouver and Surrey where it is supposed to be illegal for doctors to identify the sex of a fetus before a certain stage in pregnancy.
"There are clinics across the border, there are clinics in Surrey who actually advertise about this. 'If you want to know if it is a girl child or a boy child and want to abort it then come here,'" said Kaur.
Pawan Dhillon, a maternity doctor in Cloverdale, has seen the issues of gender inequality here in Canada.
"In my experience it's not as blatant as what we see in India," said Dhillon. "I have been in deliveries where after I've announced 'It's a baby girl,' it's been met with silence. It's not a common occurrence, but it is still there and it's something that we need rectify."
This was the first year the event was held in B.C. and Kaur hopes that it will continue to grow in the coming years. Reaching youth is one of her main priorities.
"If you encourage the youth, if you educate them that 'let's put a stop to it', because they are the ones who are going to be parents now and in the future," she said. "I think the solution is just in educating them — changing their mindsets rather than changing people who've already lived their 40, 50 years of life."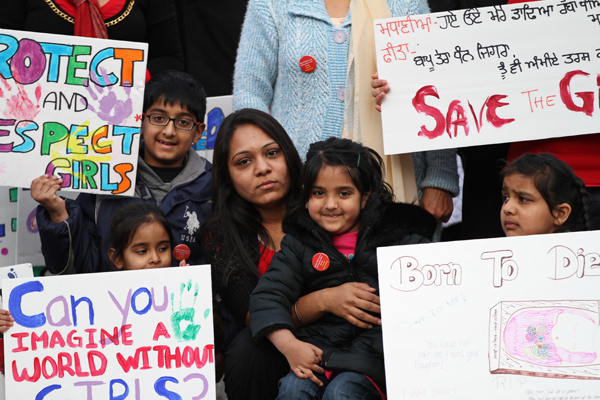 Bring your toonies to Kwantlen campuses this week — START is hosting a cupcake bake sale to benefit the Heart & Stoke Foundation of BC & Yukon.
The cupcake sale starts Wednesday, March 2, in the rotunda on Richmond campus from 11 a.m.-4 p.m. and moves to the Surrey courtyard on March 3.
Cupcakes cost a minimum donation of $2 and proceeds go to supporting the KUSA START Volunteer Big Bike teams which will ride May, 20 at 4 p.m. and 5 p.m. at Central City in Surrey.
Cupcake sales have become a fairly common sight on Kwantlen campuses and have been used to raise money for everything from graduation events to breast cancer.
This is the first time the START program has run a sale benefiting the Heart & Stoke Foundation said Naveen Zafar, START's volunteer mentor.
The START Volunteer program was established in 2010 with a goal of connecting Kwantlen students with their community. Zafar and several other volunteers had been involved with the Heart & Stroke Foundation in the past but had never organized anything through Kwantlen.
"The Heart & Stroke Foundation has nothing to do with the bake sale; we are just donating all of the money because we believe it's a good cause," said Zafar.
Many of the volunteers were interested in baked goods, so START purchased close to $195 worth of cupcakes from a bakery that uses all-natural ingredients. The Grassroots Cafe will also be donating hot chocolate and iced tea for the sale. START has a goal of raising $2,000 from the cupcake sale and other donations but Zafar believes they will be able to raise much more.
According to the Heart and Stroke Foundation, there are an estimated 70,000 heart attacks in Canada every year; that equals one every seven minutes. Over 16,000 people die as a result of heart attacks each year in Canada.
More on the START Volunteer program.
More on the Heart & Stroke Foundation of BC and Yukon.
After a disappointing 2009-'10 season, the Kwantlen Eagles baseball program has folded this season.
"The baseball program operated as a club team, therefore it was a self-sustaining program. Although the university provided funds to assist the team in completing its final year, the club was unable to sustain itself financially," athletics director Elise Le Brun wrote in an email.
The difference between a club team and a varsity team — the basketball and soccer teams are varsity teams — is funding. The baseball team was essentially paying its own way to play. While Kwantlen did contribute some funds to assist the team, it far less than the funding received by Kwantlen's basketball program.
"The first year I was there, we got a little bit [of funding] and then the second we got even less. It was ridiculous. We almost couldn't even finish our season the second year because we had no money," said last season's catcher Colton Mace.
The program also suffered as a club team in its recruitment of players and the team had just 15 players on its roster last season.
"You get no money, no nothing. You have to pay money out. You're not going to get a lot of people playing that way," said Mace.
With plenty of other Premier-level baseball teams, such as the Langley Blaze, in the Lower Mainlaind it was hard to convince athletes to come to Kwantlen.
While both the Eagles and Blaze are self-funded organizations, since 2001, the Blaze have had 26 players drafted by Major League teams. The Eagles have had just two: shortstop Lee Darracott and pitcher Chirs Lemay, both in 2004.
The Eagles did have some success in the early years of the program, including a Canadian College Baseball Conference Championship in 2003, but funding and recruitment difficulties eventually caught up with the team last season. They finished the '09-'10 season with a 4-20 record and didn't have a single player hit better than .275 for the season.
Le Brun wrote that "the club was unable to sustain itself financially. Therefore, the club administration made the decision to discontinue its support of the team in April 2010."
Mace saw the decision a little differently.
"Rob [Webster], the coach, was supposed to get paid but because the school didn't support it he had to get another job and he just didn't have time for it. And there were no more guys that wanted to play."
The KSA has partnered with the Kwantlen library to raise awareness about student hunger and generate donations for the KSA food bank.
"We wanted to provide incentive for them to donate. At the same time we wanted them to recognize that other students are in need and that they can really help and make a difference," said Eddie Lee, KSA health and recreation manager.
The Food for Fines program, Feb. 20-26, allows students to bring in non-perishable food items or new or unused toiletries to any campus library and receive $2 off fines for overdue items, up to a maximum of $10.
Lee got the idea from other universities that have had success with similar programs.
According to Lisa Hubick, public relations librarian, the library was happy to participate. She said the library had a history of helping local community food banks, but this was the first time they will be able to directly help out Kwantlen students.
While she admits that fines aren't a huge problem with Kwantlen students, she hope students will take advantage of the Food for Fines program and help out fellow students.
Currently, the KSA food bank buys most of the food they need. According to Lee, they spend about $500 a semester on food bank supplies.
"The idea was to tug at the heart strings a little bit, as opposed to just doing a regular food drive," Lee said of the program.
For more information on the food bank visit http://kwantlen.weebly.com/student-food-bank.html.
After an unfortunate road trip to Prince George, the Kwantlen Eagles' men's team returned home to face Quest University's Kermodes on Friday, Feb. 4, a team they'd never lost to at home. Coming into the game the Eagles had lost seven straight, bringing their record to 1-11 for the season.
The 2010-'11 basketball season will be the last for Bernie Love, the head coach of Kwantlen's men's team, who announced his resignation last week.
Love, who has coached the team for nine of the past 12 years, said his reasons for leaving were personal, and had nothing to do with the team's poor record: He is moving to Trail to be closer to family.
"It wasn't an easy decision. If I was not moving back there, then I would be back," he said, explaining he had made up his mind several weeks ago.
When Love broke the news to his team, he was met with an "expressionless" response.
"They're a bit of a quieter group. Not a lot of them said anything," he said. "Maybe when the season's done, then the goodbyes will come.
"I think that the last Saturday night will probably be a little bit tough."
According to guard Doug Meyers, the silent reaction on the team's part may have been for less-obvious reasons.
"There's definitely a player-coach tension. It may not show, it may not come out in front of the team, but guys talk: It's just the nature of the game," said the second-year student.
"The problem here that I have most with Bernie is there's a lack of accountability and perceived caring on his part and it leads to the team.
"Things that come from the coach definitely effect what goes on on the floor. I'm not going to say that it's 100 per cent the coach, that it's 100 per cent the players, it's definitely a combination."
The Eagles have suffered through nothing but losses since late November, a combination of poor shots and missing links on the players' part; a lack of accountability and cancelled practices on the coach's, according to Meyers.
He said that while the Love gave him "a lot of confidence" to be able to grow as a player and reach his potential, he didn't follow through with his high expectations for the team.
"Talk the talk, walk the walk. In my opinion, Bernie's a talker. It sucks to say, I haven't seen a lot of walking," he said.
On a personal level, Meyers went through what the team as a whole is struggling with.
When he was in Grade 9, he knew he loved the game; he also recognized that he "sucked." But he confronted his coach with the goal in mind to be the team's star by Grade 12. He was playing on the provincial team by the end of high school.
"I understand what it takes to get to that level [and] I just haven't seen it here," Meyers said.
Despite the effects of the coach's "negative undertones" on the team, according to Meyers, Love is able to acknowledge part of the tension and focus on the positive.
"There's wins and there's losses," Love said. "Obviously we'd like to be doing a lot better than we are… I don't call this a waste of a year at all."
Old McDonald had a farm and so does Kwantlen.
On Feb. 3, the Institute for Sustainable Horticulture will launch the second year of its farm school. The Richmond farm school is an extension education program designed and intended to prepare people to "engage in local-scale, human-intensive" farming. And, according to the farm school director Kent Mullinix, this isn't an ordinary university program. There are no textbooks, no assignments, no exams and no grades.
"It's taught offsite and the whole school is in partnership with the City of Richmond. These are all unusual things for Kwantlen," he said.
The program runs on a not-for-profit, cost-recovery basis: the farm school is completely funded by student fees and grants.
"We got a very generous grant from Vancity. They gave us $50,000, and with it we're going to procure equipment and, most notably, we hired a farm school coordinator," Mullinix said.
Anna Rallings is the program's farm school coordinator and was a student in the program's first class.
"I really liked working with chickens," she said. "We built a chicken coop. And this year the new farm school students are going to be hatching chickens."
Rallings, a graduate of environmental sciences, found that she didn't like the day-to-day grind of sitting in an office and writing reports.
"I went into the farm school kind of with a blank slate, thinking that maybe one day I'll farm. And now myself and another student, Charles Wilson, we've started our own farm, Natural Urban Growers in Richmond" she said.
The farm school isn't just about teaching people how to farm.
"Folks of your generation need to understand that their lives are going to change radically. The fossil-fuel-based economy and lifestyle that you now live is going to cease," Mullinix said.
"Virtually all of the students have already established careers and are fairly accomplished. They were in the farm school because they see sustainability as a preeminent issue."
According to Mullinix, agriculture now "is absolutely unsustainable."
The farm school's goal is to change the way we farm and make it more sustainable. They've partnered with the City of Richmond and two Richmond NGOs to put in place various tools and demonstrations of what they call Municipal Enabled and Supported Agriculture or MESA.
"The farm school is a MESA tool," Mullinix said. "Municipalities in the very near future are going to become very concerned with their agri-food systems, because it's going to become inextricably linked to the sustainability of their community.
"If we can advance and achieve a sustainable agri-food system, then we can demonstrate to all that sustainability will enhance our lives not detract from them. If we don't get this one figured out, we are in, as they say where I come from, a heap of trouble," he said.
Rallings agrees and sees the farm school as an important step to making the world more sustainable.
"There's a serious need for people to get into agriculture," she said. "The nature of agriculture is changing because of climate change, but there's also community development and the demand for local, organic food. The farm school's really going to help bring people into the industry who might be on the outside and don't know where they fit."
For the first time in its history, Kwantlen has organized a three-week field school in Ghana for any students who are interested and meet course requirements.
Charles Quist-Adade, the Kwantlen sociology professor responsible for organizing the trip, was born in Ghana and has an intimate knowledge of its culture.
He described Ghana as the most hospitable nation in Africa, noting that Ghanaians are generally friendly toward foreigners.
Quist-Adade believes that students learn by doing and prefers to see his students out of the classroom doing research that will "bring about change in the lives of real people."
Applicants must be over the age of 19, have completed 45 credits and have a good student standing at the school they attend. They do not, however, need to be Kwantlen students.
The students will depart for Ghana on June 29 and will head home July 25. Before they leave, they will spend time preparing in the classroom.
For part of their trip, students will have the opportunity to work with non-government organizations that build homes for poor people and deliver health care to those in need.
They will also attend lectures by professors from the University of Ghana and the Ghana Institute of Journalism about the politics, history, culture and economy of the country.
Whatever time is left will be spent sightseeing, dancing and soaking up the Ghanaian culture.
"When we come back, they will organize a colloquium where they will share their experiences with the Kwantlen community, plus, of course, the wider African communities in the Lower Mainland," said Quist-Adade.
Not including airfare, tuition and personal expenses, the trip will cost about $2,800. A $250 deposit is also required.
The deadline for applicants is Jan. 31.
Detailed information can be found on Kwantlen's website.
Competing for the first time ever, the Kwantlen School of Business made it to the finals of the Inter-Collegiate Business Competition at Queen's University in Kingston in early January.
Students Steven Vu and Joe Zhao went head-to-head against teams from five other universities in the competition's Caro Systems management of information systems category.
"We didn't manage to place, but at least we made it into the finals," Vu said. "A lot of universities compete in this, including universities from overseas, such as Hong Kong and Singapore. Some universities actually dedicate courses to competitions like this. So teams going in are usually very, very well prepared."
Started in 1978, the event is Canada's largest undergraduate business case competition. To reach the finals, students are given one month to analyze a business case and submit their recommendations.
The competition received 170 submissions from 41 universities in eight different categories: accounting, business policy, ethics, debating, finance, human resources, marketing and management of information systems. The top six teams in each category competed in the final round.
"The final round was pretty challenging. On the day of the competition, you have five and a half hours to read a case, analyze it and prepare a 15-minute presentation with your recommendations to a panel of judges, who are industry specialists," said Vu, who is finishing his business management diploma.
While they didn't place, Zhao, who is studying entrepreneurial leadership, believes he knows what they need to do to improve.
"Our recommendation was good, but the other groups had really good presenters. They had really good delivery. That was our weakness," he said.
He also believes a key to success lies in the support of fellow students.
"There was only the three of us, me, Steven and the coach [Kamal Masri]," the 24-year-old said. "But other schools had multiple teams … and they supported each other. It made me feel like Kwantlen needs to put more resources and get more students to participate in this kind of competition."
Vu agreed with his partner, adding that many other Kwantlen students he talked to didn't know that opportunities such as this existed.
"The challenge is for Kwantlen to make it more well-known. Because it's a really good experience," the 20-year-old said.
Win or lose, Vu found the experience invaluable.
"It validates my education. It's one thing to have a degree. But to be able to show people that … [Joe] and I were one of the six [teams] that were selected for the final round, really helps validate that I actually learned something," he said.
"I got to apply a lot of the stuff I learned and got feedback from people who have been in the industry for more than 10 years, on what was good, what was bad and what they would do differently."
Similarly, for Zhao the competition was all about the challenge and the experience.
"My favourite part was the final round, because, it was very competitive and very intense," he said. "So you have to push yourself to your upper limits. There you saw the top talent from different universities. You got the chance to talk to them and learn about their experiences and their studies. That's something that you can't get from school."
Brock University took top prize in the management of information systems category, with Queen's University second and UBC third.