It's that time of year again when many students haul their no-longer-needed textbooks to Kwantlen's bookstore in an attempt to make a little money.
In the past, this was the only option, but in the last few years, several alternative book-buying and book-selling services have become available.
BCbookworm is a free service that was created in 2001 to help match up students who didn't want to go through the bookstore.
Michael Robson, BCbookworm's creator, was a business student at Kwantlen when he built the site. He decided to create a service where people could buy and sell used textbooks for reasonable prices after becoming fed up with how little money the bookstore was paying students for their books and how much they were reselling them for.
Originally, the website was not automated, so Robson would manually try to match buyers with sellers using an Excel spreadsheet.
"I would literally buy from one guy and, like a dealer, sell to another guy," he said.
Eventually he hired a professional web designer to set up an automated system that could run on its own.
The KSA caught wind of the project soon after it was created and asked Robson to join its team. Robson left Kwantlen in 2003, and the site has been controlled by the KSA since then.
The site has remained almost untouched by the KSA over the last 10 years, and Robson's original mini-bio, now outdated, is still displayed on the About page.
Things haven't changed much since 2001, Robson said, as textbook publishers continue to find new ways to get students to buy new editions of textbooks every year.
"The publishing business, when they play these kinds of games, people don't like it. It's not a good business model," he said. "They're sowing the seeds of their own demise."
Creating a service where students could cut out the middleman and sell textbooks directly to each other was the solution he decided would work best.
"I built this thing because a reaction to the ultimate ripoff that everyone was feeling from the local bookstore," he said. "You're just a kid. You hardly have any money anyway."
The Foundations in Design Certificate Program will be hosting a year-end gallery event on April 14.
Anyone can drop by for the public event, from 2-4 p.m. on the third floor of the Richmond Kwantlen campus in rooms 3010, 3020 and 3850.
A separate, invitation-only event will be held from 6-9 p.m. The evening event will include a raffle, with proceeds going to charity.
The gallery will feature everything created by the students in the one-year program, which is designed to give students a basic understanding of all types of design.
"Basically, it's a broad, basic program that just introduces the students to the world of design, because there's so many different directions that you can go," said Dylan Seger, a student who has finished the program and who volunteered to be the coordinator for the event.
The goal for the event is to "open up people's minds to the possibility of design," he added.
There will be a wide range of styles on display, as there are over 30 students in the program.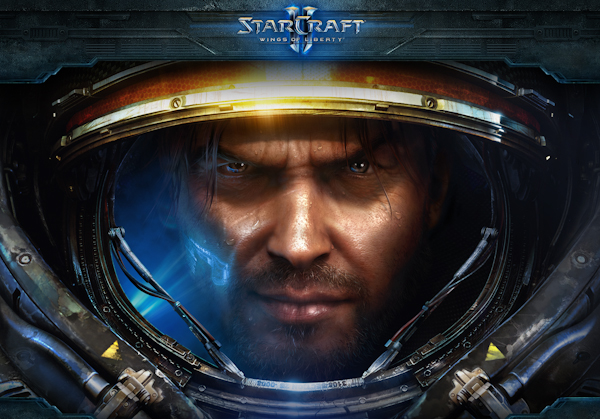 To the majority of Canadians, the CSL is the Canadian Soccer League, the top soccer league in Canada with a history going back to 1926.
To a small population of video game enthusiasts, the CSL is the Collegiate StarLeague, a younger, lesser-known league of 144 university teams spread across Canada and the U.S. that duke it out online every week, playing a computer game called StarCraft 2: Wings of Liberty.
The four-year-old StarLeague describes itself on its website as a "small step in the process of creating enough excitement and passion for e-Sports to fill stadiums, be broadcast on television, and ultimately become a part of mainstream culture." Originally a StarCraft league, it switched over to StarCraft 2 when that game was released.
Like most sports organizations, it's made up of different divisions, eight in all. Kwantlen is in the Guardian division with Queen's University, the University of Cincinnatati, the University of Georgia and 15 other colleges. UBC, UVic, Thompson Rivers University, BCIT and SFU also have teams.
Seasons start in the fall and end in the spring with playoffs. Last year's winner was UC San Diego.
The coordinator for Kwantlen's first-ever StarLeague team is a second-year crimonology student named Jayson Bulahan.
He discovered the StarLeague on an online StarCraft forum and, after realizing what Kwantlen was missing, began trying to organize a squad for this year's season. It was tough getting into the swing of things, but today Kwantlen's team consists of 14 players.
Although it is a competition, Bulahan insists that having fun is their priority. If a team member doesn't want to play, he or she doesn't have to. Inexperienced players are welcome, too, as long as they're willing to learn.
"My recruitment standards are not really high. If you're new, that's fine. Everyone will get a chance to play," he said.
Team member Kevin Shen shares Bulahan's ideology, and finds that it's "much easier to improve if you're under that mindset, and if I lose the game, it wouldn't bother me so much since I can always watch and analyze the replay without feeling ashamed."
Shen is in his third-year at Kwantlen and first started playing StarCraft in 1998.
Harold Keech, another veteran who's been playing since 1999, plays mostly for fun but also finds it "very rewarding to win and perform well for the school."
Although the main goal is to have a good time, Bulahan admits that games can become competetive.
"StarCraft is a game of wits, and I don't think anyone wants to be outwitted by another player," he said. "It's up to the players. It's their own motivation that drives them to play as best as they can."
Bulahan said the toughest game the team has played so far was against the University of Southern California.
"We got outplayed by them, and there was nothing we could do," he said.
That was back when the team was still getting the hang of things, but their skills have improved since then.
"It's taken us a little bit more time to get used to how we're supposed to do things," he said, but added that the team's getting better every week.
StarCraft 2 — the sequel to the successful 1998 sci-fi game StarCraft —was released in July 2010 and has quickly become one of the most popular and competitive online games. It sold three million copies in the first month and has received universal acclaim from game critics.
It takes place in the 26th century and contains three species — the Terrans, the Protoss and the Zerg — who battle each other in outer space environments.
Kwantlen's next game is Saturday, Feb. 5 against the University of Minnesota, Twin Cities.
For the first time in its history, Kwantlen has organized a three-week field school in Ghana for any students who are interested and meet course requirements.
Charles Quist-Adade, the Kwantlen sociology professor responsible for organizing the trip, was born in Ghana and has an intimate knowledge of its culture.
He described Ghana as the most hospitable nation in Africa, noting that Ghanaians are generally friendly toward foreigners.
Quist-Adade believes that students learn by doing and prefers to see his students out of the classroom doing research that will "bring about change in the lives of real people."
Applicants must be over the age of 19, have completed 45 credits and have a good student standing at the school they attend. They do not, however, need to be Kwantlen students.
The students will depart for Ghana on June 29 and will head home July 25. Before they leave, they will spend time preparing in the classroom.
For part of their trip, students will have the opportunity to work with non-government organizations that build homes for poor people and deliver health care to those in need.
They will also attend lectures by professors from the University of Ghana and the Ghana Institute of Journalism about the politics, history, culture and economy of the country.
Whatever time is left will be spent sightseeing, dancing and soaking up the Ghanaian culture.
"When we come back, they will organize a colloquium where they will share their experiences with the Kwantlen community, plus, of course, the wider African communities in the Lower Mainland," said Quist-Adade.
Not including airfare, tuition and personal expenses, the trip will cost about $2,800. A $250 deposit is also required.
The deadline for applicants is Jan. 31.
Detailed information can be found on Kwantlen's website.
Kwantlen's brass ensemble played pieces by Beethoven, Mozart, Verdi and others as part of Music at Midweek, on Wednesday, Nov. 5 at Kwantlen's Langley campus.
The ensemble — four trumpets, two French horns, two trombones and a tuba — had been preparing for the performance since September under conductor Thomas Shorthouse, principal trumpet with the Vancouver Opera Orchestra.
"He, being a trumpet player, he's the trumpet teacher, so any trumpet players here get one-on-one lessons with him," said Adam Junk, one of the four trumpeters.
Junk wrote an arrangement specifically for the performance, called Papa Tom's Pizzeria. The piece featured excerpts from the Godfather theme and other Italian-flavoured songs.
The free show was part of the Music at Midweek series of musical performances put together by Kwantlen's music department. Each Wednesday, until the end of the semester, a different ensemble performs for about 45 minutes in Kwantlen Langley's auditorium at 12:15 p.m.
Some audio excerpts from Wednesday's performance:
[audio: Grand.mp3]
Grand March from Aida by G. Verdi, arranged by K. Snell
[audio: Symphony.mp3]
Symphony #7, 2nd movement by L. van Beethoven, arrangement by R. Larden
[audio: Queen.mp3]
Queen of the Night Aria by W.A. Mozart, arranged by T. Shorthouse
[audio: Papa.mp3]
Papa Tom's Pizzeria, featuring excerpts from traditional Italian songs and the Godfather theme, arranged by A. Junk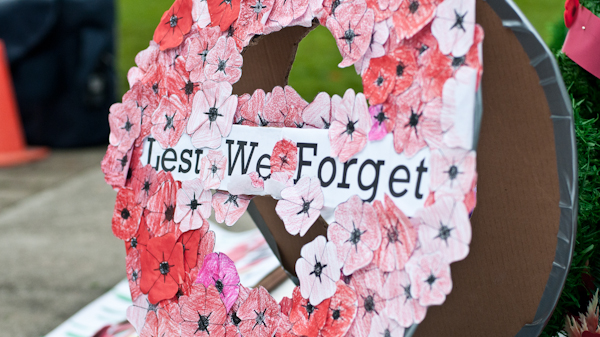 Do you think that Remembrance Day is losing its significance?
Mystica Lopez De Leon: "Maybe because more veterans are going, and then they're not really here to remind us of what's actually happening. But then, I guess we should look to the new generation that's fighting elsewhere."
Ryan Calasin: "I do think it has, because most of my friends, they just studied, they just did their homework, just partied last night.
Peter Coombs: "It's very significant. From what I saw in the media, there was a lot of young people showing up. I don't think it's lost its effectiveness."
Colin Pearson:"It was a personal day for me. My parents are at an age where they did participate in WWII… other than that, it was just a holiday-type day."
Jack Yao: "I don't know anybody who celebrated it, but I see a lot of people wearing the [poppy]."
Kwantlen's YouTube channel is growing daily.
KwantlenUTV, found in the Digital Café section of Kwantlen's website, is a collection of Kwantlen-related YouTube videos shot by Kwantlen students.
It was created in 2008 and is managed by Kwantlen's marketing and communication department.
A total of 256 videos have been uploaded so far.
According to Joanne Saunders, the director of the marketing and communications department, Kwantlen plans to expand the service.
"We hope to increase usage of Kwantlen UTV in future and are working on a marketing plan to move forward," Saunders wrote in an e-mail.
The YouTube channel offers anyone interested a chance to learn about what different departments have to offer and get to know students and alumni through one-on-one interviews.
Videos about fashion, horticulture, humanities, social sciences and other departments can all be found on the website.
"The fashion show, convocation and the Olympic torch bearer have been the most popular videos this year," Saunders wrote.
The video Kwantlen Fashion has 1,833 views and is the most-watched video.
Several recent videos feature profiles of Kwantlen graduates who have gone on to have successful careers in their fields.
Music at Midweek has begun again at Kwantlen.
Every Wednesday at 12:15 p.m., musical performances will go on at Kwantlen's Langley auditorium, just as they have for the past several years.
The shows, which typically last 45 minutes, are free to anyone who is interested.
"We would love to have as many people from the community or from other parts of Kwantlen [as possible]," said Zdenek Skoumal, this year's head organizer.
The events in the first half of the semester will feature professional musicians from outside of Kwantlen.
Last Wednesday, violinist Calvin Dyck performed with pianist Betty Suderman in front of nearly 100 people.
The aim, Skoumal said, is to "introduce [music students] to really fine music-making."
"It inspires you as a musician."
The second half of the semester, beginning Oct. 27, will feature Kwantlen students performing different styles of music.
"They watch each other as they perform, so it works on various levels," Skoumal said.
The next performance — Wednesday, Sept. 22 — will feature the Campbell Ryga Jazz Trio.