Old McDonald had a farm and so does Kwantlen.
On Feb. 3, the Institute for Sustainable Horticulture will launch the second year of its farm school. The Richmond farm school is an extension education program designed and intended to prepare people to "engage in local-scale, human-intensive" farming. And, according to the farm school director Kent Mullinix, this isn't an ordinary university program. There are no textbooks, no assignments, no exams and no grades.
"It's taught offsite and the whole school is in partnership with the City of Richmond. These are all unusual things for Kwantlen," he said.
The program runs on a not-for-profit, cost-recovery basis: the farm school is completely funded by student fees and grants.
"We got a very generous grant from Vancity. They gave us $50,000, and with it we're going to procure equipment and, most notably, we hired a farm school coordinator," Mullinix said.
Anna Rallings is the program's farm school coordinator and was a student in the program's first class.
"I really liked working with chickens," she said. "We built a chicken coop. And this year the new farm school students are going to be hatching chickens."
Rallings, a graduate of environmental sciences, found that she didn't like the day-to-day grind of sitting in an office and writing reports.
"I went into the farm school kind of with a blank slate, thinking that maybe one day I'll farm. And now myself and another student, Charles Wilson, we've started our own farm, Natural Urban Growers in Richmond" she said.
The farm school isn't just about teaching people how to farm.
"Folks of your generation need to understand that their lives are going to change radically. The fossil-fuel-based economy and lifestyle that you now live is going to cease," Mullinix said.
"Virtually all of the students have already established careers and are fairly accomplished. They were in the farm school because they see sustainability as a preeminent issue."
According to Mullinix, agriculture now "is absolutely unsustainable."
The farm school's goal is to change the way we farm and make it more sustainable. They've partnered with the City of Richmond and two Richmond NGOs to put in place various tools and demonstrations of what they call Municipal Enabled and Supported Agriculture or MESA.
"The farm school is a MESA tool," Mullinix said. "Municipalities in the very near future are going to become very concerned with their agri-food systems, because it's going to become inextricably linked to the sustainability of their community.
"If we can advance and achieve a sustainable agri-food system, then we can demonstrate to all that sustainability will enhance our lives not detract from them. If we don't get this one figured out, we are in, as they say where I come from, a heap of trouble," he said.
Rallings agrees and sees the farm school as an important step to making the world more sustainable.
"There's a serious need for people to get into agriculture," she said. "The nature of agriculture is changing because of climate change, but there's also community development and the demand for local, organic food. The farm school's really going to help bring people into the industry who might be on the outside and don't know where they fit."
Reena Bali, the Richmond campus director, thinks that Kwantlen needs a better student life. That's why she and other KSA members from the Richmond campus decided to put together a "licensed event" on Wednesday, Jan. 27.
The conference rooms at the Richmond campus were designated as the licensed area, where snacks such as chips and dip were provided, and alcohol was sold. Bali said the event, which was held from 1 to 7 p.m., took nearly two months to plan.
"Getting alcohol and food is very simple," she said. "The longest part is getting the school to approve it, waiting to hear back, and then finding someone to get the liquor license."
Students who came to the event had to present two pieces of ID to enter the designated licensed area, and were given a wristband to show they were of legal drinking age. There were also flyers that featured all local taxi numbers for students who needed a way home after the event.
Bali said the licensing event is a result of student interest. People repeatedly asked her, while the KSA was giving away free food, when the campus would "sell beer."
"Richmond will probably be licensed in the long run," she said. "We should be licensed because we need more of a university atmosphere. Most universities have some kind of licenesd area or a pub area, and Surrey has one… it's part of the student culture and life that we don't see here."
Instead of going back into the KSA's budget, 100 per cent of proceeds from alcohol sold at the event went to relief efforts in Haiti.
In a joint effort, Kwantlen Polytechnic University and the KSA are providing free H1N1 vaccinations this week to students and employees at all four campuses.
Since Tuesday, more than a hundred on-vaccinations have been administered at the Surrey and Richmond campuses.
Lesley England, a registered nurse with ProGroup, said the turnout for vaccinations has been quite good. On Monday, she expected to give 70 vaccinations at the Surrey campus. She gave 88.
By 12:30 p.m. on Tuesday, she'd vaccinated another 45 students on the Richmond campus.
"A lot of people who are getting the H1N1 [vaccine] have never had flu vaccines before," said England, who is expecting a third wave of the H1N1 influenza virus to arrive in February.
Nurses will visit the Langley campus Thursday and the Cloverdale campus Friday in hopes of immunizing procrastinating students.
When the H1N1 vaccine was being developed last fall, the KSA hoped to include it in the health and dental plan. However, the government purchased enough of the vaccine for all Canadians and offered it for free at clinics.
"It's readily available now. You can go to your doctor and get the shot," said Eddie Lee, coordinator of the Student Health Improvement Program.
"However, we know that there are students and employees who probably still won't go–it's a lack of convenience for them, so we decided to bring it on campus."
It's that inconvenience that has kept Nick Mostar, 22, from finding time for the vaccination.
"I've been doing schoolwork and haven't really had the time to go to a clinic or anything," said Mostar who is in the engineering program.
Not all students have waited quite as long. Brandon Tuason, 21, got the H1N1 vaccine several months ago. He was at risk of getting the virus because, at birth, he was diagnosed with severe asthma, making him more prone to infection.
"We're in an environment where everybody's kinda in close quarters," said Tuason. "Infections can spread really quickly. I think the school is taking a good initiative in preventing a lot of that by giving the immunization away."
An award-winning racehorse, a severed leg and a murderer are not typical inspirations for street names, unless you live in B.C.
Those three items are the basis of street names in Richmond, Surrey and Vancouver, and among the weirder stories collected by the cities' archivists.
City archivists collect and record the histories of the various municipalities, and store it for later reference.
Melanie Hardbattle, an archivist with the City of Vancouver, said her job offers a necessary service to those in Vancouver.
"It's very important for people to feel a connection to the past," she said.
Many use the archival records to research city events, family lineage, even the history of their houses.
"We provide an important service to those people. If we didn't have the records, we wouldn't be able to provide that info," she said.
Sometimes that provided info can get a little strange. Below are the three of the wildest stories behind street names.
Richmond – Minoru Boulevard
A quick Google Maps search for "Minoru" in Richmond gives about 500 results, covering one area of the map in little red dots. There's Minoru Chapel, Minoru Place Senior's Centre, Minoru Laser Dental, not to mention the actual boulevard itself. Minoru is everywhere.
"Most people think that Minoru is a Japanese name, and has something to do with the Japanese-Canadian community," said Bill Purver, a Richmond archivist. Purver explained that many Japanese immigrants came to the Steveston area in the 1800s to seek out lives as fishermen.
But the popular name has absolutely nothing to do with the Japanese-Canadian community.
The boulevard et al are actually named after the thoroughbred horse Minoru, who, in 1909, was the first horse to win two classic races, the 2,000 Guineas and the Derby, while wearing a reigning monarch's colours.
In August of that same year, construction on a Richmond racetrack finished. It was christened Minoru Park in honour of the record-holding horse.
The racetrack was a hit, with 7,000 spectators attending the first day, according to a Richmond News feature. The track closed in 1941, but the name's popularity had spread, leading to the many things Minoru.
Surrey – Hall's Prairie Way
It was once the best horse-and-carriage road south, with an infamous claim to fame.
Hall's Prairie Way, now 184th Street, may be the only British Columbia street named for a murderer.
In 1845, Sam Hall and his First Nation's wife were the first to settle the southeast Surrey district.
Soon after, Hall killed his wife. He later died in prison.
When the next wave of settlers came they called the place Hall's Prairie, after the homicidal husband.
"Only a mouldering cabin and a legend remained," wrote Fern Treleaven in his 1981 book Rivers, Roads and Railways.
He also wrote that the children of the new settlers feared the old Hall cabin, believing it to be haunted.
Vancouver – Leg-in-Boot Square
Since late 2007, B.C. residents have been living with a strange occurrence: severed feet washing up on shore.
These feet are unidentifiable and unclaimed, but also not a new thing. This has happened once before.
In 1887, local police found a knee-high boot, complete with severed leg, in the forests of False Creek.
The police placed the limb outside the station, hoping someone would claim it, according to Elizabeth Walker's Street Names of Vancouver. No one did.
Stuart Cumberland, a 19th-century writer, mentions the boot in his 1887 book The Queen's Highway.
"Just before I visited Vancouver, a man had mysteriously disappeared; and, on the day of my arrival, a top-boot, containing a foot and portion of the leg, had been found in the forest of False Creek. This, it was surmised, was all that remained of the missing man, a cougar having disposed of the rest."
The forested area is long gone, but the story lives on. In a 1976 act, the city named the False Creek location Leg-in-Boot Square.
Sidebar:
If you're looking for a perfect Christmas present, why not get something truly original: a street named after the recipient. Vancouver's street-naming committee receives about half-a-dozen letters a year from Vancouverites putting forward the names of relatives and major contributors to the city's development.
Nominations run the gamut from someone's great grandfather to the recently deceased Jack Poole, former VANOC president.
"We maintain a fairly extensive list of people who have been nominated," said Marg Coulson, acting city clerk and chair of the committee. When a name comes before the panel, an archivist researches it, determining the nominee's contributions to the city. "We really don't want to be too restrictive, because people make contributions in different ways," said Coulson.
When the merits of the name are proven, the name gets shortlisted. The list has just over 100 names on it, said Coulson.
If a street is created and a name required, the committee peruses the list to see which fits best, usually someone from the related area. A recommendation is then made to city council. The need for a name is rare, as Vancouver has very little in the way of new developments. The panel usually receives only one request a year.
"One thing I should say is that we do not consider people who are alive," said Coulson, which could create a slight set-back for those considering self-nomination.
"We'll have to kill you and then we can consider you," she said, laughing.
Everybody loves to see their favourite stars perform, but nobody likes the empty wallet when the show is over.
For example, tickets to the Oct. 23 Rascal Flatts concert cost at least $85 for a decent seat, which for some is too much for four hours of music.
A way to remedy that is to see the talent showcased a couple nights a month at Richmond community centres, for $5 or less.
Youth programs at both Steveston Community Centre (SCC) and South Arm Community Centre (SACC) run the band nights on Fridays during the Night Shift program, a weekly youth hangout night and now Cambie Community Centre is getting in on the act.
The Cambie centre, at the corner of Cambie and Jacombs roads in Richmond, is hosting Richmond based band Venice Queen's first all-ages show on Oct. 23. Opening for them will be local youth bands Ill and Fallen, and The Chase. All three up-and-coming bands play serious rock music, and the Cambie Night Shift coordinator is excited that they're playing at the community centre's first ever band night.
"We're just beginning to explore the musical side of things at Cambie," said Brandon Bloomfield. "If this night goes well, we plan on having more."
Venice Queen is one of the winners of the 2009 Vancouver Seeds competition, held by The Fox radio station for indie bands. The band has also played a number of shows downtown, but wanted to become better known in its hometown, so agreed to headline Cambie's band night, which has a $5 cover charge.
Venice Queen has also played at South Arm Community Centre, which, along with Steveston Community Centre, has regular shows featuring high-school-aged and young adult bands.
Alvin Li, a Steveston Community Centre youth development worker, said that the band nights are more about the kids and their music than making money..
"It's the chance to give youth in the area an opportunity to play and show their talents," said Li. "We rarely ask for more than $2, sometimes it's free [to get in] or… we ask for clothes during the winter to give to charity."
SCC presents five or six acts a night, consisting of acoustic music with some rock and alternative thrown in. Li said they also want to expand into hip hop.
Most of the youth-oriented events at Steveston, including band nights, are "run by youth for youth," said Li. He also said it's a chance for SWAT, Steveston with Active Teens program, to learn how to organize events and members to develop leadership qualities.
Band nights at South Arm Community Centre are also run mainly by its youth group, Mosaic, and organized with the help of Andy Roy, a youth worker.
SACC has a band night once a month, featuring three or four local bands who play some metal, screamo, rock and alternative music, with a $5 cover charge. The next show at SACC is Nov. 13; the bands haven't been announced yet.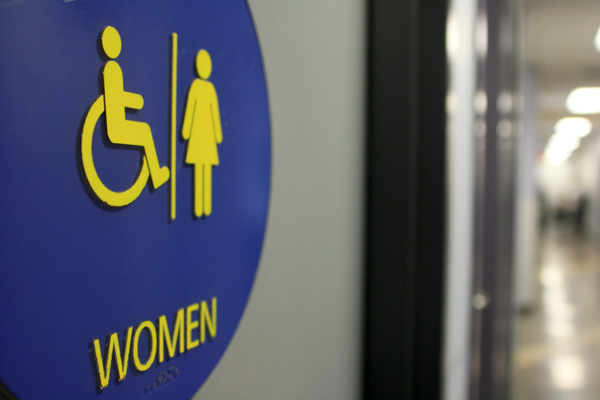 Richmond Kwantlen Student Association council director Reena Bali wants to know who hasn't been pulling their weight in the washrooms around Kwantlen's Richmond campus.
In Bali's Nov.3 council report, buried beneath plans for pool tournaments and club nights, is a frank statement, condemning the conditions of most washrooms on the Richmond campus as "just horrible!"
Many of the washrooms, especially one for women located near the Blossoming Lotus yoga studio around the corner from the KSA Richmond campus offices, is often found in an unclean state, said Bali.
She isn't that isn't sure about the state of washrooms for male students.
Bali said that she thinks what she says are unsanitary conditions shouldn't be blamed on campus cleaning staff, but on inept students.
"It's, like, the people who use it," Bali said. "I guess they don't know how to use a washroom properly."
The state of the washrooms is problem that Bali has noticed since January.
"If someone is using a washroom, they should practice proper hygiene," said Bali. "Cleaning staff can't come to the washroom after every 10 minutes, because they have all other things to do, too."
Bali feels that, other than the washrooms, Richmond is a pretty clean campus. She plans to talk to KSA chairperson Steve Lee and the university to see if she can solve the problem.
Kwantlen's janitorial services are contracted out to Dynamic Facility Services Ltd, according to a July 22 bid aware notice written by Christine Monroe, manager of supply contracts for Kwantlen's supply and business services division, and published on Kwantlen's website.
Dynamic's bid for the annual day porter and core cleaning services contract is valued at $473,024 and was accepted on the basis of a best-value criteria.
Sam Mann, facilities supervisor at Kwantlen's Richmond campus, said that the conditions of washrooms varies from campus to campus, and that poor conditions are often due to vandalism.
"Most kids do respect the facility I believe, but it's just that the odd person tends to (vandalize)," Mann said.
"I guess some people… could be having a bad day…could be frustrated…some people, I guess it's just their nature to do that kind of stuff.
There will be an income tax information session for students on Wednesday, Feb. 25 from 10 a.m. to noon in the Conference Centre at the Richmond campus.
Experts from Revenue Canada as well as several financial institutions will be on hand to answer any questions about the Canadian tax system and how it applies to students.
The Third Annual Halloween Costume Contest was a thriller. Students and faculty got creative with their costumes, dressing up as fonts, movie characters, princesses and the undead.
Three years ago the Halloween costume competition started in room 3090, with about a dozen people in attendance. The next year, it grew to about 30 people and the competitors and the audience could barely fit into the room.
"We just ran out of space because it became so popular," said Linda Mossing, journalism program assistant. This year, the competition took place in the rotunda of the Richmond campus, where a Halloween cat-walk was set up, so people could watch from the winding staircase or from the main floor.
Thirty people entered the costume contest this year, among them 26-year-old, Ashley Letts, a public relations student, who dressed up as David Bowie in his role in the movie Labyrinth. "The past couple years have been really low-key for me on Halloween, so this year I decided to go for it," said Letts. "I've been obsessed with Labyrinth since I was a little girl!"
Erin, Raimondo, 23, a PR student, found a dress at a vintage shop, and put together a porcelain doll outfit for the occasion.
The program assistants, who put on the costume competition, were the first ones to strut their stuff down the haunted, cob-web infested runway. They came as fonts this Halloween, from Old English to Century Gothic. Signs were taped to the front and back of their costumes, and when they lined up, the sign read "Happy Halloween!"
Awards were given out for Best Staff Pair, Best Staff Group, Most Creative, Best Consumer Costume, Scariest Costume, Best Student Group, Best Performance and Scariest Costume.
Naughty Nurse, Lucas Nightingale, 30, an interior design student, was uncertain about how to respond to his award for "Scariest Costume." His friend, Sean Kirkby, 26, also an interior design student, responded for him. "Vinyl is always scary," he said.
Once the show was over, a woman walked up to Nightingale in the crowd in the cafeteria and noticed his six-inch black high heels.
"I haven't been able to feel my toes since about 10, so that's probably not a good thing, but whatever," he said. "It's for the costume."
Related story: Fashion student dresses staff for Parade of Lost Souls