Reena Bali, the Richmond campus director, thinks that Kwantlen needs a better student life. That's why she and other KSA members from the Richmond campus decided to put together a "licensed event" on Wednesday, Jan. 27.
The conference rooms at the Richmond campus were designated as the licensed area, where snacks such as chips and dip were provided, and alcohol was sold. Bali said the event, which was held from 1 to 7 p.m., took nearly two months to plan.
"Getting alcohol and food is very simple," she said. "The longest part is getting the school to approve it, waiting to hear back, and then finding someone to get the liquor license."
Students who came to the event had to present two pieces of ID to enter the designated licensed area, and were given a wristband to show they were of legal drinking age. There were also flyers that featured all local taxi numbers for students who needed a way home after the event.
Bali said the licensing event is a result of student interest. People repeatedly asked her, while the KSA was giving away free food, when the campus would "sell beer."
"Richmond will probably be licensed in the long run," she said. "We should be licensed because we need more of a university atmosphere. Most universities have some kind of licenesd area or a pub area, and Surrey has one… it's part of the student culture and life that we don't see here."
Instead of going back into the KSA's budget, 100 per cent of proceeds from alcohol sold at the event went to relief efforts in Haiti.
Kwantlen students got slapped with a parking-fee increase when they went back to school from their winter break on Monday, Jan. 4.
Parking rates have risen from $2.75 for every four hours to $3.25. For all-day parking at any of the campuses, it now costs students $4.75 instead of the $4.
Julian Jones, vice-president of business development at Impark, said the company isn't collecting any extra revenue from the increase as it's a result of a tax-hike introduced by Translink. He does, however, admit that "sometimes numbers have to be tweaked for a more user-friendly method of payment."
The tax that Impark now pays to Translink, which took effect Jan. 1, has risen from seven per cent to 21 per cent and is a 300 per cent jump from 2009.
"Since the tax on $1 is 21 per cent, we can't really charge 21 cents on that. It has to be something more convenient, like 25 cents," said Jones. Gordon Lee, Kwantlen's vice-president of finance and administration, said that students can expect another fee increase when the HST (harmonized sales tax) comes into effect in July.
"Kwantlen has been working with Impark for about 10 years and they've managed the lot since they won [the rights to the lots] through a bid," said Lee. "The cost [of parking] goes towards servicing the lot. There are no revenues that the school collects."
According to Lee, about 15 years ago, students didn't have to pay to park on campus, but they had to start charging for parking "as the budget got tighter."
"The thing is," said Lee, "we don't get money to make parking lots. But it is required that schools have parking lots that are safe and maintained."
You might think that the bulk of North America's tone-deaf musical hopefuls only come out when Canadian Idol begins to host auditions, but you'd be wrong. They fill a number of Metro Vancouver karaoke bars, which range from the dark and dingy to the darker and dingier. The opportunity to grab the mic usually comes at a low price — your embarrassment — but the cheap drinks help with that.
Hoko's, a karaoke, sushi and sometimes live-music bar, is a quaint little nook on Powell Street that draws a fun, young, alternative crowd (think arts students on a bender). But you can't come just to sing karaoke, you have to eat or drink something, which isn't bad considering the $3 pints and sushi that's all under $10. Despite its draw to university students all over Vancouver, there's no
student discount.
If your taste in music is a little more Motörhead than Mariah, then you're probably headed for the Asbalt. Since the closure of the Cobalt on Main on Sept. 30, the Asbalt on East Hastings is where Thursday and Sunday-night Hot-Rod Skaryoke is hosted. Drinks range from $3.50 to $10, but you're going to want to have several of them to attempt to use that bathroom. Could be pricey, but watching a leather-clad 300-pound man with a bleached mohawk belch out Heart's "Barracuda" is priceless.
If you live out in the suburbs and an expensive cab ride just isn't in your budget, here are two places that will suffice.
The Fireside Pub in New Westminster's Sapperton hosts a karaoke night every Thursday, which is treated on a first-served basis. No cover charge and no obligation to buy drinks or food, but the song selection takes up all of a single, soft-cover binder and there's no cheesy landscape music video to go along with the words. Bummer.
Beatles Karaoke on Kingsway is a little more traditional than its slosh-fest counterparts for the undiscerning student. The establishment rents private rooms for $25 per hour an up (depending on the size of the room), and they don't serve booze. Like many private karaoke cabarets, they open at 8 p.m. and close at 2 a.m. with the sole purpose of doing karaoke. So, no food or drinks, but you can bring your own.
Douglas Fairbairn, 32, who frequents Beatles Karaoke, suggests that if you bring your own booze they might turn a blind eye.
As for their song selection? "They have a lot of songs," said Fairbairn, "but the 'Man in Black' is my personal specialty."
There are separate songbooks for English and Chinese karaoke.
All of these places can provide a cheap night out, but the cheapest of all would be a night in with Rock Band, a few friends, a six-pack and a pizza.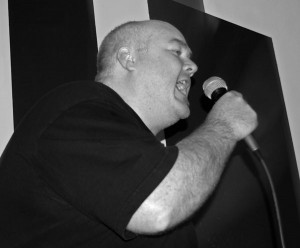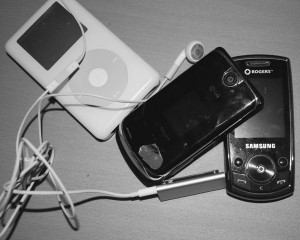 The number of people who have cellphones may have skyrocketed in recent years, but communications instructor Pamela Ip says the basics of communication haven't really changed.
Nearly 75 per cent of Canadians owned a cellphone in late 2008, according to Statistics Canada. Just two years earlier, only about 67 per cent of us had one.
In the same report, Stats Can also said households of younger people (18-34) were more likely to own cellphones and, in many cases, to use cellphones only. A slew of cellphone-use statistics put out by a UK online news site, Telegraph, claimed that the average age at which a person begins to use a cellphone is eight-years-old.
Ip said she recognizes the advantages of heightened communication due to the invention of the cellphone, but added that it's not all positive.
"Technology, with each [new] device, increases communication, but it also creates an unnecessary dependence on it," Ip said. "We're so dependent on these things that if people leave their cellphones at home or their e-mail is down for a couple hours, we start to get extremely anxious about that."
And anxious we have been conditioned to be, as we now rely on getting our information faster and more efficiently, with the advent of blogging and tweeting. We are being updated on news as it is reported instantaneously, through news sites and blogs, and have learned to communicate in the same way. We send a text-message and expect a response in a minute or less.
But instantaneous communication isn't necessarily making us more efficient, and, according to Ip, is actually making us more "flaky."
"It also makes us think very lastminute; like instead of saying we'll meet at the restaurant at a certain time, we say 'I'll call you when I get to the restaurant,'" said Ip.
Talking on a cellphone while driving has become such a problem that it has been banned in Newfoundland, Ontario, and Quebec, with fines of up to $500.
The B.C. government is also looking to pass a bill to ban cellphone use while driving. B.C. Solicitor General Kash Heed introduced the bill in October. If passed, the new law would take effect Jan.1, although the $167 fine to violaters wouldn't be implemented until Feb. 1.
The way we communicate and collect information can also leave us with a shorter attention span. A BBC News article titled "Turning into digital goldfish" claimed that "web-browsing can leave you with an attention span of nine seconds— the same as a goldfish." The article, which relied on the help of Ted Selker from the Massachusetts Institute of Technology, said that our bodies become conditioned to "flitting from one thing to another on the web [so that] we get into the habit of not concentrating."
Ip argues that communication itself hasn't actually changed, but the face of it has.
"Whether you're talking to a professor or to a peer, you still need to know the fundamentals no matter what the media," she said.
We've heard it all: The moon landing was faked, 9/11 was an inside job, there are UFOs at Area 51. But have you heard that H1N1 flu was genetically engineered?
Dan Jason, a Saltspring Islandbased organic-seed farmer, thinks H1N1 was created. Jason, who studied seed growth for 20 years, knows a lot about genetically enhanced crops and is calling bullshit on the idea that H1N1 is a chance mutation.
But what does a lowly seed farmer know about all this?
"Genetic engineering creates things that wouldn't normally happen in nature," he said, recalling an experiment that introduced flounder genes into a strain of tomatoes. (Winter flounder, a species of fish which produces an antifreeze protein, have the ability to survive in subzero temperatures. Genes were taken from the fish and grafted onto tomatoes, in hopes of creating a crop that wouldn't freeze.)
"It's a very weird thing to take genes from a foreign species and bombard them onto a crop," said Jason. "It doesn't happen normally and it's the same story with the flu."
Jason, like many others, believes that H1N1 flu was engineered by combining viruses from birds, pigs and humans, a sort of grab bag of genes intended to create dependencies on pharmaceutical companies.
His explanation? Vaccines for the flu (which he believes will soon be mandatory) contain mercury, which some people believe causes autism in children and therefore creates a need for Ritalin and other medications used to treat behavioral problems.
Lee Moller argues a different point.
"If we really had the power to genetically modify, to create a flu, we'd create something much bigger than [H1N1]," he said.
Moller, the head of the B.C. Skeptics Society, runs a website that aims to debunk conspiracy theories, urban legends and folklore, ideas that Moller says are "based on faulty logic and paranoia."
Moller's website features links to articles that disprove or explain conspiracies , to a blog titled "Rational Enquirer," and an organization called "skepticamp," which hosts an annual conference that touches on paranormal claims, alternative medicine and cryptozoology.
"There's conspiracy theories galore," he said. "It's almost human nature to assume a hidden cause."
Kwantlen psychology professor Steve Charlton thinks there are two sides to conspiracy. "Often people aren't skeptical enough," he said, "but the other extreme of that is people who are overly critical without skepticism."
Those would be the conspiracy theorists.
"There's lots of conspiracy theories based on misunderstanding or [lack of ] probability," Charlton said.
Alex Jones, head of InfoWars, hosts conspiracy-heavy radio broadcasts, which, despite perhaps farreaching and often exaggerated nature, has a substantial following. The InfoWars website (www.infowars. com) features an article that claims "[swine flu] originated at the army base at Fort Dix, New Jersey."
"Coincidence becomes fact in people's minds," said Charlton.
Sidebar: Other myths about H1N1
Swine flu was a rumour created by the U.S. government to persuade people into buying sterilization products to stimulate the economy.
The U.S. made up swine flu because they hate Mexico and want to close the border.
Hand sanitzer can spread swine flu.
A new strain of H1N1 has emerged, specific to those who died from the influenza, called H1Z1 (or zombie swine flu). The new virus would be able to restart the heart and resurrect the victims as zombies.
New Westminster's Columbia Street is dotted with antique shops, vacated storefronts and heritage facades.
The street was a once-busy hub for the former capital of British Columbia, centred around the vaudeville-style Columbia Theatre, later known as the Burr Theatre in honour of New Westminster-born actor Raymond Burr. The theatre was best known for its floor-to-ceiling atmospheric mural painted by William MacInnis, the artist who painted the gold-leaf detail in the dining room of the unsinkable Titanic.
In its prime, Columbia Street boasted the Burr Theatre, the Paramount Theatre and the Carter McNairn building, all architectural icons of the city's love of culture and heritage.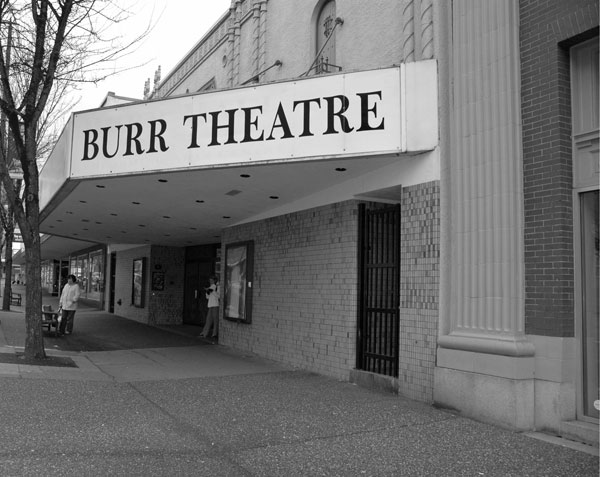 Now, after a two-year-long battle between the city and the New Westminster Heritage Preservation Society (NWHPS), the heritage Burr Theatre is closed and up for sale. The once cinematic Paramount has become a "gentleman's club," and the Carter McNairn building has been demolished to make way for a Safeway. There's a threat that the Massey Theatre could be added to the city's list of heritage casualties.
Plans for a new multi-purpose civic centre have residents and culture enthusiasts asking if the new facility will make up for what the city has lost. The new centre would be located on Columbia Street, between 8th Street and Begbie Street, opening in 2012.
"Heritage is so important to New Westminster because it's our identity," said NWHPS president Maureen Arvantidis. Catherine Hutson, also on the board of directors for the NWHPS, can't understand why the city couldn't save the Burr instead.
"The city is getting $35 million from the casinos to build a new civic centre when we could [have restored] the Burr for the same functions," said Hutson, explaining that the centre's preliminary designs includes theatre facilities.
The Massey Theatre, a 60-year-old proscenium-style auditorium, faced a threat from the city and the New Westminster school district, which had residents in a panic. The threat prompted a "public outcry," according to the executive director of the theatre, Jessica Schneider, as well as a petition, a support group and website, savethemasseytheatre.blogspot.com.
The future of the Massey Theatre is still unclear, but Schneider isn't worried about losing the theatre anymore.
According to her, the school district conducted a report on the theatre making it seem as though it needed seismic upgrades that weren't worth the money. She said the school district's motive was to scoop-up the theatre's property to expand a high school, but she and the city now know that what the report suggested is not true.
"We don't urgently need upgrades," said Schneider. "We need upgrades like all buildings need upgrades."
Schneider believe the school district was issuing threats to both the theatre and the city. "The school district was trying to get the city to swap the theatre with the [rest of their property], and they kind of put out the threat like, 'We'll just build on the theatre site unless someone gives us something else to work with.' It's a very political hot potato," she said. "The [actual] issue is that because New Westminster is the oldest, first part of Metro Vancouver, it's completely built from one edge to the other. There's no space left to expand as density increases. This is just the beginning of an issue that's going to face everybody eventually."
Unlike the NWHPS, Schneider said that keeping the Massey Theatre alive doesn't make the multi-purpose civic centre obsolete. Neither does Andree St. Martin, executive director of the New Westminster Arts Council.
"Of course, we are supporting that the Massey would stay," said St. Martin. "It's the only arts-focused facility in the city [but] arts will happen whether there's facilities or not, artists will do their art whether they get paid or not."
According to Schneider and St. Martin, the goal is to have as many facilities as possible.
"There's a lack of arts facilities in the city, but there's certainly not a lack of arts in the city," said St. Martin. "We're very hopeful [that] there will be a strong arts presence in the new facility they're going to build."
"We need [the civic centre] and so much more," added Schneider. "We need as many cultural spaces as possible."

Kwantlen Chronicle reporter Kristi Jut caught up with fellow student Sara Lanyon to talk about the school's fashion-design program and where it's taking her career. Lanyon talks about her own clothing collection, Radii, and her involvement in up-and-coming headwear company, Vivo Headwear.
Afternoon naps and tea parties for senior citizens in Langley? Not likely.
Kwantlen's Gerontology-based Therapeutic Recreation students put together a lively Successful Aging Festival on the Langley campus on Friday, Nov. 27.
The 20 students graduating from the program this year had to plan an event as part of their course requirements. Instructor Carol Hansen said she was extremely pleased with the outcome of event, which the students have been planning since September. The money raised from raffle tickets and donations will go toward community activities for seniors.
GBTR student Jenni Scott said students in the program had sent out posters and flyers to homes and throughout the community to promote the Successful Aging Festival.
The festival, which included over 30 kiosks that supported senior recreation, as well as a tarot-card reader and door prizes, lured many senior citizens from Langley and surrounding communities.
"It's important to spread awareness to the community about senior-recreation," said soon-to-be graduating student Aubrey Morrison. "Not a lot of people know that there are activity groups or outreach programs available."
Robin Bandenieks from the Fort Langley Artists group was there to promote an active interest in the arts to the aging community.
"I'm here to hopefully talk someone into taking up painting as a hobby," said Bandenieks. "[Painting] can improve cognitive skills in older people," she said, also noting that it keeps the brain active and is a defense against the effects of Alzheimer's disease, which is common among the elderly.
Volunteer Parish nurse and senior citizen Agnes Bauer from the Ladner United Church was also there to promote workshops and activities for the community. "We run a disabilities support group," said Bauer, but wanted to inform that seniors need the same type of counseling that younger people do—including issues with sex and drugs.
"We just had a very successful HIV workshop," she said. "Some seniors think AIDS and HIV is not an issue for them, but they're mistaken if [they] think they're getting out of this life without knowing someone with HIV or AIDS." Bauer also made a point of speaking on the church's addictions program, which ranges from addictions to shopping, sex, and, of course, drugs.
Langley Seniors Centre leaders Donna Benoit and Arlene Brown had a lot to offer the senior's community, with an extensive outreach program for lonely or dependant seniors and an adult day centre to provide relief for caregivers. The centre has worked closely with Kwantlen, they said, and has helped inform people about their programs.
Brown emphasized that awareness about the programs have become increasingly important. "However old you are now," she said, "you're going to be a senior one day."
The campus was free of paid-parking for the day of the event.
The B.C. Foundation for the Study of Sikhism donated more than 3100 books and online resources to Kwantlen's Library in mid-October.
The donation, along with a pledge of $20,000 from the society, was made in honour of Teja Singh, a Khalsha Diwan Sikh who pioneered Sikhism in North America.
With the new Bachelor's Degree in Asian Studies being introduced at Kwantlen, Simon Le Blanc, development officer of the Kwantlen Foundation, felt that it was "important to have the resources to back [that] up."
Jas Sandhu, who is involved with the B.C. Foundation for the Study of Sikhism and a Kwantlen alumnus, was involved in making the donation.
"The foundation created this collection in honour of Teja Singh because of his important role in the status of early Indian immigrants to Canada and the establishment of the Khalsha Diwan Society," said Sandhu.
Le Blanc said that the books aren't just helpful for those pursuing Asian or Indian Studies.
"It's quite interdisciplinary, too," she said. "There are books in architecture, history and fine arts."
Kwantlen's Genocide Film Series club, an initiative of psychology professor Rajiv Jhangiani, hosts films on genocide twice a week in the Surrey Campus conference rooms.
The Oct. 28 showing of "The Killing Fields," a Roland Joffe film about the Khmer Rouge regime in Cambodia from the mid-to-late '70s, drew only two students.
(The film, a drama depicting the horror of the genocide, followed the stories of real-life journalists Sydney Schanberg  of the New York Times and Cambodian Dith Pran. Pran wound up in the hands of the Khmer Rouge, and the film follows his experience through torture, oppression and slavery until his eventual escape from Cambodia.)
Robin Elson, a student of Jhangiani's Psychology of Genocide class, Robin Elson was there to oversee the film.
"There are usually about 25 per cent more students here than this," joked Elson.
A reason that not many people show up could be that students, other than the students in Psychology of Genocide, don't know about it. "Other than that, I imagine that it's a scheduling issue," said Elson.
"Rajiv made the club for use of the facilities […] it's for [the class] to give a historical context and knowledge of the events [of genocide]." They then discuss the films in class, though attending the films isn't mandatory.
Though the club is aimed at students in Jhangiani's class, anyone is welcome to attend, including non-Kwantlen students. There is a different film shown each week, on both Tuesdays and Wednesdays, for the rest of the fall semester. According to Elson, some films are helpful while others are not.
"Some of the movies are changed to be more palatable," he said, explaining that the changes often show inaccuracies to. "World War Two [often] gets butchered."
But Elson says showing the films is overall positive. "It's with the aims of educating people," he said "and to make [these events] stop."
The following films will be shown at the Surrey campus, all beginning at 7 p.m.
Defiance: Nov.3 (Rm. D328) and Nov. 4 (G1205CÂ Conference Centre C)
The Devil Came of Horseback: Nov. 10 (Rm. D328)
The Reader: Nov. 17 and 18 (Rm. D328)
Schindler's List: Nov, 24 (G1205A Conference Centre A) and Nov. 25 (G1205C Conference Centre C)
Ararat: Dec. 1 (Rm. D328) and Dec. 2 (G1205A Conference Centre A)
Darfur Now: Dec. 8 and 9 (G1205A Conference Centre A)