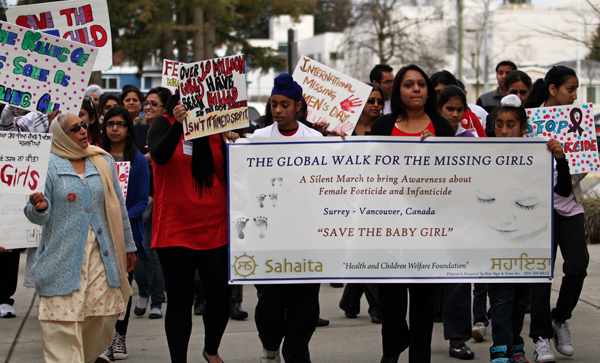 Members of the South Asian community are putting faith in a new generation to change how women are viewed in their culture.
On March 5, over 70 people, many of them youths, gathered at Kwantlen Polytechnic University's Surrey campus to take part in the Global Walk for the Missing Girls and to bring awareness to the problem of female feticide and infanticide.
Prominent members of the South Asian community made passionate speeches about the problem and then led people in a walk around the campus.
The walk took place in five countries and 16 cities around the globe in conjunction with International Women's Day.
In the last century, 50 million girls have been lost from India's population and in the last two decades 10 million have been killed by their parents either before or after birth.
With the introduction of cheap and portable ultrasound equipment the problem has become much worse.
Dr. Pargat Singh Bhurji, a pediatrician in Surrey, said the main reason for feticide and infanticide is dowry, which is a gift of money or estate that the bride brings to her husband when they are married. Other societal issues, like rape, have also contributed to increases in abortions.
"Eventually you need a uterus to be born. You cannot be born in the ground like potatoes or up on the tree like apples," said Bhurji. "We are destroying our own future in a sense."
While there are laws in India prohibiting doctors from identifying the sex of a fetus, no one has ever been charged.
Most people think of selective feticide and infanticide as being a problem in other parts of the world, like India and China, however, it is a much broader issue.
"It's not a regional problem, it's everywhere," said Garima Kaur, the event's organizer and an international student at Kwantlen.
The issue of selective feticide reaches as far as Vancouver and Surrey where it is supposed to be illegal for doctors to identify the sex of a fetus before a certain stage in pregnancy.
"There are clinics across the border, there are clinics in Surrey who actually advertise about this. 'If you want to know if it is a girl child or a boy child and want to abort it then come here,'" said Kaur.
Pawan Dhillon, a maternity doctor in Cloverdale, has seen the issues of gender inequality here in Canada.
"In my experience it's not as blatant as what we see in India," said Dhillon. "I have been in deliveries where after I've announced 'It's a baby girl,' it's been met with silence. It's not a common occurrence, but it is still there and it's something that we need rectify."
This was the first year the event was held in B.C. and Kaur hopes that it will continue to grow in the coming years. Reaching youth is one of her main priorities.
"If you encourage the youth, if you educate them that 'let's put a stop to it', because they are the ones who are going to be parents now and in the future," she said. "I think the solution is just in educating them — changing their mindsets rather than changing people who've already lived their 40, 50 years of life."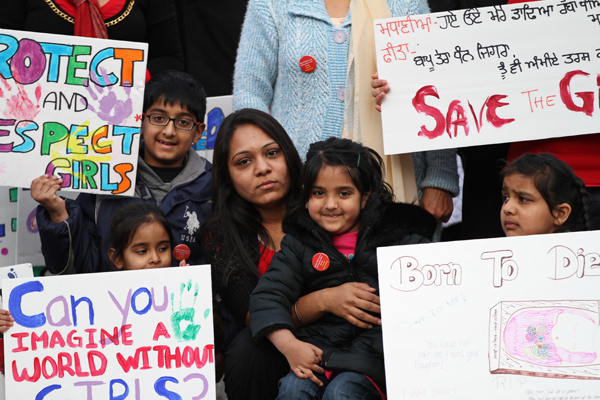 The KSA has partnered with the Kwantlen library to raise awareness about student hunger and generate donations for the KSA food bank.
"We wanted to provide incentive for them to donate. At the same time we wanted them to recognize that other students are in need and that they can really help and make a difference," said Eddie Lee, KSA health and recreation manager.
The Food for Fines program, Feb. 20-26, allows students to bring in non-perishable food items or new or unused toiletries to any campus library and receive $2 off fines for overdue items, up to a maximum of $10.
Lee got the idea from other universities that have had success with similar programs.
According to Lisa Hubick, public relations librarian, the library was happy to participate. She said the library had a history of helping local community food banks, but this was the first time they will be able to directly help out Kwantlen students.
While she admits that fines aren't a huge problem with Kwantlen students, she hope students will take advantage of the Food for Fines program and help out fellow students.
Currently, the KSA food bank buys most of the food they need. According to Lee, they spend about $500 a semester on food bank supplies.
"The idea was to tug at the heart strings a little bit, as opposed to just doing a regular food drive," Lee said of the program.
For more information on the food bank visit http://kwantlen.weebly.com/student-food-bank.html.
After an unfortunate road trip to Prince George, the Kwantlen Eagles' men's team returned home to face Quest University's Kermodes on Friday, Feb. 4, a team they'd never lost to at home. Coming into the game the Eagles had lost seven straight, bringing their record to 1-11 for the season.