The Kwantlen Eagles woman's soccer team flooded the Surrey campus with red last Thursday evening, as they celebrated their record-breaking bronze win at the National Soccer Championships in Ontario.
Students and staff gathered in the main entrance of C building to welcome the team with a roaring round of applause, as they addressed the crowd, flouting their provincial and national medals with pride.
The balloon-filled room was full of emotion as the team laughed through a slideshow of their journey to Toronto, and cried through the numerous speeches addressed to them.
David Atkinson, President of Kwantlen Polytechnic University, was one of the first speakers to congratulation the team.
"Thank you for what was the wettest weekend of my life," said Atkinson, later joking that he "had to go home immediately and drink half a bottle of scotch."
After extending an offer to take the whole team out for dinner, Atkinson couldn't help but mention the accomplishments the university has made during his first year as president of the university.
"I have become very fond of saying 'this year has been a year of firsts,'" said Atkinson, noting that Kwantlen received university status, established a Senate and now are receiving their first bronze medal for soccer.
Atkinson also surprised the team with a brand new soccer field, which will be built at the Newton Athletic Park by 2010. The field will be owned by Kwantlen, and feature a brand-new Eagles scoreboard.
"See what happens when you win a championship?" said Atkinson. "We spent $2 million. What a great deal!"
After Atkinson's speech, members of the team shared some of their memories of their journey in Ontario for the national championships.
"We took the longest route possible, [with] shootouts," said Kelsey Doherty, during her speech. "The ending? Victorious!"
When the time came to describe the big win, there was only one thing the girls could say:
"Overtime penalty kick it was," said Sarah Davies, "and it landed us third place."
While the ceremony Thursday evening ended with food and beverages, this is not the end of the Kwantlen Eagles celebration. In 2010, Atkinson will be back to congratulate team members ne more time as they celebrate with an official banner-raising ceremony.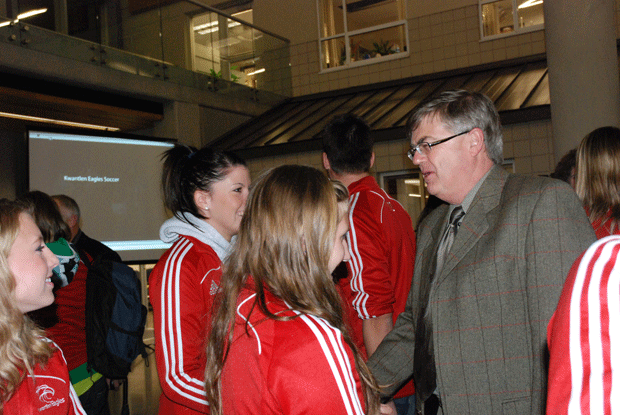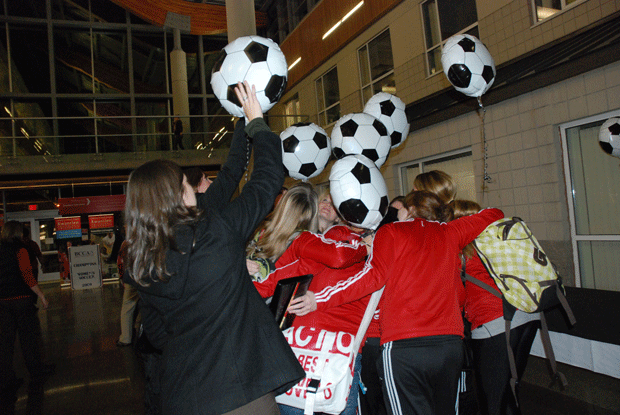 "Emily" is a 24-year-old Kwantlen student and single mother of two small children, and at an Oct. 15 meeting her life story was used to give a human face to the issue of university funding cutbacks.
At the meeting of the Select Standing Committee on Finance and Government Services, two representatives from the Kwantlen Faculty Association used Emily's story, as well as warnings about the current financial crisis, to appeal for restoration of post-secondary funding, which was cut 2.6 per cent in the March provincial budget.Vice-president Maureen Shaw, who is also an English instructor, appeared with secretary-treasurer and chemistry instructor Suzanne Pearce to share a Kwantlen counsellor's story about Emily. She entered Kwantlen's Special Education Teacher's Assistant Program at the age of 19, already with a one-year-old child, and quickly became a star student, earning a GPA of 3.5 and serving as a student assistant.
Two years later, however, her marriage fell apart. Her husband and family abandoned her, and with all her family and financial supports gone, her student loans couldn't cover rent, car expenses and daycare, driving her into debt.
Nt wanting to quit school altogether, Emily tried distance education but ran into more challenges, including a serious car accident and her son's illness, before eventually recovering and rebuilding.
The biggest obstacle students face to completing their education, according to Shaw and Pearce, is financial. Restoration of the 2.6 per cent of funding that was cut was one of five recommendations they presented to the committee. The other four were restoring real per-student funding to 2001 levels, committing to reducing tuition fees over the next five years, providing funding for Kwantlen's elevation to university status and bringing back the student grant program.
"It'll be awhile before we know how the recommendations are received," said Shaw. Every fall, the provincial government puts out a priority paper outlining the main areas for government funding in the upcoming provincial budget. Groups such as the Kwantlen Faculty Association, as well as the public, are invited to submit briefs at committee hearings, to try to influence, and make recommendations for, priorities for government funding. According to Shaw, the committees are primarily made up of Liberal MLAs.
New Kwantlen president David Atkinson was the first speaker at the Oct. 15 meeting. The deadline for submissions is Oct. 24, after which the committee will issue its final report, on Nov. 15.
"There's a lot of demands on the government dollars," said Shaw, but added that if they hear from enough people that it's a concern, the government might decide to act.
Kwantlen students are attending a university and welcoming a new president they begin the fall semester. Dr. David W. Atkinson replaced Skip Triplett, who had served as president for Kwantlen since 1999, in July.
He brings to Kwantlen Polytechnic University an abundance of experience in working with universities, as well as new ideas for the institution.
"One of our ambitions should be co-op education across the curriculum, so that if you're an English major or a history major that you have a co-op placement. You actually go out in the work world and you see how it works and you take some of those skills and you see whether or not you can apply them. That is my concept," Atkinson said during an interview last week.
 
[audio:http://www.kwantlenchronicle.ca/audio/atkinson.mp3]
In his own words: 3'48″ audio of David Atkinson
In the first edition of his newsletter, which will be released every two months, he focussed on program development, university governance, campus development and senior reorganization.
"At this stage in my career, am I ready to take an institution like this and forge it into a university, so when I leave in five or six years time it is established and it's ready and nobody questions it. Am I really up to this?" he asked rhetorically during the interview.
He is. "The real challenge is controlling expectations, because you can't do it all overnight."
Atkinson is in the process of establishing a university senate, "which is the way in which a university does business."
"There's no senate here and people have no concept of what a senate is. It just baffles me," he said.
Atkinson joined Kwantlen University College in July, with more than 30 years of experience in higher education. He studied at the University of Calgary, where he received his BA, MA and PhD in English Literature. Later, Atkinson found himself at the University of Lethbridge where he joined senior administration and stayed for 15 years.
He was later named Professor of English and Religious Studies at the University of Saskatchewan. He then went on to be both president and vice-chancellor of Brock University in St. Catharines, Ont., where he is an honorary member of the Board of governors, then to Carleton University in Ottawa.
"The most important thing about Kwantlen, the most important thing about any university, is the quality of its programs. And so, to establish ourselves as a university, not only do we need to determine what kinds of programs we want here, which will distinguish us, because I think what we don't want to be, is another wannabe."
Atkinson's newsletter, which outlines some of the changes taking place at Kwantlen, can be read at www.kwantlen.ca/president/newsletters/issue1.html.