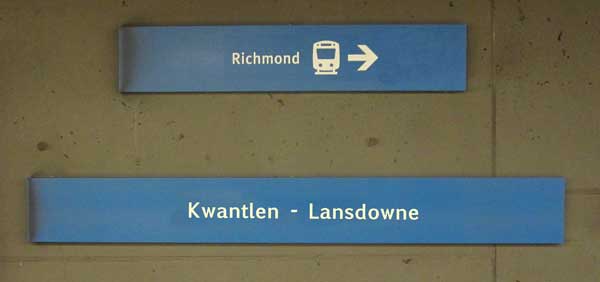 Have you ever wondered why Langara College is mentioned as a Canada Line station name (Langara – 49th Ave), but Kwantlen isn't?
At the Communication & Marketing Department of Langara there were no answers. "There was no communication between Translink and Langara. You should ask Translink."
Ken Hardie, Translink's director of communications, said that the process of naming the stations involved much discussion. Normally stations are named in a way to orientate people and help them to locate what is nearby. "In the case of Langara, the university is a key destination at this station and therefor mentioned," he said.
Joanne Saunders, Kwantlen's Director of Marketing and Communication, wasn't working at Kwantlen at the time stations were named, but she was told that there was some discussion about the Lansdowne station being named Kwantlen.
"Langara is very lucky to get the free publicity and advertising from the skytrain name," she said.
But — as both Hardie and Saunders said — the final decision rests with Translink and the latter perceived Kwantlen not to be close enough to warrant inclusion in the station name. "The university isn't associated with Lansdowne as Langara is with 49th Avenue," Hardie said.
A little comparison on Google Maps shows that from Langara station to the main entrance of the college it takes six minutes by foot. From Lansdowne to Kwantlen it is eight minutes. Also, both Langara and Kwantlen serve approximately 20,000 students.
But there is hope Hardie said. "If folks from Kwantlen want the university to be mentioned at Lansdowne station we could talk about this."
What do Kwantlen students (and also residents of Lansdowne) think?
Voting: Should the Lansdowne station be re-named "Kwantlen – Lansdowne"?
A: Yes, definitely!
B: No, I think this is not necessary.
C: I couldn't care less!
(Leave your answers into the comments)

Translink's parking tax increase has raised the price students have to pay to park at Kwantlen campuses. Josh Saggau and Hayley Woodin explain what it means for students and talk to students to see how it's affecting them.
Kwantlen students are one step closer to getting U-Passes.
The Kwantlen Student Association has reached a tentative agreement with Translink for a $19-a-month pass. The KSA now wants to collaborate with other universities in Greater Vancouver to present Translink with a more unified plan, after which they hope to put it to a referendum for students in the spring. If successful, the U-Pass should be implemented by next fall.
"What we're doing right now is talking to the institutions, trying to come up with a unified plan because all the U-Passes that have happened in the past have come about because of students from the university collaborating and coming as one application for a U-Pass," said Derek Robertson, Director of External Affairs for the KSA.
A U-Pass is a transit pass valid for unlimited bus and Skytrain travel for one semester, as well as a $2 discount on West Coast Express tickets. The U-Pass has been available to students at UBC and Simon Fraser University since 2003, and Langara students since May 2008, according to the Translink website. Translink is currently negotiating with the student associations of seven other institutions, including Kwantlen.
The KSA has been involved in off-and-on negotiations with Translink since 2003. The KSA began by collaborating with other student unions but soon left the table because Kwantlen was expected to subsidize the U-Pass for smaller schools.
"We're not elected to pretty much shaft the students of Kwantlen because students at the VCC or Emily Carr or schools like that get a cheaper U-Pass," Robertson said. "So we said no, and then there was the period when RAF (Reduce All Fees) was in power, which they didn't do anything for the U-Pass, and then it started up again in the last year. So, it had hurdles, and that's why it took so long."
Kwantlen also has a relatively low transit ridership rate, currently an average of 18% of students attending the four campuses. Translink operates under a revenue-neutral model, according to Robertson, which means it will lose money as more students take advantage of the heavily-subsidized transit services provided by a U-Pass.
"If they take $19 a month from Kwantlen and only 18 per cent of students use it, they're still making money off it, but what they don't see is that if you implement a U-Pass then ridership goes up," he said, adding that when SFU implemented the U-Pass, transit ridership doubled within two years.
A Translink representative was not available for comment.