Students from Grades 7-12 gathered at Kwantlen's Surrey campus to display their science projects on Thursday and Friday.
The school hosted the South Fraser Regional Science Fair, which doubled as a chance for elementary and high school students to tour the campus and learn a little about the post-secondary institution. Over the course of the two-day event, students showcased their projects to judges, fellow students, family, community members and Kwantlen students.
The displays were classified as either an experiment, innovation or study. Projects studied mold growth, the human brain and wind energy, and included projects like one titled "Effects of Okra Mucilage on Non-Pathogenic Escherichia Coli Growth."
Up to eight students from the fair will be awarded the opportunity to fly to Toronto to compete in the Canada-wide science fair, all expenses paid. The national competition runs from May 14-21, and the regional participants will be announced on Tuesday.
The winning students will have scored the highest marks after judges graded them on their oral presentations, the construction of their displays and the logic of their projects, among other things.
Students at Kwantlen Polytechnic University are standing up for the rights of animals, from eight-legged tarantulas to cud-chewing cows.
The Animal Rights Collective club was started in 2010 after founder Kari Michaels saw a need for a way to connect like-minded students. Her goal: bring attention to the mistreatment of all animals, big or small.
"I think a big thing is knowing there are people out there that think the same way, especially with animal rights," said Michaels.
Michaels had always cared for animals but it wasn't until she found out that she was allergic to dairy and eggs that she decided to take that next step in animal activism and become a vegan. This lifestyle change led her to lean a lot about how farm animals are treated.
"It was a very strong wake-up call to advocate for the better treatment of animals," she said.
Her transition to a complete vegan has not been an easy one and the support of a group is what has helped keep her from cheating with her favourite foods, nachos being her latest indiscretion.
"I thought there must be people here who feel the same way but just don't have a community, so part of it is community building, which I think is really important, not only to help with resources but it also helps with support," said Michaels.
The Animal Rights Collective isn't just for vegans. It's for anyone who cares about the ethical treatment of animals.
"As long as you don't think it's okay to kick a puppy, you're in," Michaels said.
While Michaels' focus is on the treatment of farm animals, the club brings attention to all animal rights issues, such as puppy and cat mills, as well as product testing on animals.
For Michaels, advocating for animal rights isn't more important than any of the other serious issues facing the world.
"There are so many other issues in the world that are important, there are human rights, womens rights, but a lot of people don't understand that when you care about animal rights it's part of that scope, you're just extending that scope of compassion to include non-human beings," she said.
Michaels said it isn't the goal of the club to force other students to change, but to promote thought and discussion. She also hopes to bring more vegan-friendly options to the Kwantlen campuses.
For more information on the Animal Rights Collective, contact the club by email
Going into college, Erin Millar thought she was going to be a music teacher.
Now, the Capilano graduate has written The Canadian Campus Companion, a guidebook on going onto post-secondary education in Canada.
The freelance journalist was president of Canadian University Press (CUP) during her time as an editor at the Capilano Courier.
"I really enjoyed [writing] and found my real calling [in journalism]," Millar said.
Millar, who generally writes feature stories, was the first person in her family that attended a post-secondary institution, and she said she learned a lot about the university lifestyle when she moved away from home.
"I remember I moved from Penticton to Vancouver for the first time when I was 18 years old, like everybody else does. It was really challenging. I didn't know how to do anything. Cap doesn't have residence, so I had to move into my own place," Millar said.
"I didn't even know enough about registering to realize that I had to register myself for English 100. I just sort of assumed I'd show up and I would go to my classes and my program was very set because I was in a very specific program. I didn't even get all the classes I needed in my first year because I didn't really realize the process," Millar said.
Millar co-wrote the book with Ben Coli, her husband, whom she met in Thailand while doing freelance journalism.
"[Coli] went to business school at U of C and worked for a couple years as a property tax consultant and realized that what he really wanted to do was write," Millar said. "I think we both kind of came at it from other sides, and I think that message is very much in the book to keep your ears open and follow what you really enjoy and it doesn't necessarily have to be what you expect."
Millar and Coli got the book deal two days before their April wedding. They started writing the book late, and their deadline was set for Sept. 30 so they could have it on shelves for this spring.
"I feel like the book is a lot better having written it together," Millar said.
She said that there aren't many university guidebooks for Canadian institutions and that her book, The Canadian Campus Companion, is the most in-depth university guidebook in the country.
After graduating, Millar found that her passion for writing and journalism was more tempting than a career as a music teacher. She was hired to work full-time by McLean's Magazine helping with the on-campus website and the university rankings.
Even though she didn't follow through with her original dream to teach music, Millar keeps her alto saxophone and piano close to her. Millar and her sister are part of a cover band that has been together for seven years.
More than a dozen clubs filled the Grassroots cafe in Surrey, recruiting new members at the KSA's inaugural clubs night on March 3.
Thirteen out of the 33 clubs and recognized groups listed on the KSA website signed up to be part of the initiative to generate more interest in student clubs.
Laura Anderson, acting clubs and event coordinator for the KSA, has been frustrated by the lack of campus life at Kwantlen for years. Now studying at Simon Fraser University, she thought more could be done to emulate the success of clubs at UBC and SFU.
"The whole thing was to try and get clubs more active on campus and increase not only their activity, but their membership and student activity," said Anderson.
Before becoming a staff member, Anderson held various elected positions in the KSA, including stints as director of external affairs and chairperson.
Sociology club member Faith Chern attended the event and was optimistic about its success.
"I thought it was good, better than what I expected," said Chern. "We're just starting up trying to become an established club."
Although it's just getting off the ground, the sociology club eventually hopes to host events, guest speakers and a lecture series. The club had 11 members, but managed to sign up 15 interested students over the evening.
"I personally hope it becomes a regular event, because students should be more involved in clubs on campus," said Anderson. "It's an important part of student life."
A former chairperson of the Kwantlen Student Association, who was connected to a $50,000 Cram Jam loss in 2008, declared his intention to run for the Vancouver Park Board last month.
Trevor Loke announced he was seeking the Vision Vancouver nomination for the fall 2011 election.
Loke served as KSA director of events and student life for four months and chairperson for one month in 2008, and in various staff and elected positions between 2007 and 2008.
He resigned in late July 2008 shortly before the KSA lost $50,000 on that year's Cram Jam. According to Loke, he resigned because of low pay, internal politics and because he was no longer taking classes at Kwantlen. Loke began organizing Cram Jam 2008, but his replacement Vanessa Knight ended up finishing the event. Loke blamed the KSA for poor planning.
The concert was headlined by Daniel Wesley, Ten Second Epic and Sloan and ended up going $20,000 over its initial budget of $100,000. Ticket revenues were estimated to be $102,250, but actually only brought in $9,030.
Loke was also part of the group of students that ousted the Reduce All Fees (RAF) party in 2007. Since leaving Kwantlen, he has remained involved in politics, serving as a director-at-large with the B.C. Green Party.
Cloverdale students aren't seeing their fair share of events and services, according to the KSA's new Cloverdale campus director.
Shivinder Singh, a first-year CAD student, is the first-ever elected campus director at Cloverdale and hopes to better represent his campus.
"Students at Cloverdale aren't getting their share," said Singh. He said that most KSA events and spending are directed at Richmond and Surrey, even though Cloverdale students pay the same fees.
This year, was the first time that any students were nominated or elected for KSA positions in Cloverdale since it was opened in 2007.
When Singh transferred to Kwantlen from UBC-Okanagan last year, he was immediately struck by the absence of student life and decided he could make a difference.
"I saw a poster for elections," said Singh. "So I just put my name in and jumped in."
According to Singh, the biggest issues facing Cloverdale students are the rapid increase in fees and the near-complete absence of student life and events.
He also says that Cloverdale faces unique challenges. The campus is male-dominated and students range from the very mature to high school students. Because most of the programs at Cloverdale aren't semester-based, typical orientations or welcome weeks haven't worked. New classes usually start every month and sometimes every week.
He is still learning how the KSA system works, but is making plans to hold an orientation in the fall as well as other events.
Singh says that students are divided about the incoming U-Pass program. Bus service at Cloverdale is limited and the U-Pass is mandatory for all students, even those who never use public transit. However, Singh acknowledges that those who do use transit are very excited about it.
On March 5, history was made for Kwantlen's athletic department after two Eagles secured the school's first national banner.
Ashley Jang was half of the mixed doubles badminton team that came back from Sackville, New Brunswick with the gold medal, and she had to go through a lot of pain so Kwantlen could raise their third banner in two years.
"Before every match, I spent an hour warming up and re-taping my knee and putting on a lot of lotion and ice. I tried my best to play as hard as I could, but I was really restricted," Jang said.
The second-year biology student hurt her knee during the provincial championships, where Jang and her teammate, Jensen Ly, finished in second place.
The national championship took place two weeks after the provincials, and it gave Jang little time to prepare.
"I hadn't played any real games since provincials, so I was really scared about my knee because I didn't think that I would be able to play without injuring it," Jang said. "It would hurt to straighten my leg. The next week I went to a lot of physiotherapy and I went to a Chinese doctor so I would heal faster."
The injury haunted her for the entire two weeks, and she still had to deal with it in Sackville.
"When I would do really fast movements, I would get sharp pains in my knee. I taped my knee really tight so it would be secure in one position," Jang said.
Jang found that her knee was causing her mobility problems, and it led to Kwantlen losing its first match to the pair representing St. Clair College, Johnny Tran and Julie Schell.
But after the defeat, Jang decided she wouldn't let the pain get the best of her.
"I was really close to giving up, but after we lost that match, I thought that I would try my best in the next game because I didn't care anymore. I wanted to win the banner for Kwantlen," Jang said.
The Richmond native and her teammate were set to play their fellow B.C. team in the next match. Jenny Aronson and Bryan Cassels, representing Vancouver Island University, stole the gold from Jang and Ly at the provincials.
However, the outcome of this match was different as Kwantlen defeated the BCCAA badminton mixed doubles champions in straight sets. It was at that point when Jang really thought they could go all the way.
"After that [win], I was pretty confident that we had a really good chance at winning," Jang said.
The Kwantlen duo won their next four games to set up the championship final against the tournament favourites from the Northern Alberta Institute of Technology, Sinead Cheah and Joey Vandervet.
The Eagles pair beat NAIT in straight sets, and won the last set by a nine-point margin.
"I felt really happy and relieved. Jensen and I really went through a lot of difficult times, like provincials. He basically had to play singles against everyone, and I was in so much pain just standing there," Jang said. "I went through a lot of pain just so we could get to nationals and hopefully win. I'm really happy that it all paid off."
Members of the South Asian community are putting faith in a new generation to change how women are viewed in their culture.
On March 5, over 70 people, many of them youths, gathered at Kwantlen Polytechnic University's Surrey campus to take part in the Global Walk for the Missing Girls and to bring awareness to the problem of female feticide and infanticide.
Prominent members of the South Asian community made passionate speeches about the problem and then led people in a walk around the campus.
The walk took place in five countries and 16 cities around the globe in conjunction with International Women's Day.
In the last century, 50 million girls have been lost from India's population and in the last two decades 10 million have been killed by their parents either before or after birth.
With the introduction of cheap and portable ultrasound equipment the problem has become much worse.
Dr. Pargat Singh Bhurji, a pediatrician in Surrey, said the main reason for feticide and infanticide is dowry, which is a gift of money or estate that the bride brings to her husband when they are married. Other societal issues, like rape, have also contributed to increases in abortions.
"Eventually you need a uterus to be born. You cannot be born in the ground like potatoes or up on the tree like apples," said Bhurji. "We are destroying our own future in a sense."
While there are laws in India prohibiting doctors from identifying the sex of a fetus, no one has ever been charged.
Most people think of selective feticide and infanticide as being a problem in other parts of the world, like India and China, however, it is a much broader issue.
"It's not a regional problem, it's everywhere," said Garima Kaur, the event's organizer and an international student at Kwantlen.
The issue of selective feticide reaches as far as Vancouver and Surrey where it is supposed to be illegal for doctors to identify the sex of a fetus before a certain stage in pregnancy.
"There are clinics across the border, there are clinics in Surrey who actually advertise about this. 'If you want to know if it is a girl child or a boy child and want to abort it then come here,'" said Kaur.
Pawan Dhillon, a maternity doctor in Cloverdale, has seen the issues of gender inequality here in Canada.
"In my experience it's not as blatant as what we see in India," said Dhillon. "I have been in deliveries where after I've announced 'It's a baby girl,' it's been met with silence. It's not a common occurrence, but it is still there and it's something that we need rectify."
This was the first year the event was held in B.C. and Kaur hopes that it will continue to grow in the coming years. Reaching youth is one of her main priorities.
"If you encourage the youth, if you educate them that 'let's put a stop to it', because they are the ones who are going to be parents now and in the future," she said. "I think the solution is just in educating them — changing their mindsets rather than changing people who've already lived their 40, 50 years of life."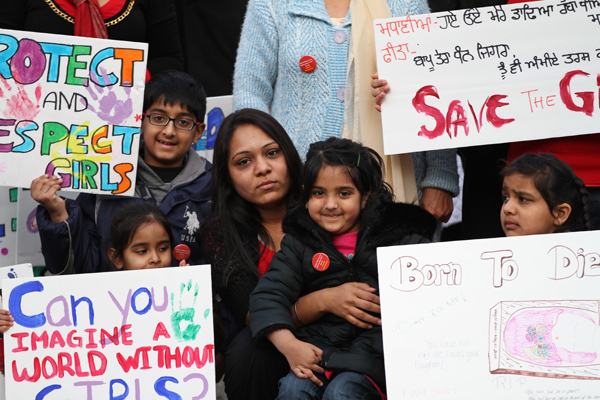 There is a new club rolling into Kwantlen; one with two wheels, spandex and shaved legs — well maybe not the spandex and shaved legs. The Hotwheels cycling club is Kwantlen's newest addition and is gearing-up to get more students onto bikes.
Stephan Struve, a fourth-year journalism student and Hotwheels' founder, created the club after he could not find one that met his interests in cycling and physical fitness.
"My idea was to get more students involved in cycling and to promote it as a lifestyle choice and also to balance the lifestyle of cramming sessions," said Struve.
The idea for club was born out of Struve's new-found passion for cycling, which he only took up in 2008.
"It became something that I was good at, and with my competitive nature, it drove me into seeing how far I could go. It became something I want to pursue as a competitive sport," he said.
As he became more involved in cycling, he looked for new and bigger challenges, which led him to the Ride to Conquer Cancer. The thought of riding 300 km, from Vancouver to Seattle, in two days, was enough to get him hooked on the sport. And once he found out about the challenge of raising money for cancer, Struve had another reason to keep pedaling.
After completing the ride for two years in a row, Struve described crossing the finish line as involving a lot of tears.
"Emotionally it's difficult to describe because you are a little overwhelmed by everything, but I would probably describe it as joy mixed in with sheer surprise," he said.
Struve's new challenge is to get more Kwantlen students involved in raising money to fight cancer by riding their bikes.
"I think that it is important that I pass on my experience," he said. "It gives you a whole new outlook on the emotional effect and why people participate in the ride, besides the physical challenge."
The Hotwheels club is meant for anyone interested in cycling, from beginners to seasoned vets. And Struve hopes that through the club, more people will become interested in the Ride to Conquer Cancer.
"I hope that the club will give people the opportunity to share that common passion of cycling," said Struve. "Different bikes, different physiques and different goals but to give them that platform to meet with each other and hopefully motivate people to cycle more."
The club currently has 15 members and Struve hopes it will continue to grow.
Beyond getting students involved in cycling the club plans to hold a cycle-thon and bake sale to raise money for the Ride to Conquer Cancer. Struve also hopes to run a bike safety and basic maintenance workshop for people involved in the club.
Joining the club free and members can participate in weekly rides and events planned for the future.
For more information on the club or to make a donation to the Hotwheels Ride to Conquer Cancer team, e-mail Struve
.