Standing in front of the Vancouver Art Gallery, Andy Rimer adjusts his tight yellow short-shorts, which he wears atop his custom-made, neon checkered spandex outfit.
"Today, I am wearing a luxurious one-piece," said the 22-year-old, as he modeled his outfit with a laugh, pulling a pair of black goggles over his curly locks and placing his oldschool boom box on the sidewalk. The Andy Samberg look-alike spent a moment skipping through techno songs before bursting out onto the street and gyrating down the road.
He moon-walked, break-danced and freestyled down the pavement, and pedestrians couldn't help but laugh. As Rimer danced circles around an unsuspecting businessman carrying a briefcase and shook his booty at a middle-aged man, an old woman on an electric scooter stopped to watch and smiled.
"I love getting people's reactions and shocking people. I love bringing them out of their regular day," said Rimer. "Whether they smile or they're just stunned, I know they won't forget what they just saw."
His parents know him as Andy, but Rimer is better known as his alter-ego, Spandy Andy: Vancouver's spandex-wearing break-dancer, who has dominated the street-performing scene since his first appearance at English Bay.
His slogan?
"Spandy Andy puts the mint in entertainment," said Rimer, "and that's fresh!"
After his audition on So You Think You Can Dance Canada was aired nation-wide, and he won the title of Colgate's Freshest Dancer and $10,000, "Spandy" has returned to the streets of Vancouver to do what he loves best: make people smile. Even though many choose to shy away from his wild antics, Rimer doesn't mind in the least: this is what he loves to do.
"For sure people ignore me," said Rimer. "They're scared of me, which is kind of funny since I'm a five-foot-nothing guy in spandex."
Although the cold weather didn't stop his performance today, the approaching Vancouver Olympics could. According to the City of Vancouver, buskers are not permitted anywhere near the Olympic venues during the 2010 games. A representative from the city's busking department told the Chronicle that the ban around the Olympics was due to "security concerns," something Rimer has a hard time understanding.
"Look at me," said Rimer, looking down and laughing at his ridiculous outfit. "What is this short, goofy looking man in spandex going to do?"
The city wanted to make it clear that artists have the opportunity to perform in other areas of the city, as long as they have a permit and follow the city's guidelines.
Within the past year, Rimer has fought many battles with city officials, including one over the volume of his boom box and another over where he can park his neon-green electric scooter, but this is by far his biggest battle. With recent changes to the regulations, Rimer could bunable to perform in public.
"We are not allowing any music amplification [including] batteryoperated or electric…no boom boxes," said the city's representative. That's a change to the original "reasonable" volume control allowed last year.
The new restrictions and Olympic ban has forced Rimer to take "Spandy Andy" elsewhere, seeking out local community-building project "I Heart Van Art" to support his act. I Heart Van Art has partnered with the Yaletown Business Improvement association, according to Rimer, who said the association would be filling up the streets of Yaletown for a 17-day street event during the Olympics.
Rimer plans to apply as a performer at the event, but he also has a way of getting around the city's bylaws, allowing "Spandy Andy" a chance at worldwide fame, as tourists from all over the world swarm the Vancouver Games.
"It creates complication when you put your hat out and ask for money, so if I don't have a hat, I'm not technically a busker," said Rimer. "Nobody can get mad at a random guy dancing in spandex. You just can't be angry at that."
As Rimer danced past a row of cars stopped at a traffic light near the Art Gallery and signalled for them to start dancing, a middle-aged man rolled down his window and began dancing behind the wheel. A huge smile came across Rimer's face, as he danced with the man until the light turned green.
"Just wait for the Olympics," said Rimer. "Without the hat, I'm going to be busting out of trees. You never know when Spandy Andy's going to pop out of nowhere and surprise you."
An award-winning racehorse, a severed leg and a murderer are not typical inspirations for street names, unless you live in B.C.
Those three items are the basis of street names in Richmond, Surrey and Vancouver, and among the weirder stories collected by the cities' archivists.
City archivists collect and record the histories of the various municipalities, and store it for later reference.
Melanie Hardbattle, an archivist with the City of Vancouver, said her job offers a necessary service to those in Vancouver.
"It's very important for people to feel a connection to the past," she said.
Many use the archival records to research city events, family lineage, even the history of their houses.
"We provide an important service to those people. If we didn't have the records, we wouldn't be able to provide that info," she said.
Sometimes that provided info can get a little strange. Below are the three of the wildest stories behind street names.
Richmond – Minoru Boulevard
A quick Google Maps search for "Minoru" in Richmond gives about 500 results, covering one area of the map in little red dots. There's Minoru Chapel, Minoru Place Senior's Centre, Minoru Laser Dental, not to mention the actual boulevard itself. Minoru is everywhere.
"Most people think that Minoru is a Japanese name, and has something to do with the Japanese-Canadian community," said Bill Purver, a Richmond archivist. Purver explained that many Japanese immigrants came to the Steveston area in the 1800s to seek out lives as fishermen.
But the popular name has absolutely nothing to do with the Japanese-Canadian community.
The boulevard et al are actually named after the thoroughbred horse Minoru, who, in 1909, was the first horse to win two classic races, the 2,000 Guineas and the Derby, while wearing a reigning monarch's colours.
In August of that same year, construction on a Richmond racetrack finished. It was christened Minoru Park in honour of the record-holding horse.
The racetrack was a hit, with 7,000 spectators attending the first day, according to a Richmond News feature. The track closed in 1941, but the name's popularity had spread, leading to the many things Minoru.
Surrey – Hall's Prairie Way
It was once the best horse-and-carriage road south, with an infamous claim to fame.
Hall's Prairie Way, now 184th Street, may be the only British Columbia street named for a murderer.
In 1845, Sam Hall and his First Nation's wife were the first to settle the southeast Surrey district.
Soon after, Hall killed his wife. He later died in prison.
When the next wave of settlers came they called the place Hall's Prairie, after the homicidal husband.
"Only a mouldering cabin and a legend remained," wrote Fern Treleaven in his 1981 book Rivers, Roads and Railways.
He also wrote that the children of the new settlers feared the old Hall cabin, believing it to be haunted.
Vancouver – Leg-in-Boot Square
Since late 2007, B.C. residents have been living with a strange occurrence: severed feet washing up on shore.
These feet are unidentifiable and unclaimed, but also not a new thing. This has happened once before.
In 1887, local police found a knee-high boot, complete with severed leg, in the forests of False Creek.
The police placed the limb outside the station, hoping someone would claim it, according to Elizabeth Walker's Street Names of Vancouver. No one did.
Stuart Cumberland, a 19th-century writer, mentions the boot in his 1887 book The Queen's Highway.
"Just before I visited Vancouver, a man had mysteriously disappeared; and, on the day of my arrival, a top-boot, containing a foot and portion of the leg, had been found in the forest of False Creek. This, it was surmised, was all that remained of the missing man, a cougar having disposed of the rest."
The forested area is long gone, but the story lives on. In a 1976 act, the city named the False Creek location Leg-in-Boot Square.
Sidebar:
If you're looking for a perfect Christmas present, why not get something truly original: a street named after the recipient. Vancouver's street-naming committee receives about half-a-dozen letters a year from Vancouverites putting forward the names of relatives and major contributors to the city's development.
Nominations run the gamut from someone's great grandfather to the recently deceased Jack Poole, former VANOC president.
"We maintain a fairly extensive list of people who have been nominated," said Marg Coulson, acting city clerk and chair of the committee. When a name comes before the panel, an archivist researches it, determining the nominee's contributions to the city. "We really don't want to be too restrictive, because people make contributions in different ways," said Coulson.
When the merits of the name are proven, the name gets shortlisted. The list has just over 100 names on it, said Coulson.
If a street is created and a name required, the committee peruses the list to see which fits best, usually someone from the related area. A recommendation is then made to city council. The need for a name is rare, as Vancouver has very little in the way of new developments. The panel usually receives only one request a year.
"One thing I should say is that we do not consider people who are alive," said Coulson, which could create a slight set-back for those considering self-nomination.
"We'll have to kill you and then we can consider you," she said, laughing.
The fishers have laid out their catches and are selling them to the locals walking the Steveston docks on a Saturday morning. Many kinds of fish and seafood, including crab, prawns and halibut, are on display, along with the boats that crowd Fisherman's Wharf. This has been a source of income for seamen since Steveston was first founded as a fish- ing village in 1890. There is a smalltown feeling to it all.
Turn around though, and you might get a different feeling. The other side of the wharf is loaded with restaurants and shops for the tourists. Walk a block to the east and you see three coffee houses — Blenz, Starbucks and Waves — all within one glance. A block north, there's a McDonald's nestled into the old train-station building across from Steveston Park and Community Centre. With more commercial development moving into the Richmond subdivision, there are those who think the sense of community in Steveston is getting lost. Given that it's one of Richmond's first neighbourhoods, some feel that the "gritty" feel of Steveston should be a priority.
Dave's Fish and Chips' manager Bryan Scott is one of them. "[The development] is becoming a little
too much. The way it's being built is taking away from the overall appearance of Steveston," Scott said.
"There were lots of older buildings that were one storey and and now there are two-storey buildings with the apartment above. It's becoming bigger than it should," added Scott, who has worked at Dave's for 17 years.
Dave's has been in Steveston since 1978 and although it's moved a couple of times, business has been pretty solid, even after McDonald's opened just down the road.
Scott said that McDonald's moved in at a time when a lot of apartments were being built and more people started to live in Steveston.
Development might not be that bad, said Terry Crowe, manager of the Policy Planning Division for the City of Richmond and member of the Richmond Heritage Commission.
Crowe said that of the 90 buildings in Steveston Village, only 17 are protected by the Steveston Area Plan, a heritage-conservation strategy. The other 73 buildings can be demolished or changed in any way. The 17 protected buildings cannot be knocked down and the exteriors must comply with the 14 federal heritage standards set by Parks Canada.
According to the Parks Canada Standards and Guidelines Report, some of those standards are:
Conserve the heritage value of a historic place. Do not remove, replace or substantially alter its intact or repairable character-defining elements. Do not move a part of a historic place if its current location is a character-defining element.
Conserve changes to a historic place which, over time, have become character-defining elements in their own right.
Find a use for a historic place that requires minimal or no change to its character-defining elements. The exteriors of the buildings must stay the same, but the interiors can be altered.
"We're just interested in the exteriors of the buildings. We don't care what is done with the insides, so that gives the village a lot of flexibility," Crowe said.
Dave's Fish and Chips is one of the protected buildings. The structure itself is made up of brick and wood with two bright-blue doors and big bay windows facing Moncton Street. On the east side of the building, there's a take-out section and some picnic benches.
Another one of the 17 heritage buildings is the post office/museum, which looks like an old house sitting on the corner of Moncton and First Streets. It was Steveston's first bank, built in 1905. The top half of the building is painted burnt orange, the bottom is a creamy yellow. The house exterior is accented by thick, white trim. There is a park in the back that is shaded by leafy trees in the summer. The outside of the building has been preserved to match the federal heritage standards, but the inside is a functioning post office and museum dedicated to Steveston's history.
Crowe also explained that some of the 73 buildings not protected by the Steveston Area Plan are privately owned, so the City of Richmond cannot decide what businesses can move into that space.
"It's like when an apartment is built. The city cannot pick and choose who the tenants are," said Crowe. "The City does not interfere with privately leased spaces. I get that there's some anti-McDonald's opinions and all that, but the City has no control over it. We do not deal with occupancy."
Crowe said he feels that as long as the Steveston Area Plan and federal heritage standards are followed, the new commercial development doesn't affect the small-town feel of Steveston at all.
He said that people want someplace to live, work and play in a community and because of that, both commercial development and heritage buildings can co-exist in Steveston.
"You could create a Disneyland in there," he said, "but no one wants it to go that far."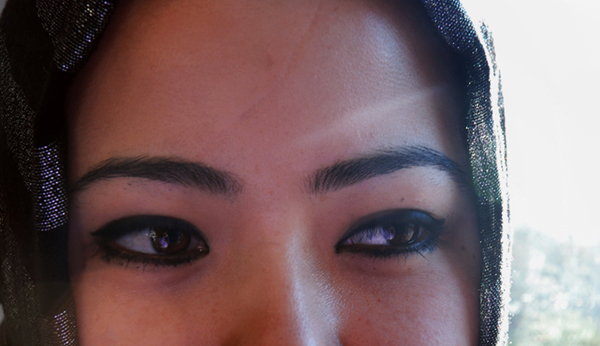 Dur-e-aden was apprehensive about wearing the hijab when she first moved to Canada two years ago; in Pakistan wearing the hijab was normal, but in Canada she stands out when walks down the street.
"It gives away my identity. Sometimes it's good, sometimes it's bad, but I'm ok with that," said Dur-edan. "People should know who I am, like I don't want to hide it or anything."
The Islamic religion requires a woman to dress modestly in loose clothing covering her body, except for her hands. The wearing of the hijab comes
from the Qu'aran, the Islamic religious text, which says that Muslims, not just Muslim women, should dress modestly.
"The main purpose of it is to like protect your chastity, so you're not supposed to reveal to much," said Dur-e-aden, who started wearing the hijab when she was 14.
Wearing the hijab doesn't pose any problems for Dur-e-aden, who wears it everywhere she goes. She even has a hijab designed for playing sports.
Dur-e-aden isn't unique. Whether you're wandering down Main Street or hanging out downtown, one of the most visible indication that Vancouver is a multicultural city is many people wear some form of head covering.
The Muslim population in B.C. is approximately 56,000, making it the third-largest such population in Canada after Ontario and Quebec, according to Statistics Canada.
B.C. also has a large Sikh population. The 2001 census reported there are 125,000 Sikhs living in B.C., many living in Surrey and East Vancouver.
According to Pritam Singh Aulakh, president of the Akali Singh Society, Sikhism became prominent in the 15th century, and men began to wear the turban because it was considered unnatural and unreligious to cut the hair from any part of the body. Sikhs would wear a turban to keep their uncut hair neat and tidy.
Sumanpal Singh, a student at Kwantlen Polytechnic University said that those who choose not to wear the turban are not really Sikhs.
"Wearing the turban is doing Gods will," said Singh.
Aulakh said that if you are living your life in the way of God but choose to not wear the turban, you are still Sikh.
"Believing in God in Sikhism is doing good things…don't tell lies, work for a living and share with others, and be truthful," said Aulakh. "So if you are not practicing these things, then you are not Sikh."
In Sikhism and Islam, the head coverings are gender-specific. In Judaism, men and women can wear a head covering called the yarmulka or kippah.
The yarmulka and the kippah are the same thing, but, said Rabbi Infeld of the Beth Israel Synagogue, "yarmulka" is Yiddish, from a dialect of Hebrew that grew out of German. The word "kippah" is Hebrew.
A kippah is a small round hat that sits on the back of the head and, according to Infeld, is worn as a sign of respect to God and to all people.
Many Jews don't wear the kippah all the time, many wear it only when praying and eating.
"I personally keep my head covered at all time," said Infeld. "People who are more observant of Jewish law tend to do that."
To Infeld, a Jew does not have to where a kippah to be faithful.
The Jewish population is small in B.C. with only 21,000 Jews. The Jewish community in Vancouver is concentrated around Oak Stre
Ken Gabour grimaces slightly as he lifts the dumbbell at Richmond's Water Mania training facility. He then curls it up to his chest just as he's done time and time again during his 20-year athletic career.
The winner of more than 30 B.C. Special Olympic medals has competed in nearly every sport, reaching the pinnacle in figure skating in 1996 by winning the World Special Olympic gold medal. Listening to Gabour tell the story, you'll never hear the word special, just Olympic.
Gabour was born with Down Syndrome, Sept. 3, 1972 in Vancouver General Hospital. Down Syndrome is a chromosomal disorder caused by the presence of an extra 21st chromosome, resulting in a flat face and mental retardation.
He was also born partially deaf and with a hole in his heart that may have required open-heart surgery to fix. By the time he turned one, the hole had grown over and his life – growing up in a typical suburban Richmond family – could begin.
"Ken has never seen himself as different," said Gabour's mother, Dorothy, "and to tell you the truth, he doesn't even like to hang out with other handicapped people."
What he does like to do is work out, hang out with friends and family, volunteer with many community programs, play all types of sports. And work at his long-time job with McDonald's.
Gabour lives a full and rewarding life with his mother in a basement suite in Richmond, but it wasn't always so easy. There was very little help for B.C. parents of children with developmental delays prior to the establishment of the Infant Development Program in 1972.
"We were really lucky," Gabour's mother said. "When Ken was born, it was obvious he was going to be delayed, and we were fortunate enough to have great timing. Ken was the first baby accepted into the province's new Infant Development Program."
Dorothy credits the program with allowing Ken to integrate into the community successfully and progress through elementary school without falling behind. During his time with the IDP, he improved his speech, coordination, and muscle strength, ensuring he would be ready to attend school with other kids his age. The program helps children up to the age of three, who have – or are at risk of having – developmental delays due to biological or psychological issues. Since Gabour was accepted, and helped by the IDP, the program has helped more than 65,000 children in the province. About 61 B.C. children with Down Syndrome are referred to the program every year.
Gabour's elder sister Colleen Wright smirks slightly as she recalls growing up with him. It was not easy. "It was hard growing up with him," Wright said. "Despite his disability, he was always the one who accomplished everything and had everyone's attention. As simply Ken's older sister, I just kind of got pushed to the side a lot."
Gabour graduated from Richmond Senior Secondary School in 1990 before going to Kwantlen College for two years, graduating with a diploma from the restaurant-services program. He turned that diploma into a career that he wouldn't change for the world. Since graduating from Kwantlen, Gabour has worked at McDonald's, performing various duties from cooking to cleaning, and assisting customer-service representatives with the taking and filling of orders.
When he's not working, Gabour can be found training for or competing in one of the many sports he enjoys. He has won medals in both the British Columbia Special Olympics and World Special Olympics in many sports, including floor hockey, swimming, cross-country skiing, softball. The sport he excelled at more than any other is figure skating.
"At an early age Ken set goals for himself, and when he puts his mind to something he wants, there is nothing that can hold him back," said his mother. "I remember one time when he had won a bronze medal in swimming and he just refused to take it. He had become so used to winning gold that anything less just wasn't good enough."
Ken's mom, who lost her husband to lung cancer 16 years ago, credits one of the only remaining male influences in his life for much of his success.
Mark Walsner is a one-to-one life-skills worker with the Mainstream Association for Proactive Community Living, and has worked with Gabour for 17 years. He specializes in assisting people with mental handicaps to better understand the community they live in and feel more comfortable with their day-to-day activities.
"We work together to try to reach goals that Ken has set out for himself," said Walsner, who spends 12 hours a week working closely with him. They do many activities together, such as going to the gym, swimming, watching movies and going to the beach in the summer.
"Over the time I've worked with Ken the biggest change I've seen in him is in the way he carries himself," said Walsner. "The increase in his self-confidence and self-esteem is what has allowed him to get to where he is today, and accomplish all the things he has both in sport and life."
Walsner's work has turned into friendship. He and his girlfriend now regularly attend gatherings with Gabour and his family.
Most people with Down Syndrome will never live alone. If something were to happen to Gabour's mother, he would live in a government-funded group home or with another family member. His sister said she is more than willing to take him in, if that time should come.
"The hardest thing for Ken is change," said his mother. "He really doesn't adapt well when things in his life are different then he's used to."
His sister lives in Richmond, so the community that he has spent his entire life growing up in is most likely where he will spend the rest of his life.
"I like Richmond," said Gabour. "I got my workout, I got my work, and my mom is here."
That's his world.
Every night, in the parking lot of a low-rise Whalley building off King George Highway, dozens of workers distribute food and clothing to the homeless at the home base of NightShift Ministries.
Located at 10759 135 St., the outreach program serves the home- less 364 nights a year, providing hot meals, blankets and clothing for the cold and wet with the help of nearly 40 churches.
"We provide for those that don't have a nourishing meal, that don't have a fixed address," said MaryAnne Connor, who founded NightShift in January 2004.
As well as NightShift Ministries, Connor runs a thrift store, located next door, called Sister's Marketplace, and just down the street is the Surrey Food Bank. She said that residents are quite giving to the homeless and have helped her ministry over the years.
"Ninety-five per cent of our people are volunteers," she said. "We wouldn't be able to do it without the generosity of the community."
Dane Watson of Peace Portal Alliance Church gets to see NightShift make a difference first-hand. He leads a group of Peace Portal volunteers two Saturdays a month, and on those nights, he's always moved by the people he meets as they come in off the streets.
He recalled a night last fall when he was working in the clothing truck and a man asked for a button-up dress shirt. When he found one, the man's eyes lit up and he showed much gratitude to Watson.
"He said to me, 'Bless you, sir. You've now made it possible for me to go out tomorrow for a job interview,'" Watson said.
Watson said he knows that other volunteers have had similar experiences, and though some are initially apprehensive about meeting the homeless, he assures them it's safe and controlled by the ministry.
"In the year and a half that I've been doing it, I think I had to call 9-1-1 twice," said Watson, who acknowledged incidents have happened, but the ministry deals with them and moves on.
Homelessness is less visible here than it is in Vancouver, and compared to the Downtown Eastside, Connor said it's harder to notice the homeless because Surrey is more geographically spread out.
"It depends on the time of night," she said. "We serve between 100 and 150 people every night."
A 2008 report by the Tyee counted 2,592 homeless people in Metro Vancouver, 402 of whom were in Surrey.
"Anyone telling me there's 400, that's the actual number of homeless, I would definitely beg to differ," said Peter Fedos, program manager of Hyland House in Surrey. "If I count just between the three shelters in the area, there's close to 2,000 different individuals that are seen every year, and I'm turning away 500 per month 'cause I'm full."
Homelessness in Surrey suburbs such as Fleetwood, Newton and Guildford is hard for local shelters to handle. All of the 35 beds at Hyland's Surrey location (6595 King George Hwy.) and the 10 beds at the Cloverdale location (17910 Cole- brook Rd.) are full every night.
"Everyone has a different situation that caused them to become homeless," said Andrea Dodd, assistant program manager of the Cloverdale Hyland House. "Whether it's mental health, addiction, losing their job, having no support system…. It's not all just one group or one stereotype of homeless."
Fedos added that the only thing in common these people have is that they're homeless or at risk of becoming homeless."
"A homeless person told me, 'Don't confuse someone being homeless with street people,'" said Fedos, who clarified that "street-entrenched" people choose to live on the street and have trouble getting out of the lifestyle.
The street-entrenched are familiar with the street and prefer to be there, according to Fedos.
Cloverdale streets were decked out with Christmas lights, crammed with people and covered in decorated semi tractor-trailers and trucks on Dec. 6 at Hawthorne Square.
The Santa's Parade of Lights, put on by the Cloverdale Business Improvement Association (BIA) in partnership with the Cloverdale District Chamber of Commerce, is one of five annual events held in the area to maintain Cloverdale's historic small-town identity and strengthen the sense of community.
The Cloverdale BIA was expecting a crowd of 7,000 people to line the streets for the parade, out of a population of only 55,000 people in the small section of Surrey. The area was once entirely farmland, and is still sustained by blueberry crops, but is now considered a peri-urban community (an area adjoining an urban space), because of its location at the centre of a rapidly growing city.
The growth has caused the Cloverdale BIA to create guidelines and larger-scale plans of action to promote the area's historical western identity, which is the foundation for the local economy. Cloverdale does not have any above-ground parking, parking meters or big-box businesses, which helps maintain the small-town culture.
"[Cloverdale] is filling in and growing at an unbelievable rate, unmatched about anywhere in B.C.," said Paul Orazietti, executive director of the Cloverdale BIA.
One way that the BIA is responding to urbanization is by adding a social-responsibility aspect to the parades and festivals. This is the third year that the holiday parade was collecting donations for the Surrey Christmas Bureau and the Surrey Food Bank, with a goal of collecting $5,000 and two-and-a-half tons of food for the food bank.
"Charity has taken a much higher profile," said Orazietti, adding that homelessness is a growing problem in Cloverdale. At one point, over 50 people were living in the town centre, he said.
The events serve to bring locals together and promote opportunities to give back, but they also exemplify Cloverdale's identity to nonresidents.
Stores are decorated, businesses are welcoming – it's all part of a plan to encourage outsiders to feel like they are a part of the community, too.
Economically, Cloverdale is challenged by its avoidance of large stores such as Safeway, whose nearest location is in Langley. But small-town values have led the BIA to resist the introduction of such businesses, preferring to support local businesses instead. These steps aim to protect the community's assets while events build sustainability, he said.
Cloverdale is on a path that may head towards transformed economy and increased symbolism, as small-town community features become replaced with modern infrastructure, according to Jacqueline Mulcahy, member of the Maple Ridge Community Heritage Commission and a post-graduate urban-studies student at Simon Fraser University.
The community may find itself using street signage and banner programs as a reminder of the original identity, as was done in North Vancouver, if the rapid population growth continues, said Mulcahy.
"It's impossible for communities to resist [change]," she said. "A sense of identity is necessary in any community.
"You have to have some means of a discourse," Mulcahy said. "If you don't have a sense of collective identity, it's very difficult to have political engagement and it's difficult to have a consensus."
Individuals in the area are also realizing that parades and festivals are a good way to help the younger generation plug into Cloverdale's traditional values and history. Rick Hughes, the vice-president of Lord Tweedsmuir Secondary School, is trying to encourage youth to get involved in organizing parades, sports camps and other local events.
"It's up to my generation to make sure that we're passing all this into succeeding generations," said Hughes. "There's a lot of young folks out there that think, 'Well, I'll do it if there's an immediate payoff' instead of 'I'll do it if it's helping somebody out.'"
Hughes has lived in Cloverdale his entire life, and has helped organize parades, the rodeo and the creation of Surrey Museum over the last half-century. When he was a child, all of his neighbours knew each other, but that is not the case anymore, though there are still some core families that remain. He welcomes different ideas and lifestyles, but added, "It's important to remember the things that got you where you are."
New Westminster's Columbia Street is dotted with antique shops, vacated storefronts and heritage facades.
The street was a once-busy hub for the former capital of British Columbia, centred around the vaudeville-style Columbia Theatre, later known as the Burr Theatre in honour of New Westminster-born actor Raymond Burr. The theatre was best known for its floor-to-ceiling atmospheric mural painted by William MacInnis, the artist who painted the gold-leaf detail in the dining room of the unsinkable Titanic.
In its prime, Columbia Street boasted the Burr Theatre, the Paramount Theatre and the Carter McNairn building, all architectural icons of the city's love of culture and heritage.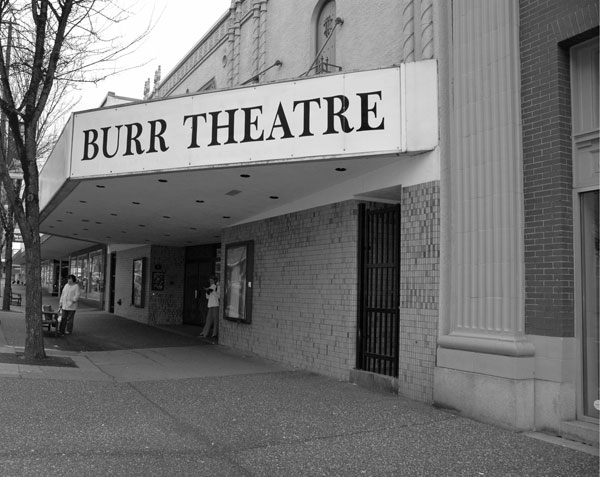 Now, after a two-year-long battle between the city and the New Westminster Heritage Preservation Society (NWHPS), the heritage Burr Theatre is closed and up for sale. The once cinematic Paramount has become a "gentleman's club," and the Carter McNairn building has been demolished to make way for a Safeway. There's a threat that the Massey Theatre could be added to the city's list of heritage casualties.
Plans for a new multi-purpose civic centre have residents and culture enthusiasts asking if the new facility will make up for what the city has lost. The new centre would be located on Columbia Street, between 8th Street and Begbie Street, opening in 2012.
"Heritage is so important to New Westminster because it's our identity," said NWHPS president Maureen Arvantidis. Catherine Hutson, also on the board of directors for the NWHPS, can't understand why the city couldn't save the Burr instead.
"The city is getting $35 million from the casinos to build a new civic centre when we could [have restored] the Burr for the same functions," said Hutson, explaining that the centre's preliminary designs includes theatre facilities.
The Massey Theatre, a 60-year-old proscenium-style auditorium, faced a threat from the city and the New Westminster school district, which had residents in a panic. The threat prompted a "public outcry," according to the executive director of the theatre, Jessica Schneider, as well as a petition, a support group and website, savethemasseytheatre.blogspot.com.
The future of the Massey Theatre is still unclear, but Schneider isn't worried about losing the theatre anymore.
According to her, the school district conducted a report on the theatre making it seem as though it needed seismic upgrades that weren't worth the money. She said the school district's motive was to scoop-up the theatre's property to expand a high school, but she and the city now know that what the report suggested is not true.
"We don't urgently need upgrades," said Schneider. "We need upgrades like all buildings need upgrades."
Schneider believe the school district was issuing threats to both the theatre and the city. "The school district was trying to get the city to swap the theatre with the [rest of their property], and they kind of put out the threat like, 'We'll just build on the theatre site unless someone gives us something else to work with.' It's a very political hot potato," she said. "The [actual] issue is that because New Westminster is the oldest, first part of Metro Vancouver, it's completely built from one edge to the other. There's no space left to expand as density increases. This is just the beginning of an issue that's going to face everybody eventually."
Unlike the NWHPS, Schneider said that keeping the Massey Theatre alive doesn't make the multi-purpose civic centre obsolete. Neither does Andree St. Martin, executive director of the New Westminster Arts Council.
"Of course, we are supporting that the Massey would stay," said St. Martin. "It's the only arts-focused facility in the city [but] arts will happen whether there's facilities or not, artists will do their art whether they get paid or not."
According to Schneider and St. Martin, the goal is to have as many facilities as possible.
"There's a lack of arts facilities in the city, but there's certainly not a lack of arts in the city," said St. Martin. "We're very hopeful [that] there will be a strong arts presence in the new facility they're going to build."
"We need [the civic centre] and so much more," added Schneider. "We need as many cultural spaces as possible."
Ken Hughes can't stand it when British street signs aren't there to do their job.
"Sometimes you'll come around this traffic circle, looking for the sign that's always there and there isn't one. And you go, 'You bastards! Why did you do that to me?'"
An English expatriate who teaches graphic design at Kwantlen's Richmond campus, Hughes has an intimate understanding of how important road signs are to modern transportation.
Over the past 10 years, Hughes has been studying signage by photographing lettering inscribed in stone, painted on walls and printed on signs in various places during his travels in Europe.
He knows that street signs, or "wayfinding graphics" in the graphic-design world, have meaning beyond just telling you where to go.
"[Road] signage makes…you feel like you're being looked after," said Hughes. "It's almost like there's an invisible human being saying, 'If you want to go to Scotland from London, just follow the signs; you'll get there. Just follow the signs. Have faith.'"
Street signs, or "directional signs" to City of Vancouver engineers, aren't celebrated like parks or bike lanes, but are considered a valuable and constantly evolving community service by those who work with them.
Street-name blades, the smaller signs attached to posts on street corners that tell you you're at Hastings and Victoria, have changed in type size and reflectivity in recent years, enabling safer travel through the city, said Winston Chau, a transportation engineer for Vancouver.
The Transportation Association of Canada (TAC) dictates the overall design of signs in Vancouver, ensuring they conform to a standard: white, sans-serif lettering on black background, bordered by high-grade reflective tape.
Despite TAC's guidelines, some Vancouver communities have reclaimed their signs and used them to express unique cultural identities.
Business-improvement associations in some of Vancouver's popular neighbourhood districts have applied to the city to have their blades designed to represent their neighbourhood's distinct cultural identity, said Chau.
Signs with Chinese characters and a distinct 1940s style distinguish Vancouver's Chinatown, and signs for the Marpole area near South-West Marine Drive are printed in the language and symbols of the Musquem first nation, who historically inhabited the area. The newly refurbished Cambie Village, the Punjabi market at Main Street and 49th Avenue and posh Kerrisdale have also customized their street-sign blades to express character or historical importance.
All Vancouver street-signs, including pesky regulatory signs telling you where not to park downtown, are printed in the city's sign shop, located at the National Works Yard just behind Pacific Central Station. Responsible for producing everything from venue signs to traffic redirection signs during the Olympics, the shop is shouldering its fair share of work for the games.
In the little spare time employees have, the shop also prints individual signs for people as part of their Street Signs for Everyone program. People can order plastic or metal signs, ranging in price from $50 to $90, featuring the names of any Vancouver street.
Nick Kazawa, an engineering department employee responsible for managing the shop, said that tourists and locals used to order replica signs of favorite Vancouver destinations such as Robson Street.
These days, however, people are more interested in having their own names printed on the signs.
Hughes said that these sorts of personal affiliations with street signs, and the cultural pride expressed by Vancouver's custom neighbourhood signs, are evidence that people want street signs to be more than plain infrastructure.
Some designers, such as England's Why Not Associates, are attempting to embed street signs into walls and sidewalks instead of littering the landscape with more poles, shapes and junk to look at, said Hughes.
Along with wayfinding information, the group is integrating historical information about the people and cities where the signage is based.
"It's not just telling you where things are, but it's telling you about what's there. To me that is developing a sense of civic pride and knowledge of your district," said Hughes.
"Especially if you're younger…sometimes we're so caught up in working on newer technologies that the history of a place escapes us," said Hughes.
"Picking up information on where you live, just because you have to see it everyday walking down the street…to me, that's a great idea."