The art of wooing can be expensive, especially for a poor university student, but creativity and a little pocket change can go a long way.
According to Sheree Morgan, a Vancouver-based professional matchmaker, the best place to start looking for value dates is away from screens or dinner tables.
"The best place for low-budget ideas is outdoors," Morgan said.
With the large number of walking paths, hiking trails and parks in the Lower Mainland, there is something for all fitness levels.
Remembering your date's physical prowess is important, as Soraya Raiszadeh, a Kwantlen student, knows well.
The thrifty outdoor excursion Raiszadeh went on included the infamous Grouse Grind.
"I wouldn't say it was the best way to go on a date," she joked.
Raiszadeh is one of 13 Kwantlen students asked by the Chronicle about the cheapest, most effective date they had been on. For the purpose of the poll, "effective" means that it lead to other dates, or was enjoyed by both parties.
Dana Stasyk, a first-year Public Relations student, was also courted outdoors. She was in Australia and, met a man named Pok, who took her for a stroll on the beach. "He had laid down a picnic at the end of the walk," said Stasyk. "It was very sweet."
Romantic as woodland walks can be, Morgan does have one important tip. "Make sure you stick to the paths," she cautioned. "It really kills the moment if you have to be rescued. Probably not a great way to end the date."
Going outside is one way that dates can be cost-efficient. The other involves a bit more inventiveness.
"Women love it if you're a little bit creative," said Morgan.
She used a past date she had been on to emphasize her point. "After a fresh snowfall, dress up really warm, take a thermos of hot chocolate and go to Stanley Park. I'd never done it before, and it's probably one of the most wonderful things I've ever done," she said. "It didn't cost any money, it just took a little bit of thought."
Kaitlyn Cook, one of the interviewed Kwantlen students, also enjoyed a date that was simple, but memorable. Her date took her skating, but was absolutely awful at it. Luckily, Cook used to figure skate and they spent the date with her teaching him. "I don't know, maybe he was faking, but it still made me feel special," she said.
In fact, almost all of the students polled enjoyed the simple dates as much or more than the most expensive ones they had ever been on.
Ryan Cardoz, a business student, once took his date to Costco for hot dogs. The whole meal cost him a wallet-destroying $3.20.
"It was pretty effective," Cardoz said. "We were both poor at the time."
The date was so good, he ranked it as high as the $240 meal at a downtown restaurant to which he later took the same woman.
Echoing his statement was George Pauol, a psychology major, who felt that the day trip he took with his girlfriend to Victoria was less enjoyable than just walking around the mall with her. He said that because of all the tourist attractions, they were both distracted and there was less time for conversation.
For many of those polled, good conversation with a person who would listen and make them laugh was essential to ongoing interest.
"Be very talkative, because I am a chatterbox," said Rasizedah.
"As long as we can talk without feeling awkward, it's cool," said Alvin Denbock, a business student.
"If she's interested in me, it makes her seem interesting," said Cardoz.
"Make me laugh and you'll get a shot. Don't make me laugh, and you'll never see me again," said Cook.
Can several dollars worth of hot dogs and good conversation really be the Holy Grail of thrifty dating?
Morgan, the matchmaker whose focus is on finding clients a single, compatible match, agrees with the conversation part. "Be as positive as possible. Make it fun. We all want to be around somebody who is confident," she said.
According to one of the polled students, it's not about the content of the date, but the quality of the person next to you.
Everybody loves to see their favourite stars perform, but nobody likes the empty wallet when the show is over.
For example, tickets to the Oct. 23 Rascal Flatts concert cost at least $85 for a decent seat, which for some is too much for four hours of music.
A way to remedy that is to see the talent showcased a couple nights a month at Richmond community centres, for $5 or less.
Youth programs at both Steveston Community Centre (SCC) and South Arm Community Centre (SACC) run the band nights on Fridays during the Night Shift program, a weekly youth hangout night and now Cambie Community Centre is getting in on the act.
The Cambie centre, at the corner of Cambie and Jacombs roads in Richmond, is hosting Richmond based band Venice Queen's first all-ages show on Oct. 23. Opening for them will be local youth bands Ill and Fallen, and The Chase. All three up-and-coming bands play serious rock music, and the Cambie Night Shift coordinator is excited that they're playing at the community centre's first ever band night.
"We're just beginning to explore the musical side of things at Cambie," said Brandon Bloomfield. "If this night goes well, we plan on having more."
Venice Queen is one of the winners of the 2009 Vancouver Seeds competition, held by The Fox radio station for indie bands. The band has also played a number of shows downtown, but wanted to become better known in its hometown, so agreed to headline Cambie's band night, which has a $5 cover charge.
Venice Queen has also played at South Arm Community Centre, which, along with Steveston Community Centre, has regular shows featuring high-school-aged and young adult bands.
Alvin Li, a Steveston Community Centre youth development worker, said that the band nights are more about the kids and their music than making money..
"It's the chance to give youth in the area an opportunity to play and show their talents," said Li. "We rarely ask for more than $2, sometimes it's free [to get in] or… we ask for clothes during the winter to give to charity."
SCC presents five or six acts a night, consisting of acoustic music with some rock and alternative thrown in. Li said they also want to expand into hip hop.
Most of the youth-oriented events at Steveston, including band nights, are "run by youth for youth," said Li. He also said it's a chance for SWAT, Steveston with Active Teens program, to learn how to organize events and members to develop leadership qualities.
Band nights at South Arm Community Centre are also run mainly by its youth group, Mosaic, and organized with the help of Andy Roy, a youth worker.
SACC has a band night once a month, featuring three or four local bands who play some metal, screamo, rock and alternative music, with a $5 cover charge. The next show at SACC is Nov. 13; the bands haven't been announced yet.
It's mid-semester and mid-terms are closing in, your school savings may be disappearing and you might be feeling the need to blow off some steam.
Spending $10 on a cocktail at Lux on Granville may not be some-thing you want to do, but you can still have a rocking night out and not wake up in the morning wondering where your money went.
The first thing you need to know about having a bevvy on a budget is that beer is the cheapest drink on the menu, so if you're into the $8 martinis at Cactus Club you're going to have to make some sacrifices.
A survey of 15 different places in Vancouver revealed that most places charge about $5 a beer before taxes, which are 10 per cent on liquor. Two beers will cost you $10 to $11 on average, and don't forget to tip your bartender or server.
The standard for tipping, according to Lonely Planet Canada, is 15 per cent on the bill before tax, but if the service is excellent, 20 per cent is recommended.
The important thing to know is when the good drink specials are on and plan around them. Check out the Tuesday-night $7.50 pitchers at Whineos on Granville Street. The cozy wine-cellar atmosphere attracts the mid-20's to 30s crowd and the pitchers of beer only come out on Tuesdays.
Any other night you pay by the bottle, which will set you back $5.75 each.
Hungry? Order a burger at any Vera's Burger Shack and add a Granville Island Honey Lager for $3 any night. If you wait until Wednesday, you can get two beers and Vera's massive burger for $9.95; go on a Friday and get two beers for $6.
Any given Tuesday you can hit up The Cambie in Gastown for $7 pitchers, which give you about four glasses of beer, depending on the size of the glass.
You can also grab a pint there on Mondays for $3.50 and any other night you won't pay more then $4.50 for a beer. The Cambie is underneath a hostel and has a lot of character, with its old glass windows and big communal picnic tables.
It's most unique feature is the picket fence that runs up the centre of the bar. Half of the bar has a restaurant license and the other half has a pub license, which means you can't cross over the picket fence.
The clientele is mixed, and you may be sharing a table with someone from Europe, a UBC student or a local Gastown resident.
Richard Saunders, the manager of The Cambie, said he knows that the cheap drinks are what attracts people, but said that it's the relaxed vibe that keeps them coming. "There's just no pretentiousness here," said Saunders.
Bars like The Cambie may have a laid-back vibe, but if you don't want to share your table with a stranger and just want a beer at a nice place and are willing to pay a little more, you can get pints at the Yaletown Brew Pub on Sunday nights for $4.50.
The pub serves comfort food including meat loaf, schnitzel and pizzas, which you can get on Sundays for $8.
But be warned, any other night a pint will run you $6.50 and if you decide to change your beverage to some wine, it can cost you up to $11 per glass before tax.
Finding good inexpensive meals isn't as easy as reading the McDonald's dollar menu, but there are restaurants in the Lower Mainland with live music and affordable entrées that won't wallop your wallet.
The Cellar – 3611 West Broadway, Vancouver Price: 2/5; Service: 4/5; Food: 3/5; Atmosphere: 5/5; Music: 5/5.
The Cellar offers live jazz Tuesdays through Sundays. The music lineup changes, with some acts playing on a frequent basis. All acts include quality jazz musicians, such as Doug Towle, performing Oct. 29, and the Matthew Smith Quartet, performing Nov. 1.
The bar's design is classy, with elegant paintings on maroon walls complementing the dark booths. The dim lighting sets the mood for a relaxing night of jazz and drinks. Depending on the day of the week, talking during performances is often discouraged, but the atmosphere on Tuesdays is more easygoing and quiet chatter is permitted.
The food is a bit pricey (appetizers such as edamame and yam fries start at $9), but according to staff, students do frequent the below-ground bar.
"A lot of UBC students come here," said waitress Sarah Hawkins, adding that students tend to buy appetizers and alcohol.
There's no cover charge on Tuesdays, but there is a $10 minimum charge for food or drinks. If you go with friends, you can share a plate of nachos for $14.56.
Carman J. Price and company play Oct. 25 and Zapata Negro, an AfroCuban jazz group, plays Oct. 28.
The Landing Pub & Grill – 5449 Ladner Trunk Rd., Ladner
Price: 4/5; Service: 3/5; Food: 4/5; Atmosphere: 3/5; Music: 4/5.
For a less expensive musical experience, the Landing Pub & Grill has a blues band and $3 off appetizers every Thursday night. With the discount, you can get bruschetta for $4.99 or steak bites for $6.49.
Rick Dalgarno and Ted Tosoff of Blue Voodoo pick their guitar strings every Thursday beneath multicoloured lights. They play original and cover songs for the audience, which they say is getting younger.
"College crowds seem to be catching on more to blues and how blues used to be," said Dalgarno.
"The future of music anyways is the next generation," added Tosoff.
At times, the music is hard to hear, but there's plenty of seating to find a good view with better sound. The pub has two pool tables and free Wi-Fi.
Dishes such as fish tacos and potato skins are basic bar food, but surprisingly tasty. An order of three cheeseburger sliders, after taxes and with the $3 discount, totals at $6.29.
Dublin's Crossing – 18789 Fraser Hwy., Surrey
Price: 2/5; Service: 3/5; Food: 4/5; Atmosphere: 4/5; Music: 4/5.
The Irish-themed Dublin's Crossing pub in Surrey offers live music Tuesday through Sunday nights, and occasionally on Mondays.
On the first Monday of October, guitarist Jason Bonnell covered a blend of modern rock ("Use Somebody" by Kings of Leon), Top 40 ("Umbrella" by Rihanna) and bar favourites ("Folsom Prison Blues" by Johnny Cash).
There's a lot of seating, including tables on a mezzanine. But the music tends to get stuck in the background while patrons socialize at the bar or eat dinner, hardly noticing the person on stage.
The service is a bit spotty, but the food at Dublin's Crossing is better than average bar food. The best deal for Monday nights is 35cent chicken wings, which comes to $3.91 with taxes if you order the minimum of 10 wings.
Dublin's Crossing also hosts Geoff Gibbons on Oct. 27, James Moore on Oct. 28 and the Pat Chessell Band on Oct. 30 and 31.
The Foggy Dew Irish Pub – 7331 Westminster Hwy., Richmond
Price: 4/5; Service: 3/5; Food: 4/5; Atmosphere: 4/5; Music: 3/5.
The Foggy Dew Irish Pub in Richmond has live rock and R&B on Friday and Saturday nights, starting at 10 p.m.
Though the restaurant is small, it's a comfortable place to dine out on a budget. You can share a basket of onion rings with friends for $5.59 after taxes.
Other menu items are moderately priced and of good quality; the priciest entree is a New York steak at $17.99. Hamburgers are a deal, priced from $8.99 to $11.99.
There's something on the menu to fit everyone's tastes, but the entertainment may not fit everyone's musical tastes.
The bands and DJs change weekly, playing a variety of genres, but often sticking with modern hits and memorable songs.
There's no entertainment on Halloween weekend, but DJ Jeff plays the following weekend and the Undercovers play Nov. 13 and 14.
Washington Avenue Grill – 15782 Marine Dr., White Rock
Price: 2/5; Service: 3/5; Food: 5/5; Atmosphere: 4/5; Music: 4/5.
The Washington Avenue Grill isn't a place for inexpensive dishes, but that's the price you pay for good live music, free parking and no cover charge.
Parking is limited, but once you've found a spot, you can walk up the stairs to a candlelit table near the band.
Outside is a Statue of Liberty wearing a Canucks jersey, but this is not a sports bar. There's talented live entertainment Wednesday to Sunday, and the line-up changes regularly.
The prices are a little steep, but the desserts are worth your money. For the price of the cheapest appetizer (yam fries), you can get homemade tiramisu or New York cheesecake at $7.34 a slice.
Phil Dixon plays guitar on Oct. 25 and Jani Jakovac plays piano on Oct. 28.
Eighteen 27 – 9185 Glover Rd., Fort Langley
Price: 2/5; Service: 5/5; Food: 5/5; Atmosphere: 4/5; Music: 4/5.
If you'd like to spend $7.34 somewhere else, you can get triple chocolate paté at Eighteen 27 in Fort Langley while listening to Kurt Thys, the restaurant's personal piano man. Thys bears some resemblance to Billy Joel, but counters that with a pair of white Elton John–style glasses, making his piano playing that much more entertaining.
The restaurant's a bit dark, but it's supposed to be, for this swanky joint. Expect to spend a bit more for a bit less. The portions are small and the prices are big, but the food is amazing and items such as fondue aren't readily available elsewhere.
Entree's go from $12.99 (sirloin burger) to $23.99 (12-ounce steak), but you can't put a price on quality. Just try to save a nice tip for Thys, which he collects in a brandy glass at the end of the piano.
The Wired Monk – 12219 Beecher St., Crescent Beach
Price: 4/5; Service: 5/5; Food: 2/5; Atmosphere: 4/5; Music: 3/5.
If you enjoy a walk on the beach before seeing live entertainment, try the Wired Monk at Crescent Beach, which has an open-mic night on Wednesdays.
It's a small coffee shop where an variety of local talent perform easy listening, blues and soft rock. The performances draw some local regulars, so seating is limited, but there are often enough chairs for everybody and parking is free.
The shop has a very organic, earthy feel to it with shades of brown and green on the walls. It's a comfortable place to sit down and relax with a cup of coffee. For $5.61, you can get a blended coffee (mocha, espresso, etc.) and a cookie. Their coffee is considerably better than their baked goods.
The National Hockey League is not the only place you can find good-quality, competitive hockey in the Lower Mainland, but it is the game that could empty your wallet.
"I would definitely say I come to the Giants games over Canuck games because it's so much more affordable," said Mike Pitre, a season-ticket holder since the Giants inaugural Western Hockey League (WHL) season in 2002. "I can still afford to go for dinner before the game and, more importantly, beers after it. It's so much more fun to be able to make a night of it."
Pitre is not wrong in believing he's saving lots of money by choosing Giants games over those of their professional counterparts. For the price of one regular-season game ticket to GM Place to watch the Canucks – about $130 – you get this: two tickets to a Giants game at the Pacific Coliseum, parking, two beer, two hotdogs, one Giants team Tshirt, one Giants hat, plus $7 and change back in your pocket.
There are three junior hockey leagues in B.C.: the WHL, the British Columbia Hockey League (BCHL), and the Pacific International Junior Hockey League (PIJHL).
The most local and community-based of these is the PIJHL, which has its entire conference of teams located within the Lower Mainland and Fraser Valley. For a long time the PIJHL was considered a league riddled with violence, fights and little skill, but all that's changing.
"The league has really cleaned its act up in the last few years," said Mas Morimoto, public relations manager for the Richmond Sockeyes. "It used to be that the players playing in the league were older and at the end of their playing careers. Nowadays we are much more of a developmental league for younger players on their way up."
Play quality in all of B.C.'s junior leagues is high. Players are routinely drafted by NHL teams when they turn 18. The good thing for fans of junior teams is that it's not impossible to get tickets. Unlike Canuck games, for which single-seat tickets are pretty much all that's available for good games, junior games have plenty of good tickets available for walk-up customers on game days.
The Giants average just under 10,000 fans a game in the Coliseum, which seats 16,281. The Sockeyes play in a much smaller venue at Minoru Arenas, which seats about 1,100. This season, they have averaged about 400 fans a game. Minoru Arenas is a first-come-first-seat facility, so all tickets are general admission. The Canucks have sold all 18,630 tickets to the Garage for every game since Nov. 14, 2002.
Lower-level junior hockey clubs appeal to a sense of community and families, according to Morimoto. Supporting local programs such as Thomas Cook Elementary School breakfast program, which supplies a hot breakfast to kids who otherwise wouldn't be able to afford one, and raising money for a local firefighter who was injured on the job, leaving him a quadriplegic, are examples of how the Sockeyes have become involved with the community. The Sockeyes support such charities by donating a portion of ticket sales.
Tickets to the Sockeyes games are only $8 for adults and free for any kid wearing a minor-hockey jersey. For roughly the same price as one ticket to a Canuck game plus parking, a father and son could get a season-ticket package and attend all 25 home games of the team of their choice in the PIJHL.
Beer budgets are going bust in the economy downturn that is forcing students to forgo their usual entertainment expenditures.
Students are doing "anything to save money," said Lindsay Meredith, SFU marketing professor and consumer-behaviour expert.
Luxuries, such as cars and dining out, are the first things to go. "God forbid, the beer budget may take a bust as well," said Meredith.
Things as basic as a movie night can turn into serious money in a climate that's forcing students to postpone any optional purchases. Students are shifting toward home entertainment, a trend Meredith calls cocooning.
Renting or downloading movies, house-to-house visiting and house parties are all on the rise, he said.
Meredith suggested considering laptop, iPod and cellphone costs seriously. "A lot of students insist on carrying that cellphone, but maybe that's one of the things that should be dumped."
Ten out of 15 students surveyed by the Chronicle said there's no way they'd give up their cellphones to save money. Their monthly cell-phone bills average $70.
"Playing in the technology pool costs money," said Meredith. "So if entertainment has to be provided by a technology medium, you're going to have to pay for that. Get your head around trying to entertain each other."
Azad Haddad, a 19-year-old engineering student, said he would ditch his phone in a heartbeat. "Why not?" he asked. "I've done it before. Communication is crucial these days but money comes first." He said cell conversations are extra talk that eats up time with few benefits, when face-to-face conversations are a better alternative.
"[My days without my cell phone were] the best days of my life, having no headaches, no phone calls, nothing to worry about."
Students get hammered by the recession, but other young adults fare better. Young adults in the work force are vulnerable to rising unemployment rates, but they are not tied down by the massive debt some students accumulate.
Students are expected to return to their night-out-on-the-town habits after the economy rebounds. Meredith said people do not give up established lifestyle habits easily.
More than half of the 50 Kwantlen students polled said that their entertainment consists of watching television or movies or using the computer.
You might think that the bulk of North America's tone-deaf musical hopefuls only come out when Canadian Idol begins to host auditions, but you'd be wrong. They fill a number of Metro Vancouver karaoke bars, which range from the dark and dingy to the darker and dingier. The opportunity to grab the mic usually comes at a low price — your embarrassment — but the cheap drinks help with that.
Hoko's, a karaoke, sushi and sometimes live-music bar, is a quaint little nook on Powell Street that draws a fun, young, alternative crowd (think arts students on a bender). But you can't come just to sing karaoke, you have to eat or drink something, which isn't bad considering the $3 pints and sushi that's all under $10. Despite its draw to university students all over Vancouver, there's no
student discount.
If your taste in music is a little more Motörhead than Mariah, then you're probably headed for the Asbalt. Since the closure of the Cobalt on Main on Sept. 30, the Asbalt on East Hastings is where Thursday and Sunday-night Hot-Rod Skaryoke is hosted. Drinks range from $3.50 to $10, but you're going to want to have several of them to attempt to use that bathroom. Could be pricey, but watching a leather-clad 300-pound man with a bleached mohawk belch out Heart's "Barracuda" is priceless.
If you live out in the suburbs and an expensive cab ride just isn't in your budget, here are two places that will suffice.
The Fireside Pub in New Westminster's Sapperton hosts a karaoke night every Thursday, which is treated on a first-served basis. No cover charge and no obligation to buy drinks or food, but the song selection takes up all of a single, soft-cover binder and there's no cheesy landscape music video to go along with the words. Bummer.
Beatles Karaoke on Kingsway is a little more traditional than its slosh-fest counterparts for the undiscerning student. The establishment rents private rooms for $25 per hour an up (depending on the size of the room), and they don't serve booze. Like many private karaoke cabarets, they open at 8 p.m. and close at 2 a.m. with the sole purpose of doing karaoke. So, no food or drinks, but you can bring your own.
Douglas Fairbairn, 32, who frequents Beatles Karaoke, suggests that if you bring your own booze they might turn a blind eye.
As for their song selection? "They have a lot of songs," said Fairbairn, "but the 'Man in Black' is my personal specialty."
There are separate songbooks for English and Chinese karaoke.
All of these places can provide a cheap night out, but the cheapest of all would be a night in with Rock Band, a few friends, a six-pack and a pizza.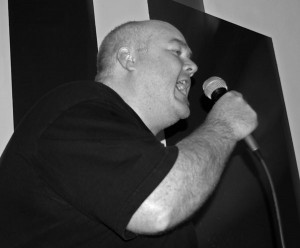 Barb Floden has helped to create a monster, one that emerges at night in summer and is adored in communities throughout Metro Vancouver.
For the last five years, the Vancouver Board of Parks and Recreation communications director has organized the Monsters in the Meadow film events, a series of free public movies screened outdoors at Ceperly Meadow, located close to Second Beach in Stanley Park.
The annual event brings hundreds of people out to watch classic B-rated monster movies in the ominous surroundings after dark.
This year, Monsters in the Meadow screened The Blob, the morbid tale of an alien life form that eats everything that gets in its way.
Floden said that despite some rain, more than 500 people showed up with blankets, popcorn and costumes to take in a bit of old-fashioned, drivein-inspired fun.
She said that event provides a great opportunity for people to come out for some affordable fun that isn't the usual programming offered by the park board.
"Recreation is not just sports or fitness oriented," she explained. "It's anything to do with engaging people at the community level and bringing them together in a positive way, and arts and culture is also part of our mandate. And this is not the traditional public art and crafts and painting."
Since Monsters in the Meadow began in 2004, localities throughout the Lower Mainland have promoted similar free movie screenings.
With the help of Fresh Air Cinemas, an events promotion and logistics company, White Rock, Langley, Burnaby and Coquitlam all hosted public movie screenings this past summer. The cities provide the right park
or accessible space and Fresh Air comes in and sets up sound, projection and a huge inflatable screen for viewing.
Floden acknowledged that sponsorship and support for free movie events like these come from many sources, and the public support is obviously there.
She said that the West End Community Association's showing of Momma Mia at Harbor Green Park brought out more than 1,000 people.
In Surrey, free movie events have taken on a life of their own over the past five years.
Bonnie Burnside, manager of special events and communication for the Surrey Downtown Business Improvement Association, said that she has watched their annual summer movie events grow from a small get together near the Gateway SkyTrain station to a series of full-fledged community parties at Holland Park. Burnside said that this past summer, more than 2,000 people came out each night to see family films such as The Lion King and Hannah Montana: The Movie.
Burnside said she thinks that the events fill a void in summer-events programs in Surrey and provide members of the diverse community with an opportunity to come out and meet their neighbours.
"In our area, there weren't a lot of events going on in the summertime and there particularly wasn't a lot of events going on in the evening," said Burnside. "What we wanted to do was show everybody that this was a great place to come and be a part of an event."
Public response to the films has been overwhelmingly positive, but Burnside said that it is a costly venture that comes with some strings attached.
This summer, Burnside was able to finance the Holland Park movie events, pre-show entertainment included, for about $23,000. However, she knows the cost for next year will be higher and that it will be difficult to come up with the extra funding from her budget.
In Vancouver, Floden's concerns have less to do with funding and more to do with organization and legalities. Responsibility for advertising for the movies was shared between business associations, community associations and Fresh Air Cinema, which made it difficult to find out where and when the events were happening.
To make matters worse, she said that many community associations bought the wrong public-screening licenses, which prevented them from advertising the names of the films screened. She said that things will be organized differently next year.
"We'll do a group marketing effort that can show people 'here is all of the events happening in our parks this summer,' because people don't really care who sponsors them, they just want to go see a free movie," said Floden with a laugh.
"They can come out and just hang out at the park with their friends and neighbours and don't have to open their wallets at all."