Kwantlen's annual Cupcakes for Charity event has cooked up a fresh batch of donations for the Canadian Breast Cancer Foundation.
A table of sugary treats and origami roses was set up in the Richmond campus rotunda on Tuesday. Human Resources Management student Nicole Joe, who ran the bake sale, noted its success.
"Brownies sold out within an hour," said Joe. "We didn't expect them to be gone that fast."
Joe said there is a history of breast cancer on her mother's side of the family and also has an uncle battling lung cancer. Because her uncle doesn't smoke and is generally healthy, she said she thinks that the cancer naturally occurred, which lends to her compassion on the issue.
Jessica Ford of Kwantlen's START volunteer program was also selling treats.
"My aunt has breast cancer […] she's in line for a new breast," said Ford.
With Breast Cancer Awareness Month in October, the two women decided to contribute their personal experiences to the cause. They sold a variety of homemade goodies, including origami flowers, brownies and, of course, cupcakes Joe also had a portfolio of her paper plants, which she said sold better than expected.
For a minimum 50-cent donation for the cupcakes and $2 for the origami roses, supporters also received a pink breast cancer ribbon.
After only two hours, the table saw its fair share of support.
"Cupcakes are going really well—people buy trays of six, people buy more than one…," said Joe.
Though the event took place on the Richmond campus, a charity sale may pop up on the Surrey campus as well.
Article by Kristi Jut and Jacob Zinn.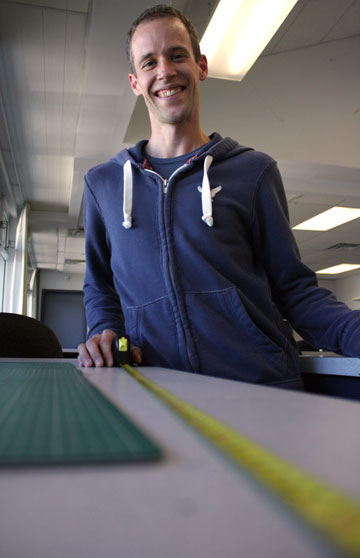 The award was generous.
The recognition for his leadership and volunteering? Even more so.
However, Lucas Nightingale is most enthusiastic about what receiving a Millennium Excellence Award scholarship will do for Vancouver communities in the future.
"With one less thing to worry about, then you can focus on what you're really in school to focus on, which is your work," said Nightingale, "developing ideas and experimenting and trying something new."
A student in his third year of an Interior Design BA at Kwantlen's Richmond campus, Nightingale was awarded the $10, 250 scholarship early in September in honor of his leadership on campus, ambitious involvement in Vancouver's interior design industry and progressive volunteer work.
Since beginning at Kwantlen. Nightingale has co-founded the Emerging Green Builders Group, an organization that advocates for sustainable design practices. Additionally, he contributes to the Interior Design Association of B.C. as the Kwantlen student liaison. In the little spare time he has left, he has managed to find time to volunteer with the Friends for Life Society, an organization based out of Vancouver's West End that provides social and personal services for people requiring palliative care, or support through the process of death.
While spending time with clients in sterile hospital rooms or impersonal nursing home settings, Nightingale witnessed the unnecessary suffering that people endure in a sensitive stage of life. He aid that these types of care environments are often detrimental to the healing or dying of a person dealing with a terminal illness.
With a holistic perspective on design and how it affects the spaces in our lives, Nightingale is formulating ideas on how dying can be made more natural and comfortable for people in their own homes.
"To die well is really important," said Nightingale. "Most often, if you're dying in your own home, that's where people are most comfortable. If that option is open, nine times out of 10, people would choose their homes over a hospital, for sure. The practicality of it is that if they need medication or nursing support, how can interior design provide that?"
Nightingale thinks that architects and designers need to consider the full life cycle when building or modifying homes, so that the spaces of a home will be accessible and pleasant for people in the early stages of life as well as old age. In his view, healthy living is important, but so is healthy dying, or "a good death".
For now, Nightingale is busy with the school work that will help get his design ideas off the ground. This semester, he will be closely studying the relationship between end-of-life care and interior design. He hopes that this work will yield some bigger ideas for his fourth-year thesis and ultimately, change the way society experiences an inevitable part of life.
"For me, it's about welfare and quality of life in those final days and a hospital setting just isn't…I think that we can do better than that. It's a huge topic and it's not something that interior design can solve on it's own, but it's something that interiors are a part of."
A new bachelors degree program at Kwantlen could have students looking distinctly eastward for inspiration.
History professor Frank Abbott attended the most recent Kwantlen senate meeting to speak about the creation of a Bachelor of Arts in Asian Studies program.
"We started discussing it five years ago," said Abbott, one of the developers for the new degree.
He and his associates felt that this degree was an obvious one to create, given the demographics of Kwantlen students, and the rise of status of countries such as India and China.
The program combines a number of existing courses in several different faculties, including history, psychology and sociology.
"The courses have been here for years. Why not put it together so you can give students a coherent package?" he asked.
In the program, students will be able to gain an understanding of how Asian culture has developed and works, both outside and inside Canada.
Because the degree is less academically driven, unlike its counterparts at UBC or SFU, Abbott believes the courses will also be beneficial to those outside the program.
Business students, he mentioned, could benefit from gaining a sense of Asian culture, allowing them to be more effective in overseas transactions.
Their goal is to "overcome the cultural ignorance that afflicts many North Americans, by giving our students an insight into these cultures."
And Abbott and his associates are trying to spread the influence as far as possible.
He hopes that, once it becomes a full-fledged program, opportunities and funding for sending students abroad will be available.
The developer team is also fighting a policy that states all the third- and fourth-year courses would be taught at the Surrey campus.
With the new Skytrain running past it, it would be a bad idea to exclude Richmond campus from the higher-level courses, he said.
By offering couress at both locations, Abbott thinks that Kwantlen can capture those students who make look to other institutions for their education.
While the new degree was passed without opposition at Monday's Senate meeting, Abbott still has a long way to go to get his program approved.
They'll need to submit their full proposal, with course outlines and potential teachers, to the senate for approval, which they hope to do at the November meeting.
"We hope it could be ready by next fall," he said.
In Abbott's favour is the powerful support it has garnered, as Dave Atkinson, president of Kwantlen and chair of the senate supports the creation of the program.
"When you look at the demographic of Kwantlen campuses, this is a program that is long, long overdue," he said.
Kwantlen's Surrey campus is getting a little exotic with the addition of a belly dance class.
Starting Oct. 15, the six-week course will teach participants moves such as wrist rolls, snake arms and hip shimmys, as well as the culture of belly dance.
The class is taught by Annyse Rayne, a belly dancer for six-and-a-half years. She got into belly dance when she saw it at a multicultural festival.
"The way they were dancing, the way that they were so confident, they were having so much fun," said Rayne. "It was just so beautiful to watch the dance."
After that first glimpse, she joined a local belly dance class and never stopped dancing. Now she is a performer and teacher in the Lower Mainland.
Kwantlen's Department of Athletics and Recreation approached Rayne with the idea of starting a belly dance class suitable for beginners at the school. Over the next six weeks, she will lead the class to Middle Eastern music and give handouts detailing dance moves and historical information on belly dance.
The class is held every Thursday at 12:30 p.m. in the gymnasium and runs until Nov. 23. The cost to join the course is $63, though drop-ins are welcome for individual classes at $8 per class.
Rayne recommends the course to anyone who wants to try a new form of fitness, explore creative expression or improve their self-confidence.
The Kwantlen women's basketball program tips off its 2009-10 season Thursday, Oct 1, when they host the 10th annual Kwantlen Eagles Basketball Tournament.
All games in the three-day event will be played at the gymnasium on Kwantlen's Surrey campus. This pre-season tournament is drawing teams from the Lower Mainland, Vancouver Island and Squamish who are all looking to prepare for the coming British Columbia Athletics Association (BCAA) season, which gets going in early-November.
"Expectations are quite high this year," said Kwantlen Eagles coach Gary Pawluk. The second-year coach expects his team will be competitive, but will be in tough to unseat last years defending BCAA league champions from Victoria, the Camosun Chargers.
This years Eagles have eight players returning from last year's squad, as well as one fifth-year pick-up. Their experience is the reason Pawluk is so optimistic about the season.
The Eagles tournament schedule will see them play three games in three days beginning Oct 1, with a game against the Douglas Royals. They will then play the Capilano Blues and Langara Falcons over the next two days.
"It's all about preparing for season play," said Pawluk. "We want to try to play all the teams in our league before it starts."
There will be no final game to determine a winner in this tournament. The format sees all teams play three games and a champion determined based on points for and against. The team with the biggest positive differential in this category will take home the trophy.
Tickets for the tournament will be of minimal cost, said Pawluk, who was unsure of exact ticket prices. There will be reduced ticket prices available for Kwantlen students and tickets will be available at the door.
Through the Kwantlen Eagles' women's soccer team has started their season off 1-4, their spirit isn't broken, said head coach Vladimir Samozvanov.
The young team, made up of 10 rookies and nine returning players, is in the middle of a rebuilding season, but they're making progress every game.
"Yes, we are in a rebuilding year, but I hate to call it that because I don't want to write off the season," said Samozvanov. "I want to accomplish something."
The team might do that. Samozvanov said this is the best team he's had in his three years of coaching Kwantlen's women's team.
Last weekend in Kelowna and Kamloops served as a "very valuable maturing experience" for the team as they played the two top teams in the league, UBC-Okanagan (UBCO) and Thompson Rivers University (TRU).
Against UBCO, the Eagles had an even match with the Heat, the score 1-1 until the 85th minute, when the home team scored the winning goal.
In Kamloops, it was another tight game, but after key injuries to goaltender Amelia Ng and midfielder Christina Henderson, the TRU offence found the back of the net. Kwantlen kept the WolfPack on their heels, but couldn't find an equalizer, dropping the game 1-0.
Samozvanov is optimistic about upcoming games though, saying that his team's mental toughness and their talent will be the solution to their early-season struggles.
The Eagles have three home games over the next two weekends, the first of which is this Saturday, Sept. 26, against the Douglas College (DC) Royals.
Samozvanov knows that DC will give them a tough, physical game, but he isn't worried.
"Our team has shown over the last two games that they're here and ready to play," he said. "I haven't made any specific preparations for this weekend, but I haven't seen Douglas play this season.
"Once the game gets going, I might have some ideas about where to put everyone, but…we need to rely on skill and determination and we have both."
Has the semester got you down? Need a laugh? A cheap, affordable laugh that is?
A Kwantlen alumnus working with ComedyFest Vancouver is offering current students discount tickets for the remainder of the festival.
Karin Lornsen, a 2007 graduate of the public relations diploma program, told The Chronicle that $9.95 tickets to a select set of performances at The Cultch theater (see details below) will be reserved for Kwantlen students. Interested students only have to show up to the theatre, located at the corner of Venebles and Victoria, with a valid Kwantlen student ID to receive discount admission to some of the most cutting-edge performances of the festival.
She also said that if students want tickets for other festival shows, they can be ordered from the Ticketmaster website for the same price.
After graduating from Kwantlen, Lornsen worked as a PR intern at Karyo Edelman Communications, one of Vancouver's biggest PR and communications companies, but felt the constraints of working in a structured, "hands-off" environment. "It was a great experience and they had lots of major clients," she said, "but I wasn't allowed to do much."
Once her contract expired, her communications savvy earned her a position in radio promotions and social media with Destination Funny, the local promotion company that puts on Comedy Fest Vancouver every year.
Lornsen said that the job change has let her "get her hands dirty" and have some fun while she works.
"There is definitely a sense of humor around here. Our producer is a stand-up too, he headlines at Just For Laugh…we're like a family around here, hanging out, opening bottles of beer. It's crunch time now, but it's been a great experience."
Lornsen may be out there enjoying the PR career that she wants, but she remembers what it was like to be a student and is happy to reach out and offer some entertainment to Kwantlen students.
"I was a student for 10 years, I definitely know how it is financially. I thought it would be a good opportunity for students to kick back before exams and have some fun.
• • •
Shows that are being offered at a discount are:
Edge of the Fest with David Cross, hosted by George Stroumboulopoulos: Saturday, 8 p.m., The Vogue
Comedy Death Ray : Thursday, 8 p.m., The Vogue
Best of the Fest with Tom Arnold: Friday, 8 p.m., The Centre in Vancouver For Performing Arts
Best of the Fest with Red Green: Saturday, 8 p.m., The Centre in Vancouver For Performing Arts
SF Sketchfest: Friday and Saturday, 7 p.m., The Cultch Comedy Lab
Picnicface & Friends: Thursday, Friday and Saturday, 9 p.m., The Cultch Comedy Lab
Comedy Noir: Jesus Roast: Saturday, 9 p.m., The Cultch Historic Theatre
Comedy Noir: Hitler Roast: Friday, 9 p.m., The Cultch Historic Theatre
Comedy Noir: Obama Roast: Thursday, 9 p.m., The Cultch Historic Theatre
Politics, Truth and Other Incompatibles: Thursday, 7 p.m., The Cultch Historic Theatre
I'm Only a Little Racist: Friday, 7 p.m., The Cultch Historic Theatre
OMG: Saturday, 7 p.m., The Cultch Historic Theatre
A special issue of The Chronicle, on our newstands the week of Sept. 29, takes an indepth look at the reality of H1N1 flu – what it is (and isn't), how we're being prepared for it (or not), the effect it will have on everything from student life to winter travel plans and more. (Photo by kimubert.)
Old issues between the Kwantlen Student Association and the Canadian Federation of Students have been brought back to the forefront in this week's fee referendum.
The referendum, which runs from Sept. 21 to 24, concerns a number of proposed new fees to be paid each semester.
The KSA is supporting most of them, writing in its pamphlets, "This is your chance to build Kwantlen's future."
Some of the fees are aimed at improving existing services offered by the association, such as a 65-cent-a-credit fee to provide funds for student clubs and KSA-hosted events.
Other programs suggested are 13 cents a credit for the creation of a volunteer-run online radio, Radio Free Kwantlen and a $2.50 fee per credit to aid in the creation of new student union spaces.
"We want to help the university make the transition from a university-college, to a university," said Richmond campus director for the KSA, Reena Bali.
"A lot of the questions that are proposed, we don't have the funding to do it without increasing the fees."
But the KSA is certain that these programs would be worth the added cost.
"The event [proposal] is really good because it gives us a chance to work with the school, and throw correlated events," said Bali. "If students come in and say, 'We want this type of event,' we have the funding to do so."
Bali also supports the Students Taking an Active Role Together, or START, program, which offers volunteer opportunities to students, as well as free or discounted job-related training, such as first aid or Food Safe.
However, one question on the referendum, question 11, doesn't deal with new programs, but rather an increase in the membership fee to belong to the Canadian Federation of Students.
The $1.78 increase doesn't sit well with the KSA, which says that it has been directed to up the cost by the CFS's "three separate legal entities."
The issue is over why the increase is needed, and what it will be used for.
"I've gone to two CFS meetings and they've never discussed it publicly in the meetings. When you do try to question them in budget, they do not answer your questions, or they say you do not have speaking rights," said Bali.
Instead of approving the increase without student consultation, the KSA has decided to put it to vote.
"We believe students should decide whether it's worth it to pay the Canadian Federation of Students more money than we do already," said Bali.
Dave Molenhuis, the treasurer for the CFS, has a few criticisms of the referendum question.
"In the past, students at Kwantlen voted and have voted since on continued membership to belong to the Canadian Federation of Students, and at that time voted on the basis that there would be a membership fee," he said.
The membership fee is set at a national general meeting of all CFS members, including the KSA.
"The premise of the question that's being asked is that the CFS has directed the KSA to do 'X,' when in fact the student unions resolved to do this at a federation meeting."
The 2009/2010 fee is $3.99 for CFS membership and services, as well as a $3.99 fee at the provincial level. This is then adjusted for inflation using the Canadian consumer price index.
Molenhuis said that this year's fee is equal to last year's, and the adjustment for inflation doesn't equal $1.78.
He doesn't see where the KSA's increase is coming from.
As to the stonewalling of KSA delegates looking for information on what the fees are used for, Molehuis is also skeptical.
"I haven't been asked by the director at the Richmond campus for any information. All the documents, by-laws, constitutions, are housed in the offices of the student associations," he said.
He also explained how the money is used.
"The fees are spent on anything from campaigns to the preparation and production of research, to travel for students to participate in lobbying sessions," he said.
The animosity between the two organizations is not new. In 2008, the KSA held a referendum asking students if they wanted to leave the CFS: 56 per cent of Kwantlen students voted to stay.
These referendum questions could be foreshadowing another showdown.
"Last time it was pretty close," said Bali. "We do have a petition asking students if they want to defederate."
Regardless of association politics, Bali and the KSA hope that Kwantlen students take the time to cast their ballot.
"I would hope that all students would vote. The only way we can operate properly as a society is to come out and vote," said Bali.
The 2009 season hasn't started the way the Kwantlen Eagles men's soccer team had hoped.
Their 0-5 record doesn't look great, but head coach Richard Goddard said the team has played better than it looks.
"We're a young team and getting progressively better. The final scores, especially our last game against UNBC, [don't] dictate the chances we've made," said Goddard.
He said that because this year's team is young – there are only eight returning players, two of them goalies – some players will make mistakes at the worst times. What needs to happen is getting the players to work through their  learning curve and have them ready to play at any time.
The fact the players come from different leagues is part of it, too. They still have to learn to play together.
The Eagles have lost twice to UNBC and once to Capilano College this season but Goddard said that they haven't lost to just any team. He's been impressed with the play of both Capilano, a powerhouse in the university men's soccer world, and UNBC.
Kwantlen looked to turn things around this weekend in Kelowna, against UBC-Okanagan (UBCO), and in Kamloops, against Thompson Rivers University (TRU).
Goddard, who started coaching the team at the beginning of the season, made changes to the line-up for the trip because of many players returning from injury and thought that these changes would make a difference on the field.
"We're hoping to have a vast majority of players available who are coming back from injury," he said, going into the weekend. "I believe we will be better prepared."
Those changes didn't make much of a difference. The Eagles lost 4-0 to UBCO Saturday and 3-1 to TRU Sunday.
The Eagles' next home game is this Saturday, Sept. 26, against the Douglas College Royals at noon at Newton Athletic Park.