New technology has made it cheaper and simpler to make films, but with so many indie films floating around on the Internet, it's hard to get noticed.
That's where theatres such sa Vancouver's Pacific Cinematheque come in.
Jim Sinclair, who has been the theatre's executive director since 1991, said that Pacific Cinematheque's mandate is to show innovative, artist-driven work.
They accept unsolicited submissions, which are then screened by Sinclair, who decides whether they are good enough to be screened and whether there will be an audience for them. As with films submitted to film festivals, those shown at the Cinematheque are not required to be rated by Consumer Protection B.C.
In the past, this meant that films screened at the Cinematheque were not subject to censorship, Sinclair says. Nowadays, because of the Internet and because ratings are less strict, that's less of a concern.
But not needing to be rated is still a good thing for filmmakers. It's not the filmmaker who pays to have their movie rated, it's the distributor. If they don't have a distributor, they have to absorb the costs themselves.
And getting your film rated isn't cheap. According to the Consumer Production B.C. website, each copy of a film that is to be screened has to be rated. In B.C. it costs $12 for the first 10 minutes of the first copy, and then $1.20 for each subsequent minute. For a 90-minute movie, that's $108. Each additional copy costs half of that ($54 dollars for a 90-minute movie).
But Sinclair says that it's the culture of the Cinematheque that makes it such a great place for independent and non-mainstream film.
"There's a whole world of cinema out there that if you relied entirely on what was playing at the multiplex, not only would you never see it, you'd never know it existed," he said. "Our whole culture, our mandate here is geared toward providing access to the great achievements of Canadian and international cinema, and being a cultural organization that programs that work."
Sinclair had some parting advice for filmmakers.
"Try hard. It's work. If you have something that's good, you need to get people to see it," he said. "There's nothing self-effacing about calling up people who curate film or program cinemas and letting them know that you have a film and getting into their hands so they can see it."
Theatre Terrific does what most theatres are scared to do: Put new actors and people with disabilities and mental health issues on the same stage as professional actors who don't have those challenges.
It started in 1985 when a group of parents started theatre classes for their adult children with developmental challenges. They hired a professional instructor, with the aim of giving their kids a creative outlet.
The theatre is now open to anyone with or without a "challenge." According to Susan Uchatius, artistic director, it is important for them to treat everybody equally.
"You'll have professional actors, you'll have maybe someone in a wheelchair, you'll have someone with Down syndrome, you'll have some people that have mental health issues," said Uchatius. "[Just] because you might have a labelled challenge or disability, you're not special in this circle. You're going to be equal to the person beside you, who may be a professional equity actor."
As challenging as that may sound, Uchatius insists that the process to putting all actors on even ground is simple. It starts with what they call stonework: All the actors quietly stand in a circle, breathe, make eye contact with the person beside them and pass around a stone.
"It's all about finding out what our human connections are," said Uchatius. "It's so amazing how, by this ritual, you find that you are more similar than you are different. We all have the same hopes and desires and dreams, it's just in a different package."
Uchatius hopes that the theatre community and society in general will look at Theatre Terrific as not disability or charity work, but as a form of valid artistic expression.
"When I see a theatre that has disability or is mixed [actors with and without disabilities], I see a lot that's done from a charitable aspect and it offends me, to be honest," said Uchatius. "When I see that people are being indulged, you'll have one or two people that are different and the expectation isn't there for them to do anymore.
"What Theatre Terrific does is we give the respect of challenge. If you're going to come in the door to work, like any other artist, be expected to fall, be expected to make a lot of mistakes, be expected to work hard, be expected to push your boundaries. That's respect."
Even though actors of different backgrounds and challenges are treated and seen as equal, Uchatius still appreciates the variety of people and the diversity it brings to the stage.
"I'd rather work at this theatre than any other kind because it's so mosaic, it's so multicoloured," said Uchatius. "It's like an incredible rainbow because you're going to have perceptions that are so unique."
Amanda Punshon and Brian Russell take a look at long-form improv comedy from the perspective of Instant Theatre, a improv team and school that has been around since 1994. The giggles, guffaws and great on-the-spot comedy that the group is known for are all here, including interviews with Instant Theatre's artistic director Alistair Cook and one of the group's performers, Brynn Peebles.
Despite being a chapel, Chapel Arts has nothing to do with worship unless the subject of praise is the art displayed throughout the building.
When Chapel Arts first opened as a venue three years ago, the words on the window read: "If nothing else believe in art."
"I'm just not religious," said Nathan Wiens, owner of Chapel Arts. "I was raised in a family filled with artists and stuff, so I guess that's what I believe in. I believe in makers instead of The Maker."
What was once known as the Armstrong Funeral Chapel was owned by the Armstrong family for 103 years, according to Wiens. He bought the chapel in 2005, in what he calls "an accident."
While searching for a space to make art and furniture, Wiens found a building across the street from the chapel. He was forced to buy the chapel in order to get the shop, as the two buildings had to be bought together. His intial intention was to sell the chapel, but he soon fell in love with its charm and set out to get a licence from the city to open it as a venue.
"That was a very long, educational process," said Wiens. "[It] took about 22 months to get a licence from the city of Vancouver. They're very strange. Bureacracy is a very strange thing."
He claims it was the biggest challenge he faced.
"It cost as much money to wait for them as it cost to buy the real estate. It's a long time to hustle for a simple business licence that isn't a change of use but they decide to make it one. So it's sort of disappointing."
Once he got the chapel, Wiens renovated it as if it was still 1936, when the chapel's was expanded, in order to keep its historical feel.
Since getting the licence, the chapel's been successfully hosting events that include performance art, theatre, concerts, government meetings, conferences, workshops and movie work.
He compares the chapel to "a house party" when it hosts events. The chapel makes most of its money hosting family and corporate parties.
"I believe that everyone's living in very small places so having an intimate venue like this, that has a homey feel, is kind of attractive to people."
Although the unorthodox use of space and cozy feel attracts people, being located in the Downtown Eastside turns some people away but Wiens says that's not always a bad thing.
"The neighbourhood's a bit tough, but I like the neighbourhood, I don't have a problem with it. It keeps a lot of people that wouldn't really appreciate the place away. So it's a self-screening process. But it keeps a lot of money way, so it's a bit of both, there are pros and cons."
Despite the cons, he manages to appreciate the history that comes with the chapel and the neighbourhood it's a part of.
"It's a bit tough in just this zone but I don't think that will change," said Wiens. "I think the ratios of the demographics will change. There will be less low-income housing in this neighbourhood in the future. It's the oldest part of the city. It's the beginning of Vancouver right here. This is where Vancouver started, right here."
He has high hopes for the chapel and what it will continue to contribute to the Vancouver's art community.
"I think it will just increase in success with the community," said Wiens. "I think it's gonna, whether it's me running it or not, it's gonna be around a long time as a public venue that will probably have a good arts base to it. I hope to hang onto it but one never knows."
Visit chapelarts.com more information.
In a society where everyone is consumed by some kind of electronic device, sitting down in a theatre with a group of strangers to watch a play is the ultimate communal experience.
"It's about the people your sitting beside, breathing the same air as the people on stage, sharing the same moments at the same time and influencing each other," said Richard Wolfe, artistic director of Pi Theatre. "You can tell when someone is feeling tense about a moment, you can kinda sense it. I think the more digitized society becomes, the more important that kind of contact will be."
Wolfe describes a recent bus ride, where practically everyone was looking down at their phone texting or listening to their iPod, not really paying attention to all of the people that surround them. He says people become engaged in these devices but that theatre is all about human interaction and communication.
Wolfe has always had a love for theatre and an interest in human communication. "Theatre is really all about human interaction, human challenges, aspirations and family. It's a formalized portrayal of human life."
Pi Theatre is an independent theatre company located in Vancouver. It produces local and international contemporary plays that are dynamic, exciting and provocative. Wolfe has been the artistic director of Pi Theatre for three years. Before that, he was the co-founder, director and co-artistic producer of Theatre Conspiracy for 12 years.
Theatre Conspiracy was similar to Pi Theatre in the way that they both look at international artists, as well as local. They did Canadian premieres of many major international plays, which include Wil Eno's Thom Pain, Penhall's Blue/Orange and Jez Butterworth's Mojo. He chose to leave Theatre Conspiracy and become the artistic director of Pi Theatre because funding was more stable. At Theatre Conspiracy, they were paid project-to-project whereas at Pi Theatre, his job is salary-based.
Wolfe has received 30 nominations for Outstanding Artistic Achievement for his productions in Vancouver. He won two awards, for Outstanding Ensemble Cast, and has been nominated for Outstanding Director three times.
Wolfe got his MFA at UBC. He says his inspiration comes from his teachers, well-established artists, and from the people he works with. "Everybody that you come into contact with at different points in your life will have an impact on you in one way or another."
He describes Vancouver's theatre scene as healthy because there are a lot of creative artists here and schools that offer theatre programs. "People are being trained, and they're being put into the community and all of that energy produces good things," said Wolfe.
According to Wolfe, the biggest challenge facing independent theatre companies is funding.
"The provincial government isn't pulling their weight but the current administrative of the city is very pro-arts and culture because they understand that the creative economy is essentially important in the larger economic picture," he said. "But with the provincial government, after arts and culture played such a huge role in the Olympics, coincidently or not, right after the Olympics were over, they cut all the funding."
He says his long-term goal for Pi Theatre is to increase the programming and keep it in a financially stable position. He also wants to continue building its profile as a playwright-centred theatre company that deals with the best contemporary playwrights.
To Wolfe, the most important thing in theatre is to "look at the world we live, in a very strong and individual way that speaks to the audience, whether they're from here or not," he said. "Certainly it's important to develop local writers and to juxtapose those writers and the plays they write with international plays so that we can have a bigger picture of the world and of the art."
To learn more about Pi Theatre, visit the website.
Photos and audio from the filming of Standard Action episode four at the Fish House restaurant in Stanley Park, Vancouver on Jan. 31. The series, created by local actor Joanna Gaskell, takes place in the universe of a role-playing game similar to that of Dungeons & Dragons. Episodes one through three are online now.
New York, Boston, Chicago and Montreal are all funny cities. Together, they have produced some of the biggest names in comedy — instantly recognizable people such as Jon Stewart, Conan O'Brien, Bonnie Hunt and Caroline Rhea.
But what about Vancouver?
While it's true that we are not as well-known for our comedy scene as Just For Laughs staples such as Montreal, Vancouver does have a pretty solid comedy scene. Colin Mochrie (Whose Line is it Anyway, This Hour Has 22 Minutes,) Ryan Stiles (the Drew Carey Show, Two and a Half Men,) and Seth Rogen (Freaks and Geeks, Superbad) are all from here, and local and international comedians play Vancouver's comedy and nightclubs every week. Show tickets are usually cheaper than the latest 3-D Justin Beiber cinematic extravaganza, and most of the venues are licensed.
The only problem is that finding comedy nights in Vancouver isn't easy. That's why we've created the Giggle Guide. Simply pick the night you want to go out and click through the available options to see what's happening. Clicking the map for a venue will take you to the Google Maps website, where you can get more detailed directions.
A caveat: Vancouver's comedy scene is like a beach. New things are always washing up as the old drift away, making it impossible for this guide to be comprehensive. It's always a good idea to phone the venues before heading out, just in case they've changed or cancelled their night. Most venues are 19+.
*The Montemartre Cafe has comedy nights once a month; Zesty's Restaurant occasionally hosts comedy events.
Infographic by Amanda Punshon and Sarah Casimong

Kaitlin Fontana is a writer, sketch comedian, improv comedian and all-around funny girl.
And, after been involved with the comedy scene for roughly 10 years, she knows what she's doing.
Fontana started out being involved in high school performances, and later was involved with UBC Improv. That lead her to doing comedy and improv with groups in both Vancouver and New York.
"I feel everyone needs something that allows them to explore their imagination and that creative part of themselves," Fontana said. "I feel like comedy is that for me, particularly improvisation."
She's even started her own all female improv group, called Rosa Parks Improv.
"It started because I was surrounded by all of these awesome female improvisers and I wanted to take and perform on our own somewhere, just for kind of a different vibe. When all women are doing something, it changes things," Fontana said.
Fontana has also formed a sketch group called Pony Hunters with one of the members of Rosa Parks Improv, Nicole Passmore, called Pony Hunters. A lot of their comedy is Star Trek-related, as how both Fontana and Passmore are big fans.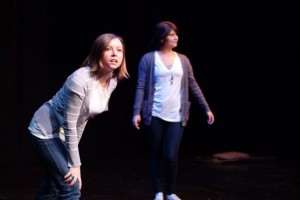 "I guess I would describe [my sense of humour] as nerdy and intelligent with a healthy dose of the ridiculous," Fontana said. "I'm a nerd who reads a lot, so that comes out in my improv, for sure."
Although Fontana is involved with many different forms of comedy, improv is where her heart is.
"The feeling of doing a really good improv show is very satisfying because, while I enjoy scripted work, and when it goes well I'm very happy with it, there's a sense that it was programmed to succeed," Fontana said. "Improvisation is much more risky. You don't know what's going to happen on stage. It's not just you. It depends on the entire group of people you are performing with. It depends on trust and the energy in the room. And that undefinable other thing that makes comedy good, or makes any art good, that we can never really put our finger on. It's like that magical ingredient."
Fontana is busy with several comedy and improv shows coming up. Pony Hunters will be featured at an upcoming art exhibition about comedy at the Helen Pitt Gallery, where they will be showing the first episode of one of their web series, called Shitty Spock.
"It's about a shitty version of Spock coming to Earth and trying to rescue his captain, and has found that his captain has become a mid-20s female, who lives on Earth and doesn't realize that she is the captain. So basically it's an odd couple comedy," Fontana said.
She's also performing on Feb. 17 at The China Cloud in Chinatown with Ghost Jail Theatre, an improv and spontaneous writing group.
Then, from Feb. 23-26, she'll be performing at the CBC Studio 700, with a bunch of other improv groups from around the city.
"Someone once said that it takes 10 years to be good at anything. I feel like I'm starting to get to that point where I feel very comfortable in [improv] and I like to explore it, teach it and direct, as well as perform. And it's like anything. I mean why does a painter paint? The motivation is that creative impulse."
Twenty-Something Theatre can be described as edgy, cool, provocative and definitely not your grandma's theatre. At least, that's what Sabrina Evertt says.
Evertt is the founder and artistic producer of the independent theatre company Twenty-Something Theatre. She describes the content and dialogue of their productions as realistic.
"It's the kind of thing you would see or speak on the street. People see themselves in that and they can relate to it," she says.
Productions are generally geared to 18- to 35-year-olds, with scripts that speak to the younger generation. "The transition from being a young adult in school, to real life, finding a job, finding purpose and finding love; all of those kind of things, like finding out who you are and what you want to do, are what a lot of our plays are about," says Evertt.
Her passion for theatre started when she was around 16. All of her friends were in the drama club, so she decided to try it out. She was cast in one of the productions and she was hooked. "I think a lot of people who do theatre have a need to do it. I think you just kind of get hooked and it's in you and you have to do it," she says.
After high school, Evertt attended UVic and got a BFA in theatre. She says one of her biggest influences were her high school drama and improv teachers and college professors. "They helped me keep going and shaped what I wanted to do. They all just really encouraged me," she says.
Evertt has many productions on her resumé, including both producing and directing Blue Surge, The Fever, Anne Frank Is In My Dreams, Suburbia, The Shape of Things and others. Not only is she a producer and a director, but she is also a costume designer. "I guess I've always had a flair for fashion and clothing", she says. She has done the costume design for productions that include Werewolves, Hamlet, As You Like It, Banana Boys and Stuff Happens.
Currently, she is producing and directing the play Nocturne, written by Adam Rapp and featuring Troy Anthony Young. Nocturne is a one-man play, around 80 pages long, and Young has quite the challenge. It's about a man's journey to find closure and redemption after causing an accident that tore his family apart.
[audio:Nocturne.mp3]
Young started acting when his mother enrolled him in drama classes almost against his will. Soon, he realized he enjoyed it. "You know how most people spend time in their lives just trying to find that one thing that makes them feel right about themselves? That's what is was for me," says Young.
Young always hoped that one day Evertt would find a play that he could have a part in, but he didn't expect it would be in this one and, after four years of waiting, he finally got the chance to work with her. Despite the challenges, he says it's rewarding.
"The things I've seen Sabrina direct before has always been really really challenging theatre. Things you don't see a lot of in this city. She doesn't hire the actors you see on stage everywhere else, she gives a break to some people and gets some of the most amazing performances on stage I've ever seen," said Young.
Young describes Evertt as supportive and one of the hardest working people he knows. "She could have moved to New York City and by now probably have an off-Broadway company running in the amount of time that she's been running Twenty-Something Theatre. And she's chosen to stay here in Vancouver, and give us a chance to get on stage and promote the people here and I think that's one of the most honourable things in the world," he says.
Evertt started Twenty-Something Theatre to give young actors and designers the opportunity to have careers in theatre. "I would also love to be able to financially support young people as well, as opposed to just giving them a opportunities to gain exposure," she says.
As an independent theatre company, there are challenges.
One of the major issues facing independent theatre companies is being able to find the funding to put on the production. As a producer, that's what Evertt spends most of her time doing. "It's also difficult to get audiences out to see your shows, especially when your competing in this culture with TV and movies and computers and music. There's so many options for young people," she says.

Evertt describes Vancouver's theatre scene as small in comparison to other places, so therefore, it's relatively young. She mentions the big three: the Arts Club, the Playhouse and the Bard on the Beach festival. Other then that, she says, you've got the independent theatre companies who have been around for awhile, such as Pi Theatre, Neworld Theatre and the Electric Company Theatre.
Evertt says she would like to see Vancouver's theatre scene take bigger risks in the material they produce. "I think that you take certain risks by incorporating technology, and that's very interesting and that's very different but it's more focused on innovation and that kind of thing," Evertt says. "I would like to see people return to telling stories, but then taking risks with those stories, like pushing boundaries and discussing topics that are relevant to today," she says.
To learn more about Twenty-Something Theatre, visit the theatre company's website.
At first blush, it seems like something out of a Hollywood movie. Just over a year ago, Mark Feenstra quit his day job as an inventory analyst for Mountain Equipment Co-op in Vancouver to pursue more creative endeavours. If it were a movie, his decision would have been a spur-of-the-moment, dramatic impulse that caused his doting girlfriend no end of financial and emotional distress.
"It really wasn't a last-minute decision or impulsive thing. There was definitely some soul-searching that went into that," said Sarah Pawliuk, Feenstra's girlfriend of two years. "I wasn't freaked out that it was going to be a big disaster because he's a really responsible and almost overly-thinking person."
Feenstra described his position at MEC was a "stepping-stone job," the kind of job people take when they're looking to move up in the company.
"One day, I realized that I didn't want to be where I was going next," he said. "I loved everything about the company except what I was actually doing when I was sitting at my desk." So he started making plans to leave the company. He saved money for over two years before he actually quit.
"I knew I needed to make a change while I was still young enough to do that easily. You can do it an any age, but I don't have kids, I don't have a mortgage. Now is a pretty good time to take on a high-risk endeavour."
Feenstra said that he initially took time off to work on his writing. He went to Costa Rica for three months to surf and get himself into a "more creative headspace."
When he came home, he realized that fiction writing wasn't going to pay the bills. Even if he wrote the next great Canadian novel, found an agent and a publisher, it would still be at least two years before he earned any money.
"Rather than go back to work this year, like I had originally planned, I've decided to use that incredible, gripping fear of having to go back to an office to kind of push me into photography and trying to make a living at it," he said.
Photography had been a passion of Feenstra's for as long as he could remember. It was a hobby he shared with his mother, a cancer researcher-turned-biology teacher. He still has the nearly 30-year-old Nikon SLR camera he grew up using.
Feenstra is science-minded – another thing he inherited from his mother – and mechanics of operating a camera really appealed to him. "It's kind of a way for me to approach more artistic endeavours but still have an element of control," he said.
Another thing that appealed was the way photography forced Feenstra to step outside himself.
"I hate public speaking, I hate having to show up and meet strangers. Even just going to a party where I don't know that many people, I get weird anxiety before I have to go. Yet I really want to shoot people. I like portraits, I want to do fashion photography, these are the things I want to do. And I've lately just been throwing myself into these scenarios where I don't know anybody," he said. "It always turns out to be these amazing experiences."
Shyness isn't the only thing Feenstra struggles with.
"One thing that still hasn't gone away with writing or photography is just huge creative fear barriers. That kind of feeling that you're not good enough, that you shouldn't be doing this, that you don't deserve it," he said. "At the end of the day, the biggest challenge is just getting over my own inhibitions and just kind of feeling like I shouldn't be doing this and doing it anyways. And getting through that every time has probably been the biggest challenge. Everything else, when it actually happens, is easy."
But he sees the challenges as being an important part of the creative process.
"If you're not a little bit scared of not pulling something off, then you have to question how worth doing it is," Feenstra said. "If you're trying to be creative and you're trying to do something interesting or something that other people can interact with, then you have to be going out into at least your own unknown a little bit. Because if it's just too easy, then why should anybody else be interested?"
Feenstra wants to break into fashion photography, in part because there are some fairly lucrative career opportunities in the industry, but also because it allows photographers to be creative.
"You flip through magazines, some of the stuff is just garish and awful, and you don't know how anybody would publish something just so hideous and weird. But it's great that that's what somebody got to do," he said.
He hopes to have his own studio one day, but his dreams are both bigger, and smaller, than that.
"I'd love to be 'that guy' in Vancouver where, when celebrities come through town, it's like, 'Oh, can we get Mark Feenstra to come in and shoot for the day?' And I think it's important to always keep that in mind and believe — act — as though that's where you're headed. I think it's really important to pick a completely and seemingly unobtainable goal, and everything you do should build a foundation to get you in that direction," he said.
Feenstra said he sees himself as being on the road to his dream, but he's not hung up on achieving it as soon as possible.
"There's a certain level of general fashion photography and editorial work that I'd be very happy with for a very long time. I don't have to get up there, but that's the general direction. And still, the really important thing for me to do is not get lost in that, and doing everything just commercial work.
"[I want] to pursue some of those personal creative projects without monetizing them," Feenstra said. "If I want to take a couple months off to go shoot tribes in Borneo without trying to make a lot of money and be worrying who to sell that to, that would be a great place to be."
Feenstra is not one of those people that's putting himself all over the Internet in hopes of making a little money. But he is confident that he will eventually turn his passion into a lucrative career.
"If you have a good product, people will find you," he says.
If you'd like to see samples of Feenstra's work, you can visit his profile site at www.markfeenstra.com.