New York, Boston, Chicago and Montreal are all funny cities. Together, they have produced some of the biggest names in comedy — instantly recognizable people such as Jon Stewart, Conan O'Brien, Bonnie Hunt and Caroline Rhea.
But what about Vancouver?
While it's true that we are not as well-known for our comedy scene as Just For Laughs staples such as Montreal, Vancouver does have a pretty solid comedy scene. Colin Mochrie (Whose Line is it Anyway, This Hour Has 22 Minutes,) Ryan Stiles (the Drew Carey Show, Two and a Half Men,) and Seth Rogen (Freaks and Geeks, Superbad) are all from here, and local and international comedians play Vancouver's comedy and nightclubs every week. Show tickets are usually cheaper than the latest 3-D Justin Beiber cinematic extravaganza, and most of the venues are licensed.
The only problem is that finding comedy nights in Vancouver isn't easy. That's why we've created the Giggle Guide. Simply pick the night you want to go out and click through the available options to see what's happening. Clicking the map for a venue will take you to the Google Maps website, where you can get more detailed directions.
A caveat: Vancouver's comedy scene is like a beach. New things are always washing up as the old drift away, making it impossible for this guide to be comprehensive. It's always a good idea to phone the venues before heading out, just in case they've changed or cancelled their night. Most venues are 19+.
*The Montemartre Cafe has comedy nights once a month; Zesty's Restaurant occasionally hosts comedy events.
Infographic by Amanda Punshon and Sarah Casimong

Kaitlin Fontana is a writer, sketch comedian, improv comedian and all-around funny girl.
And, after been involved with the comedy scene for roughly 10 years, she knows what she's doing.
Fontana started out being involved in high school performances, and later was involved with UBC Improv. That lead her to doing comedy and improv with groups in both Vancouver and New York.
"I feel everyone needs something that allows them to explore their imagination and that creative part of themselves," Fontana said. "I feel like comedy is that for me, particularly improvisation."
She's even started her own all female improv group, called Rosa Parks Improv.
"It started because I was surrounded by all of these awesome female improvisers and I wanted to take and perform on our own somewhere, just for kind of a different vibe. When all women are doing something, it changes things," Fontana said.
Fontana has also formed a sketch group called Pony Hunters with one of the members of Rosa Parks Improv, Nicole Passmore, called Pony Hunters. A lot of their comedy is Star Trek-related, as how both Fontana and Passmore are big fans.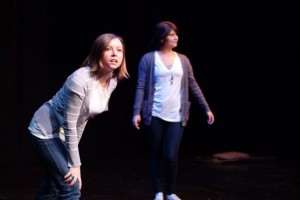 "I guess I would describe [my sense of humour] as nerdy and intelligent with a healthy dose of the ridiculous," Fontana said. "I'm a nerd who reads a lot, so that comes out in my improv, for sure."
Although Fontana is involved with many different forms of comedy, improv is where her heart is.
"The feeling of doing a really good improv show is very satisfying because, while I enjoy scripted work, and when it goes well I'm very happy with it, there's a sense that it was programmed to succeed," Fontana said. "Improvisation is much more risky. You don't know what's going to happen on stage. It's not just you. It depends on the entire group of people you are performing with. It depends on trust and the energy in the room. And that undefinable other thing that makes comedy good, or makes any art good, that we can never really put our finger on. It's like that magical ingredient."
Fontana is busy with several comedy and improv shows coming up. Pony Hunters will be featured at an upcoming art exhibition about comedy at the Helen Pitt Gallery, where they will be showing the first episode of one of their web series, called Shitty Spock.
"It's about a shitty version of Spock coming to Earth and trying to rescue his captain, and has found that his captain has become a mid-20s female, who lives on Earth and doesn't realize that she is the captain. So basically it's an odd couple comedy," Fontana said.
She's also performing on Feb. 17 at The China Cloud in Chinatown with Ghost Jail Theatre, an improv and spontaneous writing group.
Then, from Feb. 23-26, she'll be performing at the CBC Studio 700, with a bunch of other improv groups from around the city.
"Someone once said that it takes 10 years to be good at anything. I feel like I'm starting to get to that point where I feel very comfortable in [improv] and I like to explore it, teach it and direct, as well as perform. And it's like anything. I mean why does a painter paint? The motivation is that creative impulse."