Earl Mabaquiao's recent success as "Canada's breakthrough designer" at the Télio Design Competition in the Montréal Fashion Week wasn't just a blockbuster break through for Kwantlen. It was triumph for all of Western Canada.
Mabaquiao was the first winner in the competition's history to come from outside of the city where it is held each year.
"They called fifth place and then fourth place and I was like 'Oh, can I just be third, I'll just take third' and then second and then I was like 'Okay, there is no more positions… there's one more position,'" said Mabaquiao, who is originally from the Philippines and has been in Canada since he was 12.
The competition, which is put on by the Télio textile company, is currently the biggest and one of the most prestigious student design competitions in Canada.
From the 21 fashion design programs across the nation, each school submits its top seven ideas for a clothing design from second- and third-year students to Télio, which then chooses the top 25.
This time around, Kwantlen had three students reach that stage.
Last year, Mabaquiao tried to make the competition as well, but didn't even manage to make Kwantlen's selected seven. But someone who continued to believe in Mabaquiao's "inner light," was his teacher and coordinator of the fashion design program, Evelyn May.
"Everyone is different," she said. "But I think for him, every piece he does is not just an assignment. He puts more of himself into his work and his philosophy.
"One thing I'm really proud of with Earl, especially with him placing first, is that we, all the faculty, were very ethical in the production of his design. We did not help him, we did not touch his design… he did it himself."
One of the biggest challenges that Mabaquiao had to face was the amount of time that went into planning and making his garment.
"I have a lot of friends that are really talented that didn't do it because there is no time," he said.
It took Mabaquiao two months, outside of the already hard work that he puts into his school assignments, to create the silver sequined dress that stole the show.
May said its Mabaquiao's continual dedication and diligence to each piece that he puts his hands on that makes him unique.
"He doesn't do an assignment just to get it done… never does he do that. Everything is special to him and that's what makes him special."
For Mabaquiao, winning on Feb. 10 wasn't just about the satisfaction of becoming number one in the country, but about being the creator behind something that attracted so much attention. To him, that is the beauty of his craft.
"Creating something new, that would surprise someone or that would shock someone else you know… being innovative and creative, that's the best part I think of designing."
An opportunity for students to present their research at an official conference is now on the table at Kwantlen.
The first Sociology Undergraduate Student Conference will be held Friday, May 6, at Kwantlen's Surrey campus.
Students who have done research on any subject that relates to local or global issues at a societal level are encouraged to step up and submit to share it at the conference.
Dr. Amir Mirfakhraie, coordinator of the conference and co-chair of the Center for Global and Multicentric Education, said the conference gives students a real chance to teach what they have learned.
"One of our main goals is to not only create, but also promote a culture of scholarship and research at Kwantlen. The focus of creating this culture is to make sure that it's student centered…to reflect the multicentric interests of our students," said Mirfakhraie.
Mirfakhraie said that one of the presentations this year is going to look at a game produced by Sony Playstation 3, Laura Croft, and the sexual exploitation of women.
Mirfakhraie said that one of the challenges has been getting students to believe in themselves. "Their research is important and they are producing knowledge."
Mirfakhraie noticed that students tend to think it's only instructors who teach. "But students also learn when other students present research. And so the student becomes a teacher. Hopefully, this conference will highlight that aspect…not students just as learners, but as producers of knowledge."
It's that time of year again when many students haul their no-longer-needed textbooks to Kwantlen's bookstore in an attempt to make a little money.
In the past, this was the only option, but in the last few years, several alternative book-buying and book-selling services have become available.
BCbookworm is a free service that was created in 2001 to help match up students who didn't want to go through the bookstore.
Michael Robson, BCbookworm's creator, was a business student at Kwantlen when he built the site. He decided to create a service where people could buy and sell used textbooks for reasonable prices after becoming fed up with how little money the bookstore was paying students for their books and how much they were reselling them for.
Originally, the website was not automated, so Robson would manually try to match buyers with sellers using an Excel spreadsheet.
"I would literally buy from one guy and, like a dealer, sell to another guy," he said.
Eventually he hired a professional web designer to set up an automated system that could run on its own.
The KSA caught wind of the project soon after it was created and asked Robson to join its team. Robson left Kwantlen in 2003, and the site has been controlled by the KSA since then.
The site has remained almost untouched by the KSA over the last 10 years, and Robson's original mini-bio, now outdated, is still displayed on the About page.
Things haven't changed much since 2001, Robson said, as textbook publishers continue to find new ways to get students to buy new editions of textbooks every year.
"The publishing business, when they play these kinds of games, people don't like it. It's not a good business model," he said. "They're sowing the seeds of their own demise."
Creating a service where students could cut out the middleman and sell textbooks directly to each other was the solution he decided would work best.
"I built this thing because a reaction to the ultimate ripoff that everyone was feeling from the local bookstore," he said. "You're just a kid. You hardly have any money anyway."
On Saturday, March 5, Kwantlen Polytechnic University's Surrey campus hosted the Global Walk for the missing girls. The walk was to inform the Kwantlen community about female foeticide and infanticide. The event was hosted by a pair of Kwantlen students, Garima Kaur and Lucky Gill.
[audio:best.mp3]
A former chairperson of the Kwantlen Student Association, who was connected to a $50,000 Cram Jam loss in 2008, declared his intention to run for the Vancouver Park Board last month.
Trevor Loke announced he was seeking the Vision Vancouver nomination for the fall 2011 election.
Loke served as KSA director of events and student life for four months and chairperson for one month in 2008, and in various staff and elected positions between 2007 and 2008.
He resigned in late July 2008 shortly before the KSA lost $50,000 on that year's Cram Jam. According to Loke, he resigned because of low pay, internal politics and because he was no longer taking classes at Kwantlen. Loke began organizing Cram Jam 2008, but his replacement Vanessa Knight ended up finishing the event. Loke blamed the KSA for poor planning.
The concert was headlined by Daniel Wesley, Ten Second Epic and Sloan and ended up going $20,000 over its initial budget of $100,000. Ticket revenues were estimated to be $102,250, but actually only brought in $9,030.
Loke was also part of the group of students that ousted the Reduce All Fees (RAF) party in 2007. Since leaving Kwantlen, he has remained involved in politics, serving as a director-at-large with the B.C. Green Party.
Cloverdale students aren't seeing their fair share of events and services, according to the KSA's new Cloverdale campus director.
Shivinder Singh, a first-year CAD student, is the first-ever elected campus director at Cloverdale and hopes to better represent his campus.
"Students at Cloverdale aren't getting their share," said Singh. He said that most KSA events and spending are directed at Richmond and Surrey, even though Cloverdale students pay the same fees.
This year, was the first time that any students were nominated or elected for KSA positions in Cloverdale since it was opened in 2007.
When Singh transferred to Kwantlen from UBC-Okanagan last year, he was immediately struck by the absence of student life and decided he could make a difference.
"I saw a poster for elections," said Singh. "So I just put my name in and jumped in."
According to Singh, the biggest issues facing Cloverdale students are the rapid increase in fees and the near-complete absence of student life and events.
He also says that Cloverdale faces unique challenges. The campus is male-dominated and students range from the very mature to high school students. Because most of the programs at Cloverdale aren't semester-based, typical orientations or welcome weeks haven't worked. New classes usually start every month and sometimes every week.
He is still learning how the KSA system works, but is making plans to hold an orientation in the fall as well as other events.
Singh says that students are divided about the incoming U-Pass program. Bus service at Cloverdale is limited and the U-Pass is mandatory for all students, even those who never use public transit. However, Singh acknowledges that those who do use transit are very excited about it.
Members of the South Asian community are putting faith in a new generation to change how women are viewed in their culture.
On March 5, over 70 people, many of them youths, gathered at Kwantlen Polytechnic University's Surrey campus to take part in the Global Walk for the Missing Girls and to bring awareness to the problem of female feticide and infanticide.
Prominent members of the South Asian community made passionate speeches about the problem and then led people in a walk around the campus.
The walk took place in five countries and 16 cities around the globe in conjunction with International Women's Day.
In the last century, 50 million girls have been lost from India's population and in the last two decades 10 million have been killed by their parents either before or after birth.
With the introduction of cheap and portable ultrasound equipment the problem has become much worse.
Dr. Pargat Singh Bhurji, a pediatrician in Surrey, said the main reason for feticide and infanticide is dowry, which is a gift of money or estate that the bride brings to her husband when they are married. Other societal issues, like rape, have also contributed to increases in abortions.
"Eventually you need a uterus to be born. You cannot be born in the ground like potatoes or up on the tree like apples," said Bhurji. "We are destroying our own future in a sense."
While there are laws in India prohibiting doctors from identifying the sex of a fetus, no one has ever been charged.
Most people think of selective feticide and infanticide as being a problem in other parts of the world, like India and China, however, it is a much broader issue.
"It's not a regional problem, it's everywhere," said Garima Kaur, the event's organizer and an international student at Kwantlen.
The issue of selective feticide reaches as far as Vancouver and Surrey where it is supposed to be illegal for doctors to identify the sex of a fetus before a certain stage in pregnancy.
"There are clinics across the border, there are clinics in Surrey who actually advertise about this. 'If you want to know if it is a girl child or a boy child and want to abort it then come here,'" said Kaur.
Pawan Dhillon, a maternity doctor in Cloverdale, has seen the issues of gender inequality here in Canada.
"In my experience it's not as blatant as what we see in India," said Dhillon. "I have been in deliveries where after I've announced 'It's a baby girl,' it's been met with silence. It's not a common occurrence, but it is still there and it's something that we need rectify."
This was the first year the event was held in B.C. and Kaur hopes that it will continue to grow in the coming years. Reaching youth is one of her main priorities.
"If you encourage the youth, if you educate them that 'let's put a stop to it', because they are the ones who are going to be parents now and in the future," she said. "I think the solution is just in educating them — changing their mindsets rather than changing people who've already lived their 40, 50 years of life."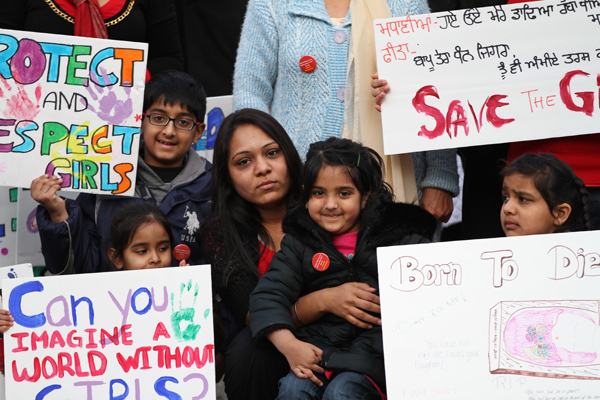 There is a new club rolling into Kwantlen; one with two wheels, spandex and shaved legs — well maybe not the spandex and shaved legs. The Hotwheels cycling club is Kwantlen's newest addition and is gearing-up to get more students onto bikes.
Stephan Struve, a fourth-year journalism student and Hotwheels' founder, created the club after he could not find one that met his interests in cycling and physical fitness.
"My idea was to get more students involved in cycling and to promote it as a lifestyle choice and also to balance the lifestyle of cramming sessions," said Struve.
The idea for club was born out of Struve's new-found passion for cycling, which he only took up in 2008.
"It became something that I was good at, and with my competitive nature, it drove me into seeing how far I could go. It became something I want to pursue as a competitive sport," he said.
As he became more involved in cycling, he looked for new and bigger challenges, which led him to the Ride to Conquer Cancer. The thought of riding 300 km, from Vancouver to Seattle, in two days, was enough to get him hooked on the sport. And once he found out about the challenge of raising money for cancer, Struve had another reason to keep pedaling.
After completing the ride for two years in a row, Struve described crossing the finish line as involving a lot of tears.
"Emotionally it's difficult to describe because you are a little overwhelmed by everything, but I would probably describe it as joy mixed in with sheer surprise," he said.
Struve's new challenge is to get more Kwantlen students involved in raising money to fight cancer by riding their bikes.
"I think that it is important that I pass on my experience," he said. "It gives you a whole new outlook on the emotional effect and why people participate in the ride, besides the physical challenge."
The Hotwheels club is meant for anyone interested in cycling, from beginners to seasoned vets. And Struve hopes that through the club, more people will become interested in the Ride to Conquer Cancer.
"I hope that the club will give people the opportunity to share that common passion of cycling," said Struve. "Different bikes, different physiques and different goals but to give them that platform to meet with each other and hopefully motivate people to cycle more."
The club currently has 15 members and Struve hopes it will continue to grow.
Beyond getting students involved in cycling the club plans to hold a cycle-thon and bake sale to raise money for the Ride to Conquer Cancer. Struve also hopes to run a bike safety and basic maintenance workshop for people involved in the club.
Joining the club free and members can participate in weekly rides and events planned for the future.
For more information on the club or to make a donation to the Hotwheels Ride to Conquer Cancer team, e-mail Struve
.
Students at Kwantlen Polytechnic University face a future where some funding for scholarships and awards is cut in half.
The Family Campaign, a program designed to allow faculty, employees and administrators at Kwantlen to donate money to scholarships and awards, faces the prospect of losing matching money from the university. In the past, Kwantlen has matched donations from faculty and staff.
"Right off the top, it cuts in half the amount of finances we can contribute to students," Katie Kinch, an advancement officer at Kwantlen, said.
According to Kinch, there are approximately 800 scholarships and awards across Kwantlen that students can receive, with many of those funded by donations made to them by staff and faculty.
"We have about 800 scholarships and awards across Kwantlen. Of those 50 are exclusively funded by staff, faculty and administration at Kwantlen," Kinch said.
Last year, through the program, staff and faculty raised over $100,000 for student awards and scholarships. At the time, the university had allotted money in its budget for the program and matched all employee donations, raising the total amount to more $200,000.
This practice is common at other institutions, Kinch points out.
Faculty and staff who choose to donate determine where the money they donate goes. This usually means that the faculty member who is donating will give money to the faculty or program they are a part of, or the field they are currently in.
Kinch not only believes that not receiving additional money from the institution will hurt the program right away, but that it will continue to hurt the program, which also raises money for library resources, further down the road.
"In the past, we have received messages that it is very disappointing for the staff who choose to donate and see it as a real benefit to their employment with Kwantlen and an added value that the institution recognizes their financial commitment back to the institution and matches their giving, so I think it will have a significant impact on the overall performance of the campaign," Kinch said.
Kinch thinks that the Family Campaign sends a strong message to the community at and around Kwantlen about the staff and faculty who work at the school. "It reinforces a really strong message that we are doing good work here," Kinch said.
Anyone wanting to learn more about the Family Campaign at Kwantlen can visit its website