Earl Mabaquiao's recent success as "Canada's breakthrough designer" at the Télio Design Competition in the Montréal Fashion Week wasn't just a blockbuster break through for Kwantlen. It was triumph for all of Western Canada.
Mabaquiao was the first winner in the competition's history to come from outside of the city where it is held each year.
"They called fifth place and then fourth place and I was like 'Oh, can I just be third, I'll just take third' and then second and then I was like 'Okay, there is no more positions… there's one more position,'" said Mabaquiao, who is originally from the Philippines and has been in Canada since he was 12.
The competition, which is put on by the Télio textile company, is currently the biggest and one of the most prestigious student design competitions in Canada.
From the 21 fashion design programs across the nation, each school submits its top seven ideas for a clothing design from second- and third-year students to Télio, which then chooses the top 25.
This time around, Kwantlen had three students reach that stage.
Last year, Mabaquiao tried to make the competition as well, but didn't even manage to make Kwantlen's selected seven. But someone who continued to believe in Mabaquiao's "inner light," was his teacher and coordinator of the fashion design program, Evelyn May.
"Everyone is different," she said. "But I think for him, every piece he does is not just an assignment. He puts more of himself into his work and his philosophy.
"One thing I'm really proud of with Earl, especially with him placing first, is that we, all the faculty, were very ethical in the production of his design. We did not help him, we did not touch his design… he did it himself."
One of the biggest challenges that Mabaquiao had to face was the amount of time that went into planning and making his garment.
"I have a lot of friends that are really talented that didn't do it because there is no time," he said.
It took Mabaquiao two months, outside of the already hard work that he puts into his school assignments, to create the silver sequined dress that stole the show.
May said its Mabaquiao's continual dedication and diligence to each piece that he puts his hands on that makes him unique.
"He doesn't do an assignment just to get it done… never does he do that. Everything is special to him and that's what makes him special."
For Mabaquiao, winning on Feb. 10 wasn't just about the satisfaction of becoming number one in the country, but about being the creator behind something that attracted so much attention. To him, that is the beauty of his craft.
"Creating something new, that would surprise someone or that would shock someone else you know… being innovative and creative, that's the best part I think of designing."
An opportunity for students to present their research at an official conference is now on the table at Kwantlen.
The first Sociology Undergraduate Student Conference will be held Friday, May 6, at Kwantlen's Surrey campus.
Students who have done research on any subject that relates to local or global issues at a societal level are encouraged to step up and submit to share it at the conference.
Dr. Amir Mirfakhraie, coordinator of the conference and co-chair of the Center for Global and Multicentric Education, said the conference gives students a real chance to teach what they have learned.
"One of our main goals is to not only create, but also promote a culture of scholarship and research at Kwantlen. The focus of creating this culture is to make sure that it's student centered…to reflect the multicentric interests of our students," said Mirfakhraie.
Mirfakhraie said that one of the presentations this year is going to look at a game produced by Sony Playstation 3, Laura Croft, and the sexual exploitation of women.
Mirfakhraie said that one of the challenges has been getting students to believe in themselves. "Their research is important and they are producing knowledge."
Mirfakhraie noticed that students tend to think it's only instructors who teach. "But students also learn when other students present research. And so the student becomes a teacher. Hopefully, this conference will highlight that aspect…not students just as learners, but as producers of knowledge."
It's that time of year again when many students haul their no-longer-needed textbooks to Kwantlen's bookstore in an attempt to make a little money.
In the past, this was the only option, but in the last few years, several alternative book-buying and book-selling services have become available.
BCbookworm is a free service that was created in 2001 to help match up students who didn't want to go through the bookstore.
Michael Robson, BCbookworm's creator, was a business student at Kwantlen when he built the site. He decided to create a service where people could buy and sell used textbooks for reasonable prices after becoming fed up with how little money the bookstore was paying students for their books and how much they were reselling them for.
Originally, the website was not automated, so Robson would manually try to match buyers with sellers using an Excel spreadsheet.
"I would literally buy from one guy and, like a dealer, sell to another guy," he said.
Eventually he hired a professional web designer to set up an automated system that could run on its own.
The KSA caught wind of the project soon after it was created and asked Robson to join its team. Robson left Kwantlen in 2003, and the site has been controlled by the KSA since then.
The site has remained almost untouched by the KSA over the last 10 years, and Robson's original mini-bio, now outdated, is still displayed on the About page.
Things haven't changed much since 2001, Robson said, as textbook publishers continue to find new ways to get students to buy new editions of textbooks every year.
"The publishing business, when they play these kinds of games, people don't like it. It's not a good business model," he said. "They're sowing the seeds of their own demise."
Creating a service where students could cut out the middleman and sell textbooks directly to each other was the solution he decided would work best.
"I built this thing because a reaction to the ultimate ripoff that everyone was feeling from the local bookstore," he said. "You're just a kid. You hardly have any money anyway."
The Foundations in Design Certificate Program will be hosting a year-end gallery event on April 14.
Anyone can drop by for the public event, from 2-4 p.m. on the third floor of the Richmond Kwantlen campus in rooms 3010, 3020 and 3850.
A separate, invitation-only event will be held from 6-9 p.m. The evening event will include a raffle, with proceeds going to charity.
The gallery will feature everything created by the students in the one-year program, which is designed to give students a basic understanding of all types of design.
"Basically, it's a broad, basic program that just introduces the students to the world of design, because there's so many different directions that you can go," said Dylan Seger, a student who has finished the program and who volunteered to be the coordinator for the event.
The goal for the event is to "open up people's minds to the possibility of design," he added.
There will be a wide range of styles on display, as there are over 30 students in the program.
The administration at Kwantlen Polytechnic University looks like it will be coming through with the necessary funding to contribute to the Family Campaign at Kwantlen.
According to advancement officer Katie Kinch, the administration hasn't confirmed its intentions to match donations made by faculty and staff for the campaign, which raises money for student scholarships, but she said that she hasn't received any indications that the donations won't be matched by the university.
The Family Campaign is a program that allows faculty and staff to donate money for student scholarships and bursaries. The Family Campaign this year will fund 74 scholarships and awards.
"We raised $111,000 for 2010/2011," Kinch said.
Kinch believes that with the administration continuing its involvement in the program that will encourage more staff and faculty to become involved, and that it will provide a strong incentive for members to continue to make contributions to the program.
This year, the program achieved a 12.3 per cent response from its faculty and staff, which accounts for 210 of the 1,670 total Kwantlen staff and volunteers.
"I would be very optimistic that we can reach a target of potentially $125,000 with matching staying in place as a really strong incentive for staff, faculty and administration, as well as our volunteer board, to continue to make regular contributions," Kinch said.
Faculty are able to make contributions to awards in their own field of work and study, as well as create their own award if they prefer, which can be awarded to a student in the faculty of the volunteer. Kinch says that she has received numerous calls inquiring about that.
Even though the percentage of staff involved may seem small, Kinch said that she takes pride in the culture of giving at the school. Last year, the campaign was able to fund 50 awards and scholarships. That has risen to 74 this year, and Kinch said that is a direct result of an institution that is committed to student success.
"It really is a strong statement about the culture here at Kwantlen," Kinch said. "Talking about really being accessible and supportive and having an institution that is really committed to student success, the fact that there are significant dollars and awards behind that backs it up even further."
The donation period for this year's Family Campaign wrapped up on March 31.
A new improv group has taken hold of the Heritage Gill, bringing a mix of laughs and occasional head-shaking to New Westminster on Wednesday nights.
Unscripted Chaos is a group of six acting students looking for a real-life setting where they can practice their classroom skills.
Rachelle Tomm, a Kwantlen student and the youngest member of the group, said being able to interact with a live audience is a rewarding experience that just can't be matched.
"It's a lot of fun. And when you get a larger crowd out, you just feed off the audience. The audience just works off each other. You get good laughs," she said.
"And when an audience laughs at a time when you didn't expect it and you can crack up the actors and get them to start laughing, oh that is golden, golden."
The group starts the evening with a series of games, which provide rules for each scene. The audience is involved in each skit, and will chose the characters settings, occupations, personalities, themes and so on. Once these key elements are established, the actors make the rest up on the spot.
After a break, the final half of the show usually consists of a longer piece that lasts about 25 minutes.
So far, the audiences of their shows have been locally based, with many hearing about the show by word of mouth. But the group hopes to expand and create a rep for themselves.
"It's exciting, because we are the founding members of the group," said Tomm.
"It's not like we had to audition to get in, so we're growing with it. We're learning what not to do some nights and what games worked and what games didn't, because we don't have any prior experience or older expertise on it. It's all new to us."
She says looking a year from now, anything could be possible.
"Maybe we will be well-known like Laugh Lines, or Granville type shows" she said.
Unscripted Chaos performs every Wednesday at 9 p.m. at the Heritage Grill, 447 Columbia St. in New Westminster.
For more information, visit their Facebook group.
[audio:chaos_group.mp3]
Rachelle Tomm, Jessie Crabbe, Tracy Schut, Andrew Job, Luke Johnson and Blake Cuthbertson talk about their experiences so far as members of Unscripted Chaos.
[audio:speed_walk.mp3]
Andrew Job and Blake Cuthbertson perform a skit.
On Saturday, March 5, Kwantlen Polytechnic University's Surrey campus hosted the Global Walk for the missing girls. The walk was to inform the Kwantlen community about female foeticide and infanticide. The event was hosted by a pair of Kwantlen students, Garima Kaur and Lucky Gill.
After all the glamour and glitz displayed on the runway of The Show 2011, a fashion show produced by fourth-year fashion students, it's hard to imagine the tears and sweat that made went into making the garments so fabulous.
In fact, there's an entire years worth from a class of 32 students.
Caitlin Butcher, one of these fourth-year students, said the amount of preparation that goes into such an event is incredible.
"There's so much to do and so little time," she said.
The Show is the end product of the entire fourth year of the fashion design and technology program at Kwantlen Polytechnic University.
From September until April, students learn all aspects of what is needed to run a clothing line and a fashion show in the real world. They begin by creating a niche market and designing three complete outfits. The most important part of this step is proving that this niche exists and is underserved in the fashion world.
"A lot of people come into the program thinking 'Oh, I love clothes, and I like to draw clothes' and that's kind of where I was in first year. I didn't have much experience in the industry," she said.
But by the time fourth year comes around, this all changes.
Everything becomes real-life based. If the instructors do not think your niche is developed enough, you have to repeat fourth year. It's as simple as that.
"It can definitely get a little crazy," Butcher said.
The next step is hand-sewing each garment, a process which can take months.
Butcher created her pieces for "women working in the creative field." She describes them as fun investment garments for artists and musicians.
With 11 separate pieces in the collection, Butcher said the most surprising thing for her has been "the details that go into producing garments, especially for production."
"Before I came into the program, I used to make clothes for myself and would cover up any mistakes, and little holes, but I can't do that anymore," she said.
Her line, titled Patience For Now, is "a reminder to myself to take it slow and be patient." Mistakes can happen and as she has learned, and freaking out is not always the best option.
She said one of her worst moments was during an assignment to make tailored coats for The Bay. Butcher had spent 80 hours sewing the garment and, just as she was finishing it, her arm slipped and she ripped a hole in the lining. Everything had to be re-done.
"It's those kinds of frustrating things that bring you to tears," she said.
In the end though, Butcher says it is all worth it.
"The process is always so fun, and actually seeing the final product when it becomes tangible — that is so rewarding," she said.
"It starts as this little idea in your head and then you go through all these motions and it's tons and tons of work and lots of sleepless nights and sometimes tears when things don't work out, but it's just really rewarding."
RELATED: High fashion night after months of hard work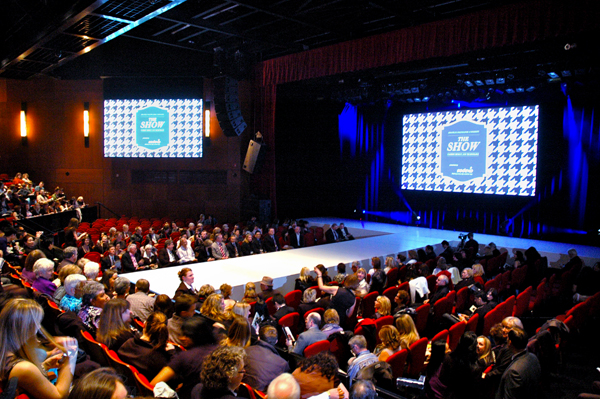 Anticipation and sense of excitement were palpable before the Design, Fashion and Technology program had its end of the year show on Tuesday, April 5, at the River Rock Casino in Richmond.
Months of hard work led up to the 45-minute fashion show, said Joanna Delaney, creator of the Vapor line.
"We came up with a concept in the first semester of fourth year, and then the second semester is dedicated to producing the line and making our portfolios," said Delaney.
"My line is fashion for rainwear…I decided to create a line of raincoats suited to women who are looking for a little something extra, a little bit more than just your average raincoat."
Delaney said that finding the right niche in such a competitive market takes time, patience and a lot of research. On the business side of things, "You have to prove that your market exists, because you can't create something for no one," Delaney said.
Delaney added that her next career step would be to promote herself as an independent designer in the Vancouver.
Justine Edralin, creator of the Menagerie line, said that she started sewing in Grade 8 and her interest in fashion and design grew from there.
"My market is crazy old ladies. I'm really into the avante garde artsy clothing, and also to empathize with a market that's not myself," said Edralin.
Edralin says a lot of the thrill of preparing for a show comes from the pressure to get it all done on time.
Alexandria Culver, creator of the Bese Saka line, said that the biggest inspiration for her design was a trip she took to Ghana and West Africa to teach math.
Culver said she was inspired by the prints and that her collection focuses on socially conscious manufacturing. She's been sewing her collection for the last four months, but they spent fall designing a collection and also creating a company.
Culver said that everyone in the class is supportive, because everyone knows how much work goes into the design process.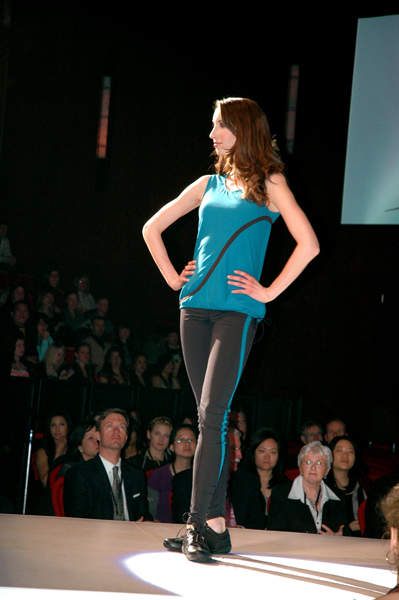 "The show is beneficial for all the students…The program has such a high profile in Vancouver and the industry is aware," said Culver.
Evelynn May, on of the design coordinators, said there's so much more to what the audience sees than what meets the eye.
"They've done a thesis. They've had to argue and validate all their piece collections, because they are niche market collections," said May.
"It's been stressful, and it's all absolutely beautiful," said May.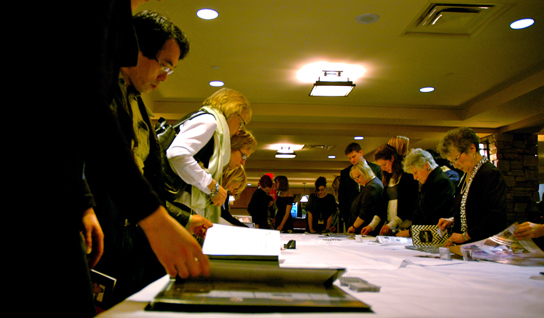 RELATED: Peering behind The Show
[audio:best.mp3]