Kwantlen's Richmond campus library is getting a boost from the federal and provincial government in the form of $1.2 million.
The school announced on Nov. 19 that the government's Knowledge Infrastructure Program had granted the money, which will be used to upgrade and renovate the Richmond campus library.
Barbara Duggan, dean of Kwantlen's Centre for Design and Communications, said in the press release that the improvements will include renovating the library to create 3,139 square feet of space from existing unused space, improving checkout and library support spaces and increasing resources, such as computers and collections.
"I think the technological advancement of students is pretty sophisticated today," said Linda Reid, MLA for Richmond East. "I think the material and the resources have to keep pace with that."
According to the release, the funding is also a part of the province's $14-billion capital infrastructure program, which the government implemented to try and create jobs and improve public infrastructure.
This isn't the first major grant or donation the school libraries has received. In 2005, the government and Kwantlen collaborated to fund a $36 million renovation of three buildings on Surrey Campus, which included the expansion of the Surrey Campus Library.
Earlier this year, Coast Capital Savings donated $1 million for Kwantlen's libraries.
If you have always wanted to study abroad but didn't want to pay international student rates, then Kwantlen is for you this week.
On the heels of International Education Week, Kwantlen is hosting information sessions for students who wish to apply to spend a semester studying at selected schools around the world.
Journalism is one program that has been involved in student exchanges in the past.
"All the journalism students who have gone on our European exchanges have pretty much had life-changing experiences," said Beverley Sinclair, journalism program coordinator at Kwantlen. "Apart from the journalism education they get abroad, they get the experience of living in a different culture, surrounded by the history and beauty of Europe."
Kwantlen is currently accepting applications for exchanges during the 2010/11 academic year. Students who wish to apply must meet certain requirements to be considered for the exchange program. Applicants must have a minimum 2.67 GPA and have completed at least 30 university credits, 15 of which must have been done at Kwantlen. As well, once finished the exchange students must then return to Kwantlen and complete a minimum of nine more credits in the following semester.
Along with academic requuirements, students are also responsible to cover their own costs of travel and living while on exchange. The one major advantage is that students will only have to pay tuition to Kwantlen, at the same rates they would pay if attending school in the Lower Mainland, and not the much higher international student fees traditionally charged visiting students.
Students are often encouraged to do the exchange during the spring term, because European school semesters do not match up with Canadian ones. If a student went abroad in the fall semester of 2010, their European exchange wouldn't end until four weeks into Kwantlen's spring term. Also, if students spend the spring semester studying, it frees them up to travel around Europe for the summer before they have to return to Kwantlen for classes in the fall.
Students who would like more information but who were unable to attend or missed the information sessions this week, can do so by contacting international programs and exchanges through e-mail at Internationalprograms@kwantlen.ca or by phone at 604-599-2255.
Kwantlen students had another Olympic employment opportunity made available to them as Impark visited the Richmond campus rotunda this week.
Impark will be in charge of all parking locations at and around the 2010 Olympic venues.
Impark is promising future employees guaranteed work during the Games, and will provide competitive wages to students. Employees during the games will be provided with assisted transportation to and from the workplace. They will also be given uniforms, provided meals during working hours and have the potential to earn cash bonuses.
Jobs will include tasks such as checking parking tickets, preparing parking lots, directing traffic and eliminating traffic congestion.
Students who were unable to meet Impark employees this week, can visit other locations where the company will be recruiting. Impark will be at Whistler's Pan Pacific location on Nov. 27-29, from 10 a.m.-10 p.m.. A BCIT booth will be open at the Great Hall on Dec. 2, at the Burnaby Campus South East Building from 10 a.m.-4 p.m. Impark will also be onsite at Simon Fraser University, Dec. 4-5, in the main lobby, from 9 a.m.-5 p.m.
Workers at the Chartwell's cafeteria and Grassroots Café  on the Surrey campus think the planned addition of a Tim Horton's outlet may affect their business.
"It's going to impact all of us," said Belinda Kaplan, director of food services for the Surrey Chartwell's. "[Students and staff are] probably going to have their morning coffee and their doughnut there instead of here."
The Tim Horton's, which is tentatively scheduled to open in February or March, will be built in room 1105 of G building. The room used to be used by faculty, but staff have since been moved to another room.
The project is currently at the drawing stage.
Student demand prompted the addition of the quick-service restaurant. An on-site franchise review by Chartwell's and Tim Horton's determined the student population is big enough to support three food services, according to Scott Gowen, director of materials management.
Jim Meschino of facilities management said, "There was a need to recognize that there should be multiple food services available on-site for both faculty staff and students, and there is a growing trend at other universities."
Other post-secondary institutions such as Douglas College, Simon Fraser University and the British Columbia Institute of Technology have Tim Horton's on their campuses, which are run by Chartwell's.
"Basically, Tim Horton's gives Chartwell's a license agreement to run the Tim Horton's," said a manager of the Douglas College Chartwell's.
Meschino confirmed that the Surrey Tim Horton's would be run through the Kwantlen Chartwell's, but added that the school is looking into the possibility of adding more services, such as a Starbucks or Blenz outlet.
Kistie Singh of the Grassroots Café hopes that despite reasonable prices at Tim Horton's, the allure of movies and quirky workers will bring business to her end of the G building.
"I think it's important that students recognize that this is a student establishment, not some big corporation," said Singh.
By a final score of 105-85, the Kwantlen Eagles lost to the Columbia Bible College Bearcats in Abbotsford Saturday.
The game started well, with the Eagles leading 26-22 at the end of the first quarter.  However, the Bearcats were ahead five points by the third quarter, and when the fourth quarter started, they had doubled that to 10.
The night before, the Bearcats also hosted the Eagles, who won 71-64.  The Eagles have had eight wins and seven losses this season.  Their next game is against the Langara Falcons on Friday, Nov. 27 at 8 p.m.
The Kwantlen Eagles woman's soccer team flooded the Surrey campus with red last Thursday evening, as they celebrated their record-breaking bronze win at the National Soccer Championships in Ontario.
Students and staff gathered in the main entrance of C building to welcome the team with a roaring round of applause, as they addressed the crowd, flouting their provincial and national medals with pride.
The balloon-filled room was full of emotion as the team laughed through a slideshow of their journey to Toronto, and cried through the numerous speeches addressed to them.
David Atkinson, President of Kwantlen Polytechnic University, was one of the first speakers to congratulation the team.
"Thank you for what was the wettest weekend of my life," said Atkinson, later joking that he "had to go home immediately and drink half a bottle of scotch."
After extending an offer to take the whole team out for dinner, Atkinson couldn't help but mention the accomplishments the university has made during his first year as president of the university.
"I have become very fond of saying 'this year has been a year of firsts,'" said Atkinson, noting that Kwantlen received university status, established a Senate and now are receiving their first bronze medal for soccer.
Atkinson also surprised the team with a brand new soccer field, which will be built at the Newton Athletic Park by 2010. The field will be owned by Kwantlen, and feature a brand-new Eagles scoreboard.
"See what happens when you win a championship?" said Atkinson. "We spent $2 million. What a great deal!"
After Atkinson's speech, members of the team shared some of their memories of their journey in Ontario for the national championships.
"We took the longest route possible, [with] shootouts," said Kelsey Doherty, during her speech. "The ending? Victorious!"
When the time came to describe the big win, there was only one thing the girls could say:
"Overtime penalty kick it was," said Sarah Davies, "and it landed us third place."
While the ceremony Thursday evening ended with food and beverages, this is not the end of the Kwantlen Eagles celebration. In 2010, Atkinson will be back to congratulate team members ne more time as they celebrate with an official banner-raising ceremony.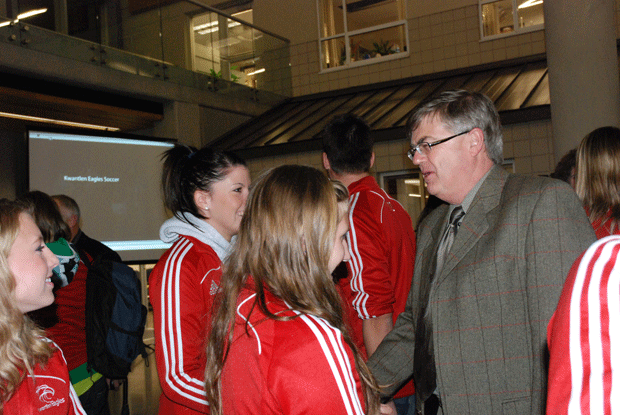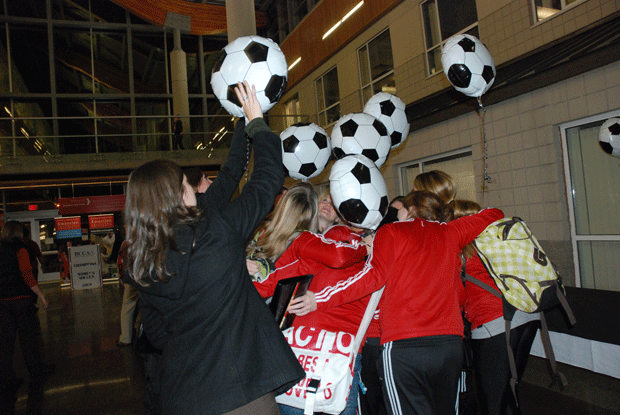 You read it, hear it and speak it every day if you're a student here, but you might not know what Kwantlen means.
The name of the university is also the name of the Kwantlen First Nation, which was the largest first nation in the Fraser Valley in the mid-19th century, according to the Kwantlen First Nation website.
In the Halq'emeylem language, spoken by the Sto:lo people, the larger band council that it belongs to, Kwantlen means Tireless Runner. That's also the title of a scholarship given to Kwantlen First Nations students who display financial need, but also contribute to their local First Nations communities.
On Friday, Nov. 13, Kwantlen's First Nations co-ordinators office hosted a silent auction and dinner benefit to raise scholarship funds for the  award and celebrate First Nations culture. Reporter Justin Langille was there to talk to event organizers and watch attendees bid for a variety of literature, crafts and fine art donated by supporters.
Kwantlen students and staff can win the chance to purchase tickets to the 2010 Olympic Winter Games.
As a community contributor partner with VANOC, one of the opportunities available to the university is the chance to purchase tickets for a variety of events at the 2010 Games. Kwantlen has decided to pass that perk along to students and employees by way of a random draw. The draw is open to anyone who is an employee or is attending Kwantlen as a student during the 2009-'10 academic year.
"We (Kwantlen) have made 176 of 178 tickets available for the draw," said Peter Chevrier, director of marketing for the university. The two tickets not being made available, which are for a preliminary men's ice hockey game, were donated to a raffle to support the United Way campaign.
Anyone interested in winning the chance to buy tickets can make their request through the Kwantlen 2010 Olympic Games ticket request website, which is now online.
All tickets will be sold at face value and are available at a wide range of prices for a wide range of events. Events include everything from $1,100 opening ceremony tickets to $50 men's freestyle skiing aerials qualifying event tickets. Tickets are even up for grabs for the men's ice hockey gold medal game, if you can afford the $775-a-ticket price.
The final draw and notification of those who have been chosen for tickets will be done on Monday, Dec, 14. According to Chevrier, the luckier you are the more tickets you will have the chance of buying as there is no limit on the number of events one person's entry can be selected for.
Once notified, people will have seven days to decide whether they want to buy the tickets. Tickets that are not purchased will be made available to others through a re-drawing.
Some Kwantlen journalism students will be provided financial assistance in the form of a $40,000 endowment from a local magazine.
Mehfil Magazine, a popular Indo-Canadian lifestyle publication, has established the endowment because its publisher feels it's important to support good journalism since it plays an important role.
Rana Vig, Mahfil's co-publisher, hopes that by being the first Indo-Canadian publication in B.C. to establish an endowment of this size he'll convince others will follow suit and support a high level of professional journalism in the community. Vig feels the university has been a leader when it comes to engaging the communities it serves, including the Indo-Canadian community.
The magazine, which was established in 1993, focuses on events in the Indo-Canadian community in the Lower Mainland. It's also a source for features on people, lifestyles and fashion, as well as commentary on issues related to today's Indo-Canadian
"We are very grateful for Mehfil's support of our students," said Robert Adamoski, Kwantlen's social science dean.
The Kwantlen journalism program, which recently left the faculty of design and communications for its new home in the faculty of social sciences, has existed for more than 25 years. It offers students both four-year Bachelor of Journalism degrees and two-year diplomas.
Adamoski feels the Kwantlen program provides journalism students a strong understanding of the industry and prepares them for careers in multimedia journalism on graduation.
The endowment will provide annual funds for journalism students, according to journalism coordinator Beverley Sinclair. Sinclair feels this money could go a long way towards easing the financial burden university tuition and books puts on students.
"It amazes me how few students actually apply for scholarships," said Sinclair, who recalls a previous student who almost completely paid for her tuition by applying for and receiving scholarships that are available every year to students.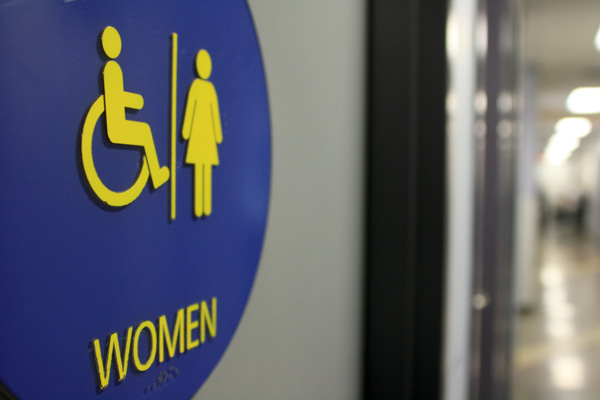 Richmond Kwantlen Student Association council director Reena Bali wants to know who hasn't been pulling their weight in the washrooms around Kwantlen's Richmond campus.
In Bali's Nov.3 council report, buried beneath plans for pool tournaments and club nights, is a frank statement, condemning the conditions of most washrooms on the Richmond campus as "just horrible!"
Many of the washrooms, especially one for women located near the Blossoming Lotus yoga studio around the corner from the KSA Richmond campus offices, is often found in an unclean state, said Bali.
She isn't that isn't sure about the state of washrooms for male students.
Bali said that she thinks what she says are unsanitary conditions shouldn't be blamed on campus cleaning staff, but on inept students.
"It's, like, the people who use it," Bali said. "I guess they don't know how to use a washroom properly."
The state of the washrooms is problem that Bali has noticed since January.
"If someone is using a washroom, they should practice proper hygiene," said Bali. "Cleaning staff can't come to the washroom after every 10 minutes, because they have all other things to do, too."
Bali feels that, other than the washrooms, Richmond is a pretty clean campus. She plans to talk to KSA chairperson Steve Lee and the university to see if she can solve the problem.
Kwantlen's janitorial services are contracted out to Dynamic Facility Services Ltd, according to a July 22 bid aware notice written by Christine Monroe, manager of supply contracts for Kwantlen's supply and business services division, and published on Kwantlen's website.
Dynamic's bid for the annual day porter and core cleaning services contract is valued at $473,024 and was accepted on the basis of a best-value criteria.
Sam Mann, facilities supervisor at Kwantlen's Richmond campus, said that the conditions of washrooms varies from campus to campus, and that poor conditions are often due to vandalism.
"Most kids do respect the facility I believe, but it's just that the odd person tends to (vandalize)," Mann said.
"I guess some people… could be having a bad day…could be frustrated…some people, I guess it's just their nature to do that kind of stuff.